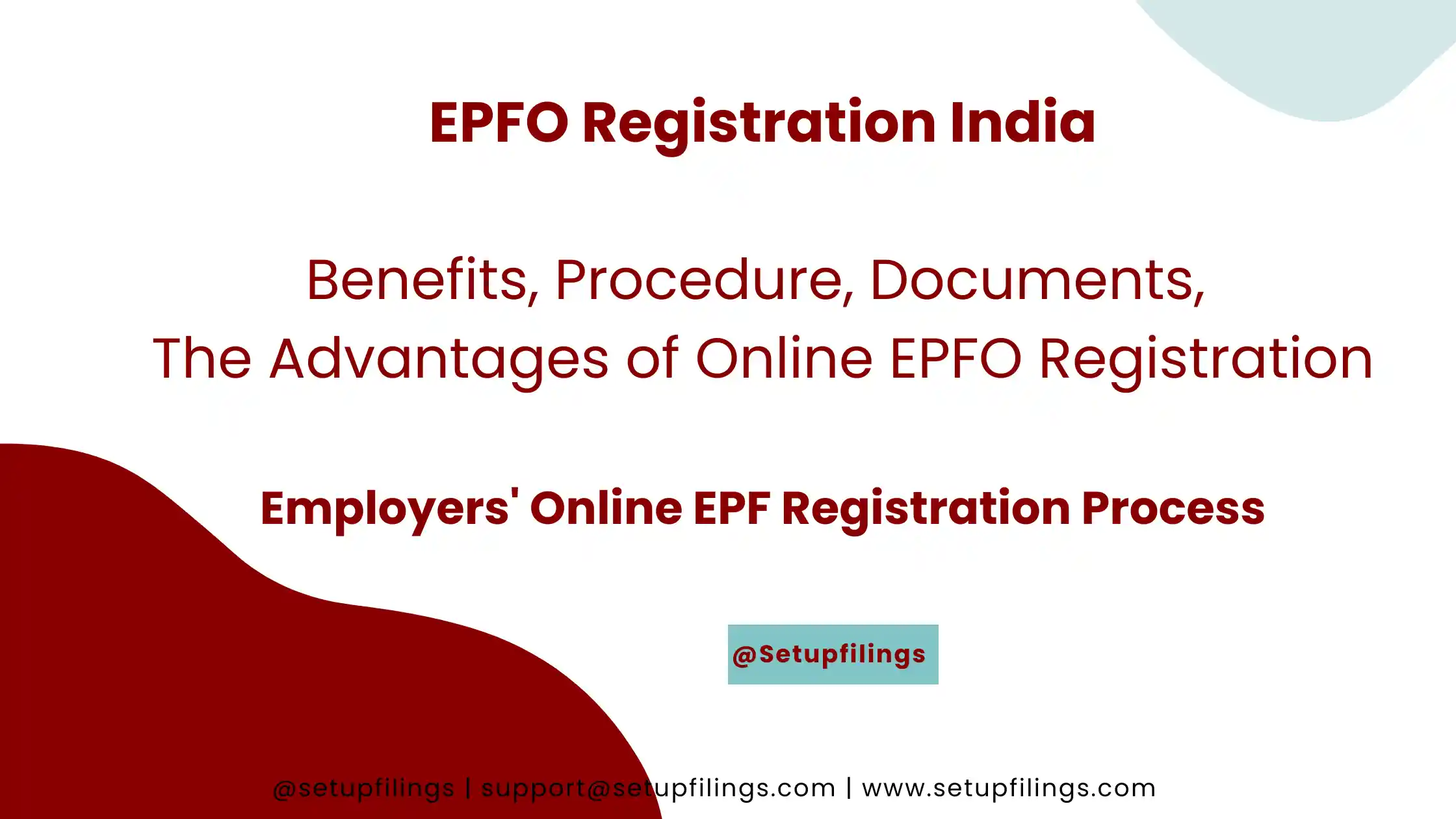 Easy EPFO Registration: Complete Your Process in Minutes
Every company is required to provide its workers with the EPF, which stands for Employees Provident Fund. The Employees Provident Fund is a social security plan that allows workers to set down a percentage of their salaries for future benefits. The Provident Fund is the primary retirement fund for the majority of military members.
The Workers' Provident Funds and Other Provisions Act of 1952 governs the EPF. Each organization with more than 20 employees is required to register with EPF. Your organization may register for EPF with us in three easy steps:
Meeting with Setupfilings Experts and completion of paperwork.
Designation of an affiliate to provide data validation and support from Experts.
Obtaining a PF number by EPFO Department.
Qualifying Requirements for Indian Businesses Registering for EPF
A factory has a total employee strength of 20 or more workers.
A business with more than 20 employees. The Central Government defines the following types of businesses:
Establishments with less than 20 employees that have been informed to get mandatory registration for at least two months.
Please keep in mind that it is the company's obligation to both deduct and contribute to the EPF. In addition, every employee in a qualified organization is entitled to EPF.
The Advantages of Online EPFO Registration
Pension Coverage – Both the employee and the employer contribute equally to the EPS fund. This functions as a pension fund.
Common EPF Account – Provident Fund comes to the aid of the employee's dependents or family members in the event of an unexpected illness, retirement, or death. You can transfer your PF account when you change jobs because the Universal Account Number (UAN) which is linked to the Aadhar card facilitates the linking of the PF accounts. Because of the increased compounding, this single account provides a larger rate of return.
Functions as an emergency fund – EPF funds may be claimed online for use in the event of a personal emergency.
Facilitator of Extraordinary Objectives – If you have financial plans for after retirement, such as purchasing a home or investing in your child's further education, the PF fund may help.
Employee Deposit Connected with Insurance – Any workers having a PF account may be insured for as little as 0.5% of their pay as a fee.
EPF balance calculation – A missed call from the registered number to 011-22901406 would provide UAN registered members with information on their PF balance, which is accessible at the Employee Provident Fund Organization (EPFO). Active UAN users may also verify their past balance and PF contribution by texting 7738299899 from their registered cell phone numbers.
Employers' Online EPF Registration Process
Gathering of all necessary personnel data and papers.
EPFO-registered establishment.
Send the employer's Digital Signature Certificate.
Complete the registration application with necessary employer information.
Once verification is complete, submit the form.
Get your PF Registration Certificate (Provident Fund Certificate) and Universal Account Number (UAN)
Here's how we'll make things simpler for you:
Our team of Setupfilings specialists will offer you a free consultation and walk you through the process. They will work with you to get the PF number in as little as 10 working days, excluding government processing time.
Members must activate their UAN status in order to use all direct and online EPF services.
EPFO Documentation Required Employer registration is required.
Rent Agreement/ water bill/electricity bill of the site of business.
A crossed-out check from the firm
The approved applicant's digital signature.
Signatures of the directors / authorized signatories.
In the event of voluntary registration, the majority of workers must sign a consent document.
The following supplementary papers may be needed in certain cases:
First sale bill
First bill of procurement of raw material and equipment.
Banker information
Monthly employee strength record
Salary Register
All you have to do is gather all of the required documentation and submit it to us. It is our responsibility to organize and utilize them as needed to make the procedure as simple as possible for you.
Recent Policy Changes:
On October 14, 2020, the Employee Provident Fund Organisation (EPFO) introduced a WhatsApp hotline service. This has resulted in faster replies to questions and concerns.
EPFo and ESIC registrations must be completed via the Ministry of Corporate Affairs web.
From May 13, 2020, EPS pensioners may now submit their life certificates anytime they choose throughout the year.
Visited 90 Times, 1 Visit today