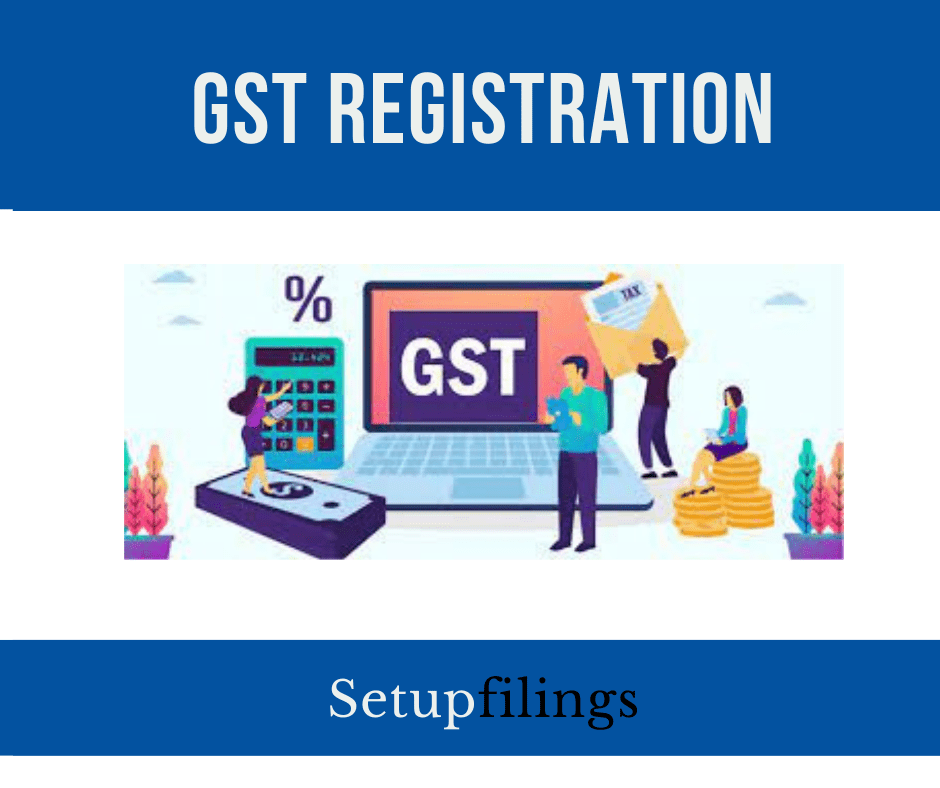 GST Registration Guide to GST Chapter 54 | Get Enrolled Now
Important notes for GST Chapter 54 of GST Registration;
All through this Schedule, the term 'man made strands' means staple filaments and fibers of natural polymers delivered by assembling processes by the same token:
by polymerisation of natural monomers to deliver polymers like polyamides, polyesters, polyolefins or polyurethanes, or by synthetic alteration of polymers created by this cycle (for instance, poly(vinylalcohol)prepared by the hydrolysis of poly (vinyl acetic acid derivation)); or
by disintegration or synthetic treatment of normal natural polymers (for instance, cellulose) to create polymers, for example, cuprammonium rayon (cupro) or thick rayon, or by substance alteration of regular natural polymers (for instance, cellulose, casein and different proteins, or alginic corrosive), to deliver polymers like cellulose acetic acid derivation or alginates.
The expressions "manufactured" and "counterfeit", utilized according to strands, mean: engineered: filaments as characterized at (a); fake: strands as characterized at (b). Strip and so forth of heading 5404 or 5405 are not viewed as man-made filaments. The expressions "man-made", "engineered" and "counterfeit" will have a similar significance when utilized comparable to "material materials".";
Headings 5402 and 5403 don't make a difference to manufactured or counterfeit fiber tow of Chapter 55.
| | | | | | |
| --- | --- | --- | --- | --- | --- |
| HSN Code | Description | Rate (%) | | Effective Date | |
| 5401 | SEWING THREAD OF MAN-MADE FILAMENTS, WHETHER OR NOT PUT UP FOR RETAIL SALE | 12% | | 13/10/2017 | |
| 54011000 | SEWING THREAD OF MAN-MADE FILAMENTS, WHETHER OR NOT PUT UP FOR RETAIL SALE OF SYNTHETIC FILAMENTS | 12% | | 13/10/2017 | |
| 54012000 | SEWING THREAD OF MAN-MADE FILAMENTS, WHETHER OR NOT PUT UP FOR RETAIL SALE OF ARTIFICIAL FILAMENTS | 12% | | 13/10/2017 | |
| 5402 | Synthetic or artificial filament yarns | 12% | | 13/10/2017 | |
| 5402 | SYNTHETIC FILAMENT YARN (OTHER THAN SEWING THREAD), NOT PUT UP FOR RETAIL SALE, INCLUDING SYNTHETIC MONOFILAMENT OF LESS THAN 67 DECITEX – HIGH TENACITY YARN OF NYLON OR OTHER POLYAMIDES : | 18% | | 13/10/2017 1/07/2017 | |
| 54021010 | SYNTHETIC FILAMENT YARN (OTHER THAN SEWING THREAD), NOT PUT UP FOR RETAIL SALE, INCLUDING SYNTHETIC MONOFILAMENT OF LESS THAN 67 DECITEX HIGH TENACITY YARN OF NYLON OR OTHER POLYAMIDES : NYLON TYRE YARN | 18% | | 13/10/2017 1/07/2017 | |
| 54021090 | SYNTHETIC FILAMENT YARN (OTHER THAN SEWING THREAD), NOT PUT UP FOR RETAIL SALE, INCLUDING SYNTHETIC MONOFILAMENT OF LESS THAN 67 DECITEX HIGH TENACITY YARN OF NYLON OR OTHER POLYAMIDES : OTHER | 18% | | 13/10/2017 1/07/2017 | |
| 54021110 | HIGH TENACITY YARN OF NYLON OR OTHER POLYAMIDES | 18% | | 13/10/2017 1/07/2017 | |
| 540219 | OTHER; | 18% | | 13/10/2017 1/07/2017 | |
| 54021910 | OTHER HIGH TENACITY YARN OF NYLON OR OTHER POLYAMIDES | 18% | | 13/10/2017 1/07/2017 | |
| 54021990 | OTHER HIGH TENACITY YARN OF NYLON OR OTHER POLYAMIDES | 18% | | 13/10/2017 1/07/2017 | |
| 540220 | HIGH TENACITY YARN OF POLYESTERS, WHETHER OR NOT TEXTURED | 18% | | 13/10/2017 1/07/2017 | |
| 54022010 | SYNTHETIC FILAMENT YARN (OTHER THAN SEWING THREAD), NOT PUT UP FOR RETAIL SALE, INCLUDING SYNTHETIC MONOFILAMENT OF LESS THAN 67 DECITEX HIGH TENACITY YARN OF POLYESTERS :OF TERYLENE DACRON | 18% | | 13/10/2017 1/07/2017 | |
| 54022090 | SYNTHETIC FILAMENT YARN (OTHER THAN SEWING THREAD), NOT PUT UP FOR RETAIL SALE, INCLUDING SYNTHETIC MONOFILAMENT OF LESS THAN 67 DECITEX HIGH TENACITY YARN OF POLYESTERS :OTHER | 18% | | 13/10/2017 1/07/2017 | |
| 54023100 | SYNTHETIC FILAMENT YARN (OTHER THAN SEWING THREAD), NOT PUT UP FOR RETAIL SALE, INCLUDING SYNTHETIC MONOFILAMENT OF LESS THAN 67 DECITEX TEXTURED YARN : OF NYLON OR OTHER POLYAMIDES, MEASURING PER SINGLE YARN NOT MORE THAN 50 TEX | 18% | | 13/10/2017 1/07/2017 | |
| 54023200 | SYNTHETIC FILAMENT YARN (OTHER THAN SEWING THREAD), NOT PUT UP FOR RETAIL SALE, INCLUDING SYNTHETIC MONOFILAMENT OF LESS THAN 67 DECITEX TEXTURED YARN :OF NYLON OR OTHER POLYAMIDES, MEASURING PER SINGLE YARN MORE THAN 50 TEX | 18% | | 13/10/2017 1/07/2017 | |
| 54023300 | SYNTHETIC FILAMENT YARN (OTHER THAN SEWING THREAD), NOT PUT UP FOR RETAIL SALE, INCLUDING SYNTHETIC MONOFILAMENT OF LESS THAN 67 DECITEX TEXTURED YARN :OF POLYESTERS | 18% | | 13/10/2017 1/07/2017 | |
| 54023400 | SYNTHETIC FILAMENT YARN (OTHER THAN SEWING THREAD), NOT PUT UP FOR RETAIL SALE, INCLUDING SYNTHETIC MONOFILAMENT OF LESS THAN 67 DECITEX TEXTURED YARN :OF POLYPROPYLENE | 18% | | 13/10/2017 1/07/2017 | |
| 540239 | OTHER | 18% | | 13/10/2017 1/07/2017 | |
| 54023910 | SYNTHETIC FILAMENT YARN (OTHER THAN SEWING THREAD), NOT PUT UP FOR RETAIL SALE, INCLUDING SYNTHETIC MONOFILAMENT OF LESS THAN 67 DECITEX TEXTURED YARN :OTHER : POLYPROPYLENE FILAMENT YARN | 18% | | 13/10/2017 1/07/2017 | |
| 54023920 | SYNTHETIC FILAMENT YARN (OTHER THAN SEWING THREAD), NOT PUT UP FOR RETAIL SALE, INCLUDING SYNTHETIC MONOFILAMENT OF LESS THAN 67 DECITEX TEXTURED YARN :OTHER :ACRYLIC FILAMENT YARN | 18% | | 13/10/2017 1/07/2017 | |
| 54023990 | SYNTHETIC FILAMENT YARN (OTHER THAN SEWING THREAD), NOT PUT UP FOR RETAIL SALE, INCLUDING SYNTHETIC MONOFILAMENT OF LESS THAN 67 DECITEX TEXTURED YARN :OTHER :OTHER | 18% | | 13/10/2017 1/07/2017 | |
| 54024100 | SYNTHETIC FILAMENT YARN (OTHER THAN SEWING THREAD), NOT PUT UP FOR RETAIL SALE, INCLUDING SYNTHETIC MONOFILAMENT OF LESS THAN 67 DECITEX OTHER YARN, SINGLE, UNTWISTED OR WITH A TWIST NOT EXCEEDING 50 TURNS PER METRE : OF NYLON OR OTHER POLYAMIDES | 18% | | 13/10/2017 1/07/2017 | |
| 54024200 | SYNTHETIC FILAMENT YARN (OTHER THAN SEWING THREAD), NOT PUT UP FOR RETAIL SALE, INCLUDING SYNTHETIC MONOFILAMENT OF LESS THAN 67 DECITEX OTHER YARN, SINGLE, UNTWISTED OR WITH A TWIST NOT EXCEEDING 50 TURNS PER METRE : OF POLYESTERS, PARTIALLY ORIENTED | 18% | | 13/10/2017 1/07/2017 | |
| 54024300 | SYNTHETIC FILAMENT YARN (OTHER THAN SEWING THREAD), NOT PUT UP FOR RETAIL SALE, INCLUDING SYNTHETIC MONOFILAMENT OF LESS THAN 67 DECITEX OTHER YARN, SINGLE, UNTWISTED OR WITH A TWIST NOT EXCEEDING 50 TURNS PER METRE : OF POLYESTERS, OTHER | 18% | | 13/10/2017 1/07/2017 | |
| 54024400 | SYNTHETIC FILAMENT YARN (OTHER THAN SEWING THREAD), NOT PUT UP FOR RETAIL SALE, INCLUDING SYNTHETIC MONOFILAMENT OF LESS THAN 67 DECITEX OTHER YARN, SINGLE, UNTWISTED OR WITH A TWIST NOT EXCEEDING 50 TURNS PER METRE : OF ELASTOMERS | 18% | | 13/10/2017 1/07/2017 | |
| 54024500 | OTHER SYNTHETIC FILAMENT YARN (OTHER THAN SEWING THREAD), NOT PUT UP FOR RETAIL SALE, INCLUDING SYNTHETIC MONOFILAMENT OF LESS THAN 67 DECITEX OTHER YARN, SINGLE, UNTWISTED OR WITH A TWIST NOT EXCEEDING 50 TURNS PER METRE : OF NYLON OR OTHER POLYAMIDES | 18% | | 13/10/2017 1/07/2017 | |
| 54024600 | OTHER SYNTHETIC FILAMENT YARN (OTHER THAN SEWING THREAD), NOT PUT UP FOR RETAIL SALE, INCLUDING SYNTHETIC MONOFILAMENT OF LESS THAN 67 DECITEX OTHER YARN, SINGLE, UNTWISTED OR WITH A TWIST NOT EXCEEDING 50 TURNS PER METRE : OF POLYESTERS, PARTIALLY ORIENT | 18% | | 13/10/2017 1/07/2017 | |
| 54024700 | OTHER SYNTHETIC FILAMENT YARN (OTHER THAN SEWING THREAD), NOT PUT UP FOR RETAIL SALE, INCLUDING SYNTHETIC MONOFILAMENT OF LESS THAN 67 DECITEX OTHER YARN, SINGLE, UNTWISTED OR WITH A TWIST NOT EXCEEDING 50 TURNS PER METRE : OF POLYESTERS | 18% | | 13/10/2017 1/07/2017 | |
| 54024800 | OTHER SYNTHETIC FILAMENT YARN (OTHER THAN SEWING THREAD), NOT PUT UP FOR RETAIL SALE, INCLUDING SYNTHETIC MONOFILAMENT OF LESS THAN 67 DECITEX OTHER YARN, SINGLE, UNTWISTED OR WITH A TWIST NOT EXCEEDING 50 TURNS PER METRE : OF POLYPROPYLENE | 18% | | 13/10/2017 1/07/2017 | |
| 54024900 | OTHER HIGH TENACITY YARN OF NYLON OR OTHER POLYAMIDES, NOT ELSEWHERE SPECIFIED | 18% | | 13/10/2017 1/07/2017 | |
| 54025100 | SYNTHETIC FILAMENT YARN (OTHER THAN SEWING THREAD), NOT PUT UP FOR RETAIL SALE, INCLUDING SYNTHETIC MONOFILAMENT OF LESS THAN 67 DECITEX OTHER YARN, SINGLE, WITH A TWIST EXCEEDING 50 TURNS PER METRE : OF NYLON OR OTHER POLYAMIDES | 18% | | 13/10/2017 1/07/2017 | |
| 54025200 | SYNTHETIC FILAMENT YARN (OTHER THAN SEWING THREAD), NOT PUT UP FOR RETAIL SALE, INCLUDING SYNTHETIC MONOFILAMENT OF LESS THAN 67 DECITEX OTHER YARN, SINGLE, WITH A TWIST EXCEEDING 50 TURNS PER METRE : OF POLYESTERS | 18% | | 13/10/2017 1/07/2017 | |
| 54025300 | OF POLYPROPYLENE | 18% | | 13/10/2017 1/07/2017 | |
| 540259 | OTHER | 18% | | 13/10/2017 1/07/2017 | |
| 54025910 | SYNTHETIC FILAMENT YARN (OTHER THAN SEWING THREAD), NOT PUT UP FOR RETAIL SALE, INCLUDING SYNTHETIC MONOFILAMENT OF LESS THAN 67 DECITEX OTHER YARN, SINGLE, WITH A TWIST EXCEEDING 50 TURNS PER METRE : OTHER : POLYPROPYLENE FILAMENT YARN | 18% | | 13/10/2017 1/07/2017 | |
| 54025990 | SYNTHETIC FILAMENT YARN (OTHER THAN SEWING THREAD), NOT PUT UP FOR RETAIL SALE, INCLUDING SYNTHETIC MONOFILAMENT OF LESS THAN 67 DECITEX OTHER YARN, SINGLE, WITH A TWIST EXCEEDING 50 TURNS PER METRE : OTHER : OTHER | 18% | | 13/10/2017 1/07/2017 | |
| 54026100 | SYNTHETIC FILAMENT YARN (OTHER THAN SEWING THREAD), NOT PUT UP FOR RETAIL SALE, INCLUDING SYNTHETIC MONOFILAMENT OF LESS THAN 67 DECITEX OTHER YARN, MULTIPLE (FOLDED) OR CABLED : OF NYLON OR OTHER POLYAMIDES | 18% | | 13/10/2017 1/07/2017 | |
| 54026200 | SYNTHETIC FILAMENT YARN (OTHER THAN SEWING THREAD), NOT PUT UP FOR RETAIL SALE, INCLUDING SYNTHETIC MONOFILAMENT OF LESS THAN 67 DECITEX OTHER YARN, MULTIPLE (FOLDED) OR CABLED :OF POLYESTERS | 18% | | 13/10/2017 1/07/2017 | |
| 54026300 | OF POLYPROPYLENE | 18% | | 13/10/2017 1/07/2017 | |
| 540269 | OTHER | 18% | | 13/10/2017 1/07/2017 | |
| 54026910 | SYNTHETIC FILAMENT YARN (OTHER THAN SEWING THREAD), NOT PUT UP FOR RETAIL SALE, INCLUDING SYNTHETIC MONOFILAMENT OF LESS THAN 67 DECITEX OTHER YARN, MULTIPLE (FOLDED) OR CABLED : OTHER : POLYVINYL ACETATE FILAMENT YARN | 18% | | 13/10/2017 1/07/2017 | |
| 54026920 | SYNTHETIC FILAMENT YARN (OTHER THAN SEWING THREAD), NOT PUT UP FOR RETAIL SALE, INCLUDING SYNTHETIC MONOFILAMENT OF LESS THAN 67 DECITEX OTHER YARN, MULTIPLE (FOLDED) OR CABLED : OTHER : POLYVINYL CHLORIDE FILAMENT YARN | 18% | | 13/10/2017 1/07/2017 | |
| 54026930 | SYNTHETIC FILAMENT YARN (OTHER THAN SEWING THREAD), NOT PUT UP FOR RETAIL SALE, INCLUDING SYNTHETIC MONOFILAMENT OF LESS THAN 67 DECITEX OTHER YARN, MULTIPLE (FOLDED) OR CABLED : OTHER :POLYPROPYLENE FILAMENT YARN | 18% | | 13/10/2017 1/07/2017 | |
| 54026940 | SYNTHETIC FILAMENT YARN (OTHER THAN SEWING THREAD), NOT PUT UP FOR RETAIL SALE, INCLUDING SYNTHETIC MONOFILAMENT OF LESS THAN 67 DECITEX OTHER YARN, MULTIPLE (FOLDED) OR CABLED : OTHER :ACRYLIC FILAMENT YARN | 18% | | 13/10/2017 1/07/2017 | |
| 54026950 | SYNTHETIC FILAMENT YARN (OTHER THAN SEWING THREAD), NOT PUT UP FOR RETAIL SALE, INCLUDING SYNTHETIC MONOFILAMENT OF LESS THAN 67 DECITEX OTHER YARN, MULTIPLE (FOLDED) OR CABLED : OTHER :POLYTETRAFLUOROETHYLENE YARN | 18% | | 13/10/2017 1/07/2017 | |
| 54026990 | SYNTHETIC FILAMENT YARN (OTHER THAN SEWING THREAD), NOT PUT UP FOR RETAIL SALE, INCLUDING SYNTHETIC MONOFILAMENT OF LESS THAN 67 DECITEX OTHER YARN, MULTIPLE (FOLDED) OR CABLED : OTHER :OTHER | 18% | | 13/10/2017 1/07/2017 | |
| 5403 | Synthetic or artificial filament yarns | 12% | | 13/10/2017 | |
| 5403 | ARTIFICIAL FILAMENT YARN (OTHER THAN SEWING THREAD), NOT PUT FOR RETAIL SALE, INCLUDING ARTIFICIAL MONO FILAMENT OF LESS THAN 67 DECITEX | 18% | | 13/10/2017 1/07/2017 | |
| 540310 | HIGH TENACITY YARN OF VISCOSE RAYON | 18% | | 13/10/2017 1/07/2017 | |
| 54031010 | ARTIFICIAL FILAMENT YARN (OTHER THAN SEWING THREAD), NOT PUT FOR RETAIL SALE, INCLUDING ARTIFICIAL MONO FILAMENT OF LESS THAN 67 DECITEX HIGH TENACITY YARN OF VISCOSE RAYON : VISCOSE RAYON TYRE YARN 1,233 DECITEX | 18% | | 13/10/2017 1/07/2017 | |
| 54031020 | ARTIFICIAL FILAMENT YARN (OTHER THAN SEWING THREAD), NOT PUT FOR RETAIL SALE, INCLUDING ARTIFICIAL MONO FILAMENT OF LESS THAN 67 DECITEX HIGH TENACITY YARN OF VISCOSE RAYON : VISCOSE RAYON TYRE YARN 1,833 DECITEX | 18% | | 13/10/2017 1/07/2017 | |
| 54031090 | ARTIFICIAL FILAMENT YARN (OTHER THAN SEWING THREAD), NOT PUT FOR RETAIL SALE, INCLUDING ARTIFICIAL MONO FILAMENT OF LESS THAN 67 DECITEX HIGH TENACITY YARN OF VISCOSE RAYON : OTHER | 18% | | 13/10/2017 1/07/2017 | |
| 54032000 | ARTIFICIAL FILAMENT YARN (OTHER THAN SEWING THREAD), NOT PUT FOR RETAIL SALE, INCLUDING ARTIFICIAL MONO FILAMENT OF LESS THAN 67 DECITEX TEXTURED YARN : | 18% | | 13/10/2017 1/07/2017 | |
| 54033100 | ARTIFICIAL FILAMENT YARN (OTHER THAN SEWING THREAD), NOT PUT FOR RETAIL SALE, INCLUDING ARTIFICIAL MONO FILAMENT OF LESS THAN 67 DECITEX OTHER YARN, SINGLE :OF VISCOSE RAYON, UNTWISTED OR WITH A TWIST NOT EXCEEDING 120 TURNS PER METRE | 18% | | 13/10/2017 1/07/2017 | |
| 54033200 | ARTIFICIAL FILAMENT YARN (OTHER THAN SEWING THREAD), NOT PUT FOR RETAIL SALE, INCLUDING ARTIFICIAL MONO FILAMENT OF LESS THAN 67 DECITEX OTHER YARN, SINGLE :OF VISCOSE RAYON, WITH A TWIST EXCEEDING 120 TURNS PER METRE | 18% | | 13/10/2017 1/07/2017 | |
| 54033300 | ARTIFICIAL FILAMENT YARN (OTHER THAN SEWING THREAD), NOT PUT FOR RETAIL SALE, INCLUDING ARTIFICIAL MONO FILAMENT OF LESS THAN 67 DECITEX OTHER YARN, SINGLE :OF CELLULOSE ACETATE | 18% | | 13/10/2017 1/07/2017 | |
| 540339 | OTHER | 18% | | 13/10/2017 1/07/2017 | |
| 54033910 | ARTIFICIAL FILAMENT YARN (OTHER THAN SEWING THREAD), NOT PUT FOR RETAIL SALE, INCLUDING ARTIFICIAL MONO FILAMENT OF LESS THAN 67 DECITEX OTHER : CUPRAMMONIUM RAYON | 18% | | 13/10/2017 1/07/2017 | |
| 54033990 | ARTIFICIAL FILAMENT YARN (OTHER THAN SEWING THREAD), NOT PUT FOR RETAIL SALE, INCLUDING ARTIFICIAL MONO FILAMENT OF LESS THAN 67 DECITEX OTHER :OTHER | 18% | | 13/10/2017 1/07/2017 | |
| 540341 | OF VISCOSE RAYON | 18% | | 13/10/2017 1/07/2017 | |
| 54034110 | ARTIFICIAL FILAMENT YARN (OTHER THAN SEWING THREAD), NOT PUT FOR RETAIL SALE, INCLUDING ARTIFICIAL MONO FILAMENT OF LESS THAN 67 DECITEX OTHER YARN, MULTIPLE (FOLDED) OR CABLED : OF VISCOSE RAYON : UP TO 67 DECITEX | 18% | | 13/10/2017 1/07/2017 | |
| 54034120 | ARTIFICIAL FILAMENT YARN (OTHER THAN SEWING THREAD), NOT PUT FOR RETAIL SALE, INCLUDING ARTIFICIAL MONO FILAMENT OF LESS THAN 67 DECITEX OTHER YARN, MULTIPLE (FOLDED) OR CABLED : OF VISCOSE RAYON : OF 83 DECITEX | 18% | | 13/10/2017 1/07/2017 | |
| 54034130 | ARTIFICIAL FILAMENT YARN (OTHER THAN SEWING THREAD), NOT PUT FOR RETAIL SALE, INCLUDING ARTIFICIAL MONO FILAMENT OF LESS THAN 67 DECITEX OTHER YARN, MULTIPLE (FOLDED) OR CABLED : OF VISCOSE RAYON : OF 111 DECITEX, BRIGHT | 18% | | 13/10/2017 1/07/2017 | |
| 54034140 | ARTIFICIAL FILAMENT YARN (OTHER THAN SEWING THREAD), NOT PUT FOR RETAIL SALE, INCLUDING ARTIFICIAL MONO FILAMENT OF LESS THAN 67 DECITEX OTHER YARN, MULTIPLE (FOLDED) OR CABLED : OF VISCOSE RAYON : OF 111 DECITEX, DULL | 18% | | 13/10/2017 1/07/2017 | |
| 54034150 | ARTIFICIAL FILAMENT YARN (OTHER THAN SEWING THREAD), NOT PUT FOR RETAIL SALE, INCLUDING ARTIFICIAL MONO FILAMENT OF LESS THAN 67 DECITEX OTHER YARN, MULTIPLE (FOLDED) OR CABLED : OF VISCOSE RAYON : OF 133 DECITEX, BRIGHT | 18% | | 13/10/2017 1/07/2017 | |
| 54034160 | ARTIFICIAL FILAMENT YARN (OTHER THAN SEWING THREAD), NOT PUT FOR RETAIL SALE, INCLUDING ARTIFICIAL MONO FILAMENT OF LESS THAN 67 DECITEX OTHER YARN, MULTIPLE (FOLDED) OR CABLED : OF VISCOSE RAYON : OF 133 DECITEX, DULL | 18% | | 13/10/2017 1/07/2017 | |
| 54034170 | ARTIFICIAL FILAMENT YARN (OTHER THAN SEWING THREAD), NOT PUT FOR RETAIL SALE, INCLUDING ARTIFICIAL MONO FILAMENT OF LESS THAN 67 DECITEX OTHER YARN, MULTIPLE (FOLDED) OR CABLED : OF VISCOSE RAYON : OF 167 DECITEX, BRIGHT | 18% | | 13/10/2017 1/07/2017 | |
| 54034180 | ARTIFICIAL FILAMENT YARN (OTHER THAN SEWING THREAD), NOT PUT FOR RETAIL SALE, INCLUDING ARTIFICIAL MONO FILAMENT OF LESS THAN 67 DECITEX OTHER YARN, MULTIPLE (FOLDED) OR CABLED : OF VISCOSE RAYON : OF 167 DECITEX, DULL | 18% | | 13/10/2017 1/07/2017 | |
| 54034190 | ARTIFICIAL FILAMENT YARN (OTHER THAN SEWING THREAD), NOT PUT FOR RETAIL SALE, INCLUDING ARTIFICIAL MONO FILAMENT OF LESS THAN 67 DECITEX OTHER YARN, MULTIPLE (FOLDED) OR CABLED : OF VISCOSE RAYON : OTHER | 18% | | 13/10/2017 1/07/2017 | |
| 540342 | OF CELLULOSE ACETATE | 18% | | 13/10/2017 1/07/2017 | |
| 54034210 | ARTIFICIAL FILAMENT YARN (OTHER THAN SEWING THREAD), NOT PUT FOR RETAIL SALE, INCLUDING ARTIFICIAL MONO FILAMENT OF LESS THAN 67 DECITEX OTHER YARN, MULTIPLE (FOLDED) OR CABLED :OF CELLULOSE ACETATE :ACETATE RAYON FILAMENT YARN, 83 DECITEX | 18% | | 13/10/2017 1/07/2017 | |
| 54034220 | ARTIFICIAL FILAMENT YARN (OTHER THAN SEWING THREAD), NOT PUT FOR RETAIL SALE, INCLUDING ARTIFICIAL MONO FILAMENT OF LESS THAN 67 DECITEX OTHER YARN, MULTIPLE (FOLDED) OR CABLED :OF CELLULOSE ACETATE :ACETATE RAYON FILAMENT YARN, 111 DECITEX | 18% | | 13/10/2017 1/07/2017 | |
| 54034230 | ARTIFICIAL FILAMENT YARN (OTHER THAN SEWING THREAD), NOT PUT FOR RETAIL SALE, INCLUDING ARTIFICIAL MONO FILAMENT OF LESS THAN 67 DECITEX OTHER YARN, MULTIPLE (FOLDED) OR CABLED :OF CELLULOSE ACETATE :ACETATE RAYON FILAMENT YARN, 133 DECITEX | 18% | | 13/10/2017 1/07/2017 | |
| 54034240 | ARTIFICIAL FILAMENT YARN (OTHER THAN SEWING THREAD), NOT PUT FOR RETAIL SALE, INCLUDING ARTIFICIAL MONO FILAMENT OF LESS THAN 67 DECITEX OTHER YARN, MULTIPLE (FOLDED) OR CABLED :OF CELLULOSE ACETATE :ACETATE RAYON FILAMENT YARN, 167 DECITEX | 18% | | 13/10/2017 1/07/2017 | |
| 54034250 | ARTIFICIAL FILAMENT YARN (OTHER THAN SEWING THREAD), NOT PUT FOR RETAIL SALE, INCLUDING ARTIFICIAL MONO FILAMENT OF LESS THAN 67 DECITEX OTHER YARN, MULTIPLE (FOLDED) OR CABLED :OF CELLULOSE ACETATE :ACETATE RAYON FILAMENT YARN, 333 DECITEX | 18% | | 13/10/2017 1/07/2017 | |
| 54034290 | ARTIFICIAL FILAMENT YARN (OTHER THAN SEWING THREAD), NOT PUT FOR RETAIL SALE, INCLUDING ARTIFICIAL MONO FILAMENT OF LESS THAN 67 DECITEX OTHER YARN, MULTIPLE (FOLDED) OR CABLED :OF CELLULOSE ACETATE :OTHER | 18% | | 13/10/2017 1/07/2017 | |
| 540349 | OTHER | 18% | | 13/10/2017 1/07/2017 | |
| 54034911 | ARTIFICIAL FILAMENT YARN (OTHER THAN SEWING THREAD), NOT PUT FOR RETAIL SALE, INCLUDING ARTIFICIAL MONO FILAMENT OF LESS THAN 67 DECITEX OTHER YARN, MULTIPLE (FOLDED) OR CABLED :OTHER : CUPRAMMONIUM FILAMENT YARN : OF 33 DECITEX | 18% | | 13/10/2017 1/07/2017 | |
| 54034912 | ARTIFICIAL FILAMENT YARN (OTHER THAN SEWING THREAD), NOT PUT FOR RETAIL SALE, INCLUDING ARTIFICIAL MONO FILAMENT OF LESS THAN 67 DECITEX OTHER YARN, MULTIPLE (FOLDED) OR CABLED :OTHER : CUPRAMMONIUM FILAMENT YARN : OF 44 DECITEX | 18% | | 13/10/2017 1/07/2017 | |
| 54034913 | ARTIFICIAL FILAMENT YARN (OTHER THAN SEWING THREAD), NOT PUT FOR RETAIL SALE, INCLUDING ARTIFICIAL MONO FILAMENT OF LESS THAN 67 DECITEX OTHER YARN, MULTIPLE (FOLDED) OR CABLED :OTHER : CUPRAMMONIUM FILAMENT YARN : OF 67 DECITEX | 18% | | 13/10/2017 1/07/2017 | |
| 54034914 | ARTIFICIAL FILAMENT YARN (OTHER THAN SEWING THREAD), NOT PUT FOR RETAIL SALE, INCLUDING ARTIFICIAL MONO FILAMENT OF LESS THAN 67 DECITEX OTHER YARN, MULTIPLE (FOLDED) OR CABLED :OTHER : CUPRAMMONIUM FILAMENT YARN : OF 83 DECITEX | 18% | | 13/10/2017 1/07/2017 | |
| 54034915 | ARTIFICIAL FILAMENT YARN (OTHER THAN SEWING THREAD), NOT PUT FOR RETAIL SALE, INCLUDING ARTIFICIAL MONO FILAMENT OF LESS THAN 67 DECITEX OTHER YARN, MULTIPLE (FOLDED) OR CABLED :OTHER : CUPRAMMONIUM FILAMENT YARN : OF 89 DECITEX | 18% | | 13/10/2017 1/07/2017 | |
| 54034919 | ARTIFICIAL FILAMENT YARN (OTHER THAN SEWING THREAD), NOT PUT FOR RETAIL SALE, INCLUDING ARTIFICIAL MONO FILAMENT OF LESS THAN 67 DECITEX OTHER YARN, MULTIPLE (FOLDED) OR CABLED :OTHER : CUPRAMMONIUM FILAMENT YARN : OTHER | 18% | | 13/10/2017 1/07/2017 | |
| 54034990 | ARTIFICIAL FILAMENT YARN (OTHER THAN SEWING THREAD), NOT PUT FOR RETAIL SALE, INCLUDING ARTIFICIAL MONO FILAMENT OF LESS THAN 67 DECITEX OTHER YARN, MULTIPLE (FOLDED) OR CABLED :OTHER : OTHER | 18% | | 13/10/2017 1/07/2017 | |
| 5404 | Synthetic or artificial filament yarns | 12% | | 13/10/2017 | |
| 5404 | SYNTHETIC MONOFILAMENT OF 67 DECITEX OR MORE AND OF WHICH NO CROSSSECTIONAL DIMENSION EXCEEDS 1 MM; STRIP AND THE LIKE (FOR EXAMPLE, ARTIFICIAL STRAW) OF SYNTHETICTEXTILE MATERIALS OF AN APPARENT WIDTH NOT EXCEEDING 5 MM – MONOFILAMENT | 18% | | 13/10/2017 1/07/2017 | |
| 54041000 | SYNTHETIC MONOFILAMENT OF 67 DECITEX OR MORE AND OF WHICH NO CROSS-SECTIONAL DIMENSION EXCEEDS 1 MM; STRIP AND THE LIKE (FOR EXAMPLE, ARTIFICIAL STRAW) OF SYNTHETIC TEXTILE MATERIALS OF AN APPARENT WIDTH NOT EXCEEDING 5 MM MONOFILAMENT | 18% | | 13/10/2017 1/07/2017 | |
| 54041100 | ELASTOMETIC MONOFILAMENT | 18% | | 13/10/2017 1/07/2017 | |
| 54041200 | OTHER MONOFILAMENT OF POLYPROPYLENE | 18% | | 13/10/2017 1/07/2017 | |
| 540419 | OTHER | 18% | | 13/10/2017 1/07/2017 | |
| 54041910 | OTHER MONOFILAMENTS – CATGUT IMITATION OF NON-STERILE SYNTHETIC YARN | 18% | | 13/10/2017 1/07/2017 | |
| 54041920 | MONOFILAMENTS | 18% | | 13/10/2017 1/07/2017 | |
| 54041990 | OTHER MONOFILAMENTS – NOT SPECIFIED ELSEWHERE | 18% | | 13/10/2017 1/07/2017 | |
| 540490 | OTHER | 18% | | 13/10/2017 1/07/2017 | |
| 54049010 | SYNTHETIC MONOFILAMENT OF 67 DECITEX OR MORE AND OF WHICH NO CROSS-SECTIONAL DIMENSION EXCEEDS 1 MM; STRIP AND THE LIKE (FOR EXAMPLE, ARTIFICIAL STRAW) OF SYNTHETIC TEXTILE MATERIALS OF AN APPARENT WIDTH NOT EXCEEDING 5 MM OTHER : CATGUT IMITATION OF SYNT | 18% | | 13/10/2017 1/07/2017 | |
| 54049020 | SYNTHETIC MONOFILAMENT OF 67 DECITEX OR MORE AND OF WHICH NO CROSS-SECTIONAL DIMENSION EXCEEDS 1 MM; STRIP AND THE LIKE (FOR EXAMPLE, ARTIFICIAL STRAW) OF SYNTHETIC TEXTILE MATERIALS OF AN APPARENT WIDTH NOT EXCEEDING 5 MM OTHER : STRIP AND THE LIKE OF SY | 18% | | 13/10/2017 1/07/2017 | |
| 54049090 | SYNTHETIC MONOFILAMENT OF 67 DECITEX OR MORE AND OF WHICH NO CROSS-SECTIONAL DIMENSION EXCEEDS 1 MM; STRIP AND THE LIKE (FOR EXAMPLE, ARTIFICIAL STRAW) OF SYNTHETIC TEXTILE MATERIALS OF AN APPARENT WIDTH NOT EXCEEDING 5 MM OTHER : OTHER | 18% | | 13/10/2017 1/07/2017 | |
| 5405 | Synthetic or artificial filament yarns | 12% | | 13/10/2017 | |
| 5405 | ARTIFICIAL MONOFILAMENT OF 67 DECITEX OR MORE AND OF WHICH NO CROSS-SECTIONAL DIMENSION EXCEEDS 1 MM; STRIP AND THE LIKE (FOR EXAMPLE, ARTIFICIAL STRAW) OF ARTIFICIAL TEXTILE MATERIALS OF AN APPARENT WIDTH NOT EXCEEDING 5 MM | 18% | | 13/10/2017 1/07/2017 | |
| 54050000 | ARTIFICIAL MONOFILAMENT OF 67 DECITEX OR MORE AND OF WHICH NO CROSS-SECTIONAL DIMENSION EXCEEDS 1 MM; STRIP AND THE LIKE (FOR EXAMPLE, ARTIFICIAL STRAW) OF ARTIFICIAL TEXTILE MATERIALS OF AN APPARENT WIDTH NOT EXCEEDING 5 MM | 18% | | 13/10/2017 1/07/2017 | |
| 5406 | Synthetic or artificial filament yarns | 12% | | 13/10/2017 | |
| 5406 | All goods other than synthetic filament yarns | 18% | | 01/07/2017 | |
| 5406 | MAN-MADE FILAMENT YARN (OTHER THAN SEWING THREAD), PUT UP FOR RETAIL SALE | 18% | | 13/10/2017 1/07/2017 | |
| 540600 | MAN-MADE FILAMENT YARN (OTHER THAN SEWING THREAD), PUT FOR RETAIL SALE | 18% | | 13/10/2017 1/07/2017 | |
| 54060010 | MAN-MADE FILAMENT YARN (OTHER THAN SEWING THREAD), PUT UP FOR RETAIL SALE, SYNTHETIC FILAMENT YARN | 18% | | 13/10/2017 1/07/2017 | |
| 54060020 | MAN-MADE FILAMENT YARN (OTHER THAN SEWING THREAD), PUT UP FOR RETAIL SALE, ARTIFICIAL FILAMENT YARN | 18% | | 13/10/2017 1/07/2017 | |
| 54061000 | MAN-MADE FILAMENT YARN (OTHER THAN SEWING THREAD), PUT UP FOR RETAIL SALE SYNTHETIC FILAMENT YARN | 18% | | 13/10/2017 1/07/2017 | |
| 54062000 | MAN-MADE FILAMENT YARN (OTHER THAN SEWING THREAD), PUT UP FOR RETAIL SALE ARTIFICIAL FILAMENT YARN | 18% | | 13/10/2017 1/07/2017 | |
| 5407 | WOVEN FABRICS OF SYNTHETIC FILAMENT YARN, INCLUDING WOVEN FABRICS OBTAINED FROM MATERIALS OF HEADING 5404 | 5% | | 01/07/2017 | |
| 540710 | WOVEN FABRICS OBTAINED FROM HIGH TENACITY YARN OF NYLON OR OTHER POLYAMIDES OR OF POLYESTERS | 5% | | 01/07/2017 | |
| 54071011 | WOVEN FABRICS OF SYNTHETIC FILAMENT YARN, INCLUDING WOVEN FABRICS OBTAINED FROM MATERIALS OF HEADING 5404 WOVEN FABRICS OBTAINED FROM HIGH TENACITY YARN OF NYLON OR OTHER POLYAMIDES OR OF POLYESTERS : UNBLEACHED : PARACHUTE FABRICS | 5% | | 01/07/2017 | |
| 54071012 | WOVEN FABRICS OF SYNTHETIC FILAMENT YARN, INCLUDING WOVEN FABRICS OBTAINED FROM MATERIALS OF HEADING 5404 WOVEN FABRICS OBTAINED FROM HIGH TENACITY YARN OF NYLON OR OTHER POLYAMIDES OR OF POLYESTERS : UNBLEACHED : TENT FABRICS | 5% | | 01/07/2017 | |
| 54071013 | WOVEN FABRICS OF SYNTHETIC FILAMENT YARN, INCLUDING WOVEN FABRICS OBTAINED FROM MATERIALS OF HEADING 5404 WOVEN FABRICS OBTAINED FROM HIGH TENACITY YARN OF NYLON OR OTHER POLYAMIDES OR OF POLYESTERS : UNBLEACHED : NYLON FURNISHING FABRICS | 5% | | 01/07/2017 | |
| 54071014 | WOVEN FABRICS OF SYNTHETIC FILAMENT YARN, INCLUDING WOVEN FABRICS OBTAINED FROM MATERIALS OF HEADING 5404 WOVEN FABRICS OBTAINED FROM HIGH TENACITY YARN OF NYLON OR OTHER POLYAMIDES OR OF POLYESTERS : UNBLEACHED : UMBRELLA CLOTH PANEL FABRICS | 5% | | 01/07/2017 | |
| 54071015 | WOVEN FABRICS OF SYNTHETIC FILAMENT YARN, INCLUDING WOVEN FABRICS OBTAINED FROM MATERIALS OF HEADING 5404 WOVEN FABRICS OBTAINED FROM HIGH TENACITY YARN OF NYLON OR OTHER POLYAMIDES OR OF POLYESTERS : UNBLEACHED : OTHER NYLON AND POLYAMIDE FABRICS (FILAME | 5% | | 01/07/2017 | |
| 54071016 | WOVEN FABRICS OF SYNTHETIC FILAMENT YARN, INCLUDING WOVEN FABRICS OBTAINED FROM MATERIALS OF HEADING 5404 WOVEN FABRICS OBTAINED FROM HIGH TENACITY YARN OF NYLON OR OTHER POLYAMIDES OR OF POLYESTERS : UNBLEACHED : POLYESTER SUITINGS | 5% | | 01/07/2017 | |
| 54071019 | WOVEN FABRICS OF SYNTHETIC FILAMENT YARN, INCLUDING WOVEN FABRICS OBTAINED FROM MATERIALS OF HEADING 5404 WOVEN FABRICS OBTAINED FROM HIGH TENACITY YARN OF NYLON OR OTHER POLYAMIDES OR OF POLYESTERS : UNBLEACHED : OTHER POLYESTER FABRICS | 5% | | 01/07/2017 | |
| 54071021 | WOVEN FABRICS OF SYNTHETIC FILAMENT YARN, INCLUDING WOVEN FABRICS OBTAINED FROM MATERIALS OF HEADING 5404 WOVEN FABRICS OBTAINED FROM HIGH TENACITY YARN OF NYLON OR OTHER POLYAMIDES OR OF POLYESTERS : BLEACHED : PARACHUTE FABRICS | 5% | | 01/07/2017 | |
| 54071022 | WOVEN FABRICS OF SYNTHETIC FILAMENT YARN, INCLUDING WOVEN FABRICS OBTAINED FROM MATERIALS OF HEADING 5404 WOVEN FABRICS OBTAINED FROM HIGH TENACITY YARN OF NYLON OR OTHER POLYAMIDES OR OF POLYESTERS : BLEACHED : TENT FABRICS | 5% | | 01/07/2017 | |
| 54071023 | WOVEN FABRICS OF SYNTHETIC FILAMENT YARN, INCLUDING WOVEN FABRICS OBTAINED FROM MATERIALS OF HEADING 5404 WOVEN FABRICS OBTAINED FROM HIGH TENACITY YARN OF NYLON OR OTHER POLYAMIDES OR OF POLYESTERS : BLEACHED : NYLON FURNISHING FABRICS | 5% | | 01/07/2017 | |
| 54071024 | WOVEN FABRICS OF SYNTHETIC FILAMENT YARN, INCLUDING WOVEN FABRICS OBTAINED FROM MATERIALS OF HEADING 5404 WOVEN FABRICS OBTAINED FROM HIGH TENACITY YARN OF NYLON OR OTHER POLYAMIDES OR OF POLYESTERS : BLEACHED : UMBRELLA CLOTH PANEL FABRICS | 5% | | 01/07/2017 | |
| 54071025 | WOVEN FABRICS OF SYNTHETIC FILAMENT YARN, INCLUDING WOVEN FABRICS OBTAINED FROM MATERIALS OF HEADING 5404 WOVEN FABRICS OBTAINED FROM HIGH TENACITY YARN OF NYLON OR OTHER POLYAMIDES OR OF POLYESTERS : BLEACHED : OTHER NYLON AND POLYAMIDE FABRICS OF FILAME | 5% | | 01/07/2017 | |
| 54071026 | WOVEN FABRICS OF SYNTHETIC FILAMENT YARN, INCLUDING WOVEN FABRICS OBTAINED FROM MATERIALS OF HEADING 5404 WOVEN FABRICS OBTAINED FROM HIGH TENACITY YARN OF NYLON OR OTHER POLYAMIDES OR OF POLYESTERS : BLEACHED : POLYESTER SUITINGS | 5% | | 01/07/2017 | |
| 54071029 | WOVEN FABRICS OF SYNTHETIC FILAMENT YARN, INCLUDING WOVEN FABRICS OBTAINED FROM MATERIALS OF HEADING 5404 WOVEN FABRICS OBTAINED FROM HIGH TENACITY YARN OF NYLON OR OTHER POLYAMIDES OR OF POLYESTERS : BLEACHED : OTHER | 5% | | 01/07/2017 | |
| 54071031 | WOVEN FABRICS OF SYNTHETIC FILAMENT YARN, INCLUDING WOVEN FABRICS OBTAINED FROM MATERIALS OF HEADING 5404 WOVEN FABRICS OBTAINED FROM HIGH TENACITY YARN OF NYLON OR OTHER POLYAMIDES OR OF POLYESTERS : DYED :PARACHUTE FABRICS | 5% | | 01/07/2017 | |
| 54071032 | WOVEN FABRICS OF SYNTHETIC FILAMENT YARN, INCLUDING WOVEN FABRICS OBTAINED FROM MATERIALS OF HEADING 5404 WOVEN FABRICS OBTAINED FROM HIGH TENACITY YARN OF NYLON OR OTHER POLYAMIDES OR OF POLYESTERS : DYED :TENT FABRICS | 5% | | 01/07/2017 | |
| 54071033 | WOVEN FABRICS OF SYNTHETIC FILAMENT YARN, INCLUDING WOVEN FABRICS OBTAINED FROM MATERIALS OF HEADING 5404 WOVEN FABRICS OBTAINED FROM HIGH TENACITY YARN OF NYLON OR OTHER POLYAMIDES OR OF POLYESTERS : DYED :NYLON FURNISHING FABRICS | 5% | | 01/07/2017 | |
| 54071034 | WOVEN FABRICS OF SYNTHETIC FILAMENT YARN, INCLUDING WOVEN FABRICS OBTAINED FROM MATERIALS OF HEADING 5404 WOVEN FABRICS OBTAINED FROM HIGH TENACITY YARN OF NYLON OR OTHER POLYAMIDES OR OF POLYESTERS : DYED :UMBRELLA CLOTH PANEL FABRICS | 5% | | 01/07/2017 | |
| 54071035 | WOVEN FABRICS OF SYNTHETIC FILAMENT YARN, INCLUDING WOVEN FABRICS OBTAINED FROM MATERIALS OF HEADING 5404 WOVEN FABRICS OBTAINED FROM HIGH TENACITY YARN OF NYLON OR OTHER POLYAMIDES OR OF POLYESTERS : DYED :OTHER NYLON AND POLYAMIDE FABRICS (FILAMENT) | 5% | | 01/07/2017 | |
| 54071036 | MATERIALS OF HEADING 5404 WOVEN FABRICS OBTAINED FROM HIGH TENACITY YARN OF NYLON OR OTHER POLYAMIDES OR OF POLYESTERS : DYED :POLYESTER SUITINGS | 5% | | 01/07/2017 | |
| 54071039 | WOVEN FABRICS OF SYNTHETIC FILAMENT YARN, INCLUDING WOVEN FABRICS OBTAINED FROM MATERIALS OF HEADING 5404 WOVEN FABRICS OBTAINED FROM HIGH TENACITY YARN OF NYLON OR OTHER POLYAMIDES OR OF POLYESTERS : DYED :OTHER | 5% | | 01/07/2017 | |
| 54071041 | WOVEN FABRICS OF SYNTHETIC FILAMENT YARN, INCLUDING WOVEN FABRICS OBTAINED FROM MATERIALS OF HEADING 5404 WOVEN FABRICS OBTAINED FROM HIGH TENACITY YARN OF NYLON OR OTHER POLYAMIDES OR OF POLYESTERS : PRINTED : PARACHUTE FABRICS | 5% | | 01/07/2017 | |
| 54071042 | WOVEN FABRICS OF SYNTHETIC FILAMENT YARN, INCLUDING WOVEN FABRICS OBTAINED FROM MATERIALS OF HEADING 5404 WOVEN FABRICS OBTAINED FROM HIGH TENACITY YARN OF NYLON OR OTHER POLYAMIDES OR OF POLYESTERS : PRINTED :TENT FABRICS | 5% | | 01/07/2017 | |
| 54071043 | WOVEN FABRICS OF SYNTHETIC FILAMENT YARN, INCLUDING WOVEN FABRICS OBTAINED FROM MATERIALS OF HEADING 5404 WOVEN FABRICS OBTAINED FROM HIGH TENACITY YARN OF NYLON OR OTHER POLYAMIDES OR OF POLYESTERS : PRINTED :NYLON FURNISHING FABRICS | 5% | | 01/07/2017 | |
| 54071044 | WOVEN FABRICS OF SYNTHETIC FILAMENT YARN, INCLUDING WOVEN FABRICS OBTAINED FROM MATERIALS OF HEADING 5404 WOVEN FABRICS OBTAINED FROM HIGH TENACITY YARN OF NYLON OR OTHER POLYAMIDES OR OF POLYESTERS : PRINTED :UMBRELLA CLOTH PANEL FABRICS | 5% | | 01/07/2017 | |
| 54071045 | WOVEN FABRICS OF SYNTHETIC FILAMENT YARN, INCLUDING WOVEN FABRICS OBTAINED FROM MATERIALS OF HEADING 5404 WOVEN FABRICS OBTAINED FROM HIGH TENACITY YARN OF NYLON OR OTHER POLYAMIDES OR OF POLYESTERS : PRINTED :OTHER NYLON AND POLYAMIDE FABRICS (FILAMENT) | 5% | | 01/07/2017 | |
| 54071046 | WOVEN FABRICS OF SYNTHETIC FILAMENT YARN, INCLUDING WOVEN FABRICS OBTAINED FROM MATERIALS OF HEADING 5404 WOVEN FABRICS OBTAINED FROM HIGH TENACITY YARN OF NYLON OR OTHER POLYAMIDES OR OF POLYESTERS : PRINTED :POLYESTER SUITINGS | 5% | | 01/07/2017 | |
| 54071049 | WOVEN FABRICS OF SYNTHETIC FILAMENT YARN, INCLUDING WOVEN FABRICS OBTAINED FROM MATERIALS OF HEADING 5404 WOVEN FABRICS OBTAINED FROM HIGH TENACITY YARN OF NYLON OR OTHER POLYAMIDES OR OF POLYESTERS : PRINTED :POLYESTER SUITINGS | 5% | | 01/07/2017 | |
| 54071091 | WOVEN FABRICS OF SYNTHETIC FILAMENT YARN, INCLUDING WOVEN FABRICS OBTAINED FROM MATERIALS OF HEADING 5404 WOVEN FABRICS OBTAINED FROM HIGH TENACITY YARN OF NYLON OR OTHER POLYAMIDES OR OF POLYESTERS : OTHER : PARACHUTE FABRICS | 5% | | 01/07/2017 | |
| 54071092 | WOVEN FABRICS OF SYNTHETIC FILAMENT YARN, INCLUDING WOVEN FABRICS OBTAINED FROM MATERIALS OF HEADING 5404 WOVEN FABRICS OBTAINED FROM HIGH TENACITY YARN OF NYLON OR OTHER POLYAMIDES OR OF POLYESTERS : OTHER :TENT FABRICS | 5% | | 01/07/2017 | |
| 54071093 | WOVEN FABRICS OF SYNTHETIC FILAMENT YARN, INCLUDING WOVEN FABRICS OBTAINED FROM MATERIALS OF HEADING 5404 WOVEN FABRICS OBTAINED FROM HIGH TENACITY YARN OF NYLON OR OTHER POLYAMIDES OR OF POLYESTERS : OTHER :NYLON FURNISHING FABRICS | 5% | | 01/07/2017 | |
| 54071094 | WOVEN FABRICS OF SYNTHETIC FILAMENT YARN, INCLUDING WOVEN FABRICS OBTAINED FROM MATERIALS OF HEADING 5404 WOVEN FABRICS OBTAINED FROM HIGH TENACITY YARN OF NYLON OR OTHER POLYAMIDES OR OF POLYESTERS : OTHER :UMBRELLA CLOTH PANEL FABRICS | 5% | | 01/07/2017 | |
| 54071095 | WOVEN FABRICS OF SYNTHETIC FILAMENT YARN, INCLUDING WOVEN FABRICS OBTAINED FROM MATERIALS OF HEADING 5404 WOVEN FABRICS OBTAINED FROM HIGH TENACITY YARN OF NYLON OR OTHER POLYAMIDES OR OF POLYESTERS : OTHER :OTHER NYLON AND POLYAMIDE FABRICS OF FILAMENT Y | 5% | | 01/07/2017 | |
| 54071096 | WOVEN FABRICS OF SYNTHETIC FILAMENT YARN, INCLUDING WOVEN FABRICS OBTAINED FROM MATERIALS OF HEADING 5404 WOVEN FABRICS OBTAINED FROM HIGH TENACITY YARN OF NYLON OR OTHER POLYAMIDES OR OF POLYESTERS : OTHER :OTHER NYLON AND POLYAMIDE FABRICS OF FILAMENT Y | 5% | | 01/07/2017 | |
| 54071099 | WOVEN FABRICS OF SYNTHETIC FILAMENT YARN, INCLUDING WOVEN FABRICS OBTAINED FROM MATERIALS OF HEADING 5404 WOVEN FABRICS OBTAINED FROM HIGH TENACITY YARN OF NYLON OR OTHER POLYAMIDES OR OF POLYESTERS : OTHER :OTHER | 5% | | 01/07/2017 | |
| 540720 | WOVEN FABRICS OBTAINED FROM STRIP OR THE LIKE | 5% | | 01/07/2017 | |
| 54072010 | WOVEN FABRICS OF SYNTHETIC FILAMENT YARN, INCLUDING WOVEN FABRICS OBTAINED FROM MATERIALS OF HEADING 5404 WOVEN FABRICS OBTAINED FROM STRIP OR THE LIKE :UNBLEACHED | 5% | | 01/07/2017 | |
| 54072020 | WOVEN FABRICS OF SYNTHETIC FILAMENT YARN, INCLUDING WOVEN FABRICS OBTAINED FROM MATERIALS OF HEADING 5404 WOVEN FABRICS OBTAINED FROM STRIP OR THE LIKE : BLEACHED | 5% | | 01/07/2017 | |
| 54072030 | WOVEN FABRICS OF SYNTHETIC FILAMENT YARN, INCLUDING WOVEN FABRICS OBTAINED FROM MATERIALS OF HEADING 5404 WOVEN FABRICS OBTAINED FROM STRIP OR THE LIKE :DYED | 5% | | 01/07/2017 | |
| 54072040 | WOVEN FABRICS OF SYNTHETIC FILAMENT YARN, INCLUDING WOVEN FABRICS OBTAINED FROM MATERIALS OF HEADING 5404 WOVEN FABRICS OBTAINED FROM STRIP OR THE LIKE : PRINTED | 5% | | 01/07/2017 | |
| 54072090 | WOVEN FABRICS OF SYNTHETIC FILAMENT YARN, INCLUDING WOVEN FABRICS OBTAINED FROM MATERIALS OF HEADING 5404 WOVEN FABRICS OBTAINED FROM STRIP OR THE LIKE :OTHER | 5% | | 01/07/2017 | |
| 540730 | FABRICS SPECIFIED IN NOTE 9 TO SECTION XI | 5% | | 01/07/2017 | |
| 54073010 | WOVEN FABRICS OF SYNTHETIC FILAMENT YARN, INCLUDING WOVEN FABRICS OBTAINED FROM MATERIALS OF HEADING 5404 FABRICS SPECIFIED IN NOTE 9 TO SECTION XI UNBLEACHED | 5% | | 01/07/2017 | |
| 54073020 | WOVEN FABRICS OF SYNTHETIC FILAMENT YARN, INCLUDING WOVEN FABRICS OBTAINED FROM MATERIALS OF HEADING 5404 FABRICS SPECIFIED IN NOTE 9 TO SECTION XI BLEACHED | 5% | | 01/07/2017 | |
| 54073030 | WOVEN FABRICS OF SYNTHETIC FILAMENT YARN, INCLUDING WOVEN FABRICS OBTAINED FROM MATERIALS OF HEADING 5404 FABRICS SPECIFIED IN NOTE 9 TO SECTION XI DYED | 5% | | 01/07/2017 | |
| 54073040 | WOVEN FABRICS OF SYNTHETIC FILAMENT YARN, INCLUDING WOVEN FABRICS OBTAINED FROM MATERIALS OF HEADING 5404 FABRICS SPECIFIED IN NOTE 9 TO SECTION XI PRINTED | 5% | | 01/07/2017 | |
| 54073090 | WOVEN FABRICS OF SYNTHETIC FILAMENT YARN, INCLUDING WOVEN FABRICS OBTAINED FROM MATERIALS OF HEADING 5404 FABRICS SPECIFIED IN NOTE 9 TO SECTION XI OTHER | 5% | | 01/07/2017 | |
| 540741 | UNBLEACHED OR BLEACHED | 5% | | 01/07/2017 | |
| 54074111 | WOVEN FABRICS OF SYNTHETIC FILAMENT YARN, INCLUDING WOVEN FABRICS OBTAINED FROM MATERIALS OF HEADING 5404 OTHER WOVEN FABRICS, CONTAINING 85 PERCENT OR MORE BY WEIGHT OF FILAMENTS OF NYLON OR OTHER POLYAMIDES : UNBLEACHED OR BLEACHED : UNBLEACHED : NYLON | 5% | | 01/07/2017 | |
| 54074112 | WOVEN FABRICS OF SYNTHETIC FILAMENT YARN, INCLUDING WOVEN FABRICS OBTAINED FROM MATERIALS OF HEADING 5404 OTHER WOVEN FABRICS, CONTAINING 85 PERCENT OR MORE BY WEIGHT OF FILAMENTS OF NYLON OR OTHER POLYAMIDES : UNBLEACHED OR BLEACHED : UNBLEACHED : NYLON | 5% | | 01/07/2017 | |
| 54074113 | WOVEN FABRICS OF SYNTHETIC FILAMENT YARN, INCLUDING WOVEN FABRICS OBTAINED FROM MATERIALS OF HEADING 5404 OTHER WOVEN FABRICS, CONTAINING 85PERCENT OR MORE BY WEIGHT OF FILAMENTS OF NYLON OR OTHER POLYAMIDES : UNBLEACHED OR BLEACHED : UNBLEACHED : NYLON T | 5% | | 01/07/2017 | |
| 54074114 | WOVEN FABRICS OF SYNTHETIC FILAMENT YARN, INCLUDING WOVEN FABRICS OBTAINED FROM MATERIALS OF HEADING 5404 OTHER WOVEN FABRICS, CONTAINING 85 PERCENT OR MORE BY WEIGHT OF FILAMENTS OF NYLON OR OTHER POLYAMIDES : UNBLEACHED OR BLEACHED : UNBLEACHED : NYLON | 5% | | 01/07/2017 | |
| 54074119 | WOVEN FABRICS OF SYNTHETIC FILAMENT YARN, INCLUDING WOVEN FABRICS OBTAINED FROM MATERIALS OF HEADING 5404 OTHER WOVEN FABRICS, CONTAINING 85% OR MORE BY WEIGHT OF FILAMENTS OF NYLON OR OTHER POLYAMIDES : UNBLEACHED OR BLEACHED : UNBLEACHED : OTHER | 5% | | 01/07/2017 | |
| 54074121 | WOVEN FABRICS OF SYNTHETIC FILAMENT YARN, INCLUDING WOVEN FABRICS OBTAINED FROM MATERIALS OF HEADING 5404 OTHER WOVEN FABRICS, CONTAINING 85 PERCENT OR MORE BY WEIGHT OF FILAMENTS OF NYLON OR OTHER POLYAMIDES : UNBLEACHED OR BLEACHED : BLEACHED : NYLON BR | 5% | | 01/07/2017 | |
| 54074122 | WOVEN FABRICS OF SYNTHETIC FILAMENT YARN, INCLUDING WOVEN FABRICS OBTAINED FROM MATERIALS OF HEADING 5404 OTHER WOVEN FABRICS, CONTAINING 85 PERCENT OR MORE BY WEIGHT OF FILAMENTS OF NYLON OR OTHER POLYAMIDES : UNBLEACHED OR BLEACHED : BLEACHED : NYLON GE | 5% | | 01/07/2017 | |
| 54074123 | WOVEN FABRICS OF SYNTHETIC FILAMENT YARN, INCLUDING WOVEN FABRICS OBTAINED FROM MATERIALS OF HEADING 5404 OTHER WOVEN FABRICS, CONTAINING 85 PERCENT OR MORE BY WEIGHT OF FILAMENTS OF NYLON OR OTHER POLYAMIDES : UNBLEACHED OR BLEACHED : BLEACHED : NYLON TA | 5% | | 01/07/2017 | |
| 54074124 | WOVEN FABRICS OF SYNTHETIC FILAMENT YARN, INCLUDING WOVEN FABRICS OBTAINED FROM MATERIALS OF HEADING 5404 OTHER WOVEN FABRICS, CONTAINING 85 PERCENT OR MORE BY WEIGHT OF FILAMENTS OF NYLON OR OTHER POLYAMIDES : UNBLEACHED OR BLEACHED : BLEACHED : NYLON SA | 5% | | 01/07/2017 | |
| 54074129 | WOVEN FABRICS OF SYNTHETIC FILAMENT YARN, INCLUDING WOVEN FABRICS OBTAINED FROM MATERIALS OF HEADING 5404 OTHER WOVEN FABRICS, CONTAINING 85% OR MORE BY WEIGHT OF FILAMENTS OF NYLON OR OTHER POLYAMIDES : UNBLEACHED OR BLEACHED : BLEACHED : OTHER | 5% | | 01/07/2017 | |
| 540742 | DYED | 5% | | 01/07/2017 | |
| 54074210 | WOVEN FABRICS OF SYNTHETIC FILAMENT YARN, INCLUDING WOVEN FABRICS OBTAINED FROM MATERIALS OF HEADING 5404 OTHER WOVEN FABRICS, CONTAINING 85 PERCENT OR MORE BY WEIGHT OF FILAMENTS OF NYLON OR OTHER POLYAMIDES : DYED : NYLON BRASSO | 5% | | 01/07/2017 | |
| 54074220 | WOVEN FABRICS OF SYNTHETIC FILAMENT YARN, INCLUDING WOVEN FABRICS OBTAINED FROM MATERIALS OF HEADING 5404 OTHER WOVEN FABRICS, CONTAINING 85 PERCENT OR MORE BY WEIGHT OF FILAMENTS OF NYLON OR OTHER POLYAMIDES : DYED :NYLON GEORGETTE | 5% | | 01/07/2017 | |
| 54074230 | WOVEN FABRICS OF SYNTHETIC FILAMENT YARN, INCLUDING WOVEN FABRICS OBTAINED FROM MATERIALS OF HEADING 5404 OTHER WOVEN FABRICS, CONTAINING 85 PERCENT OR MORE BY WEIGHT OF FILAMENTS OF NYLON OR OTHER POLYAMIDES : DYED :NYLON TAFETTA | 5% | | 01/07/2017 | |
| 54074240 | WOVEN FABRICS OF SYNTHETIC FILAMENT YARN, INCLUDING WOVEN FABRICS OBTAINED FROM MATERIALS OF HEADING 5404 OTHER WOVEN FABRICS, CONTAINING 85 PERCENT OR MORE BY WEIGHT OF FILAMENTS OF NYLON OR OTHER POLYAMIDES : DYED :NYLON SAREES | 5% | | 01/07/2017 | |
| 54074290 | WOVEN FABRICS OF SYNTHETIC FILAMENT YARN, INCLUDING WOVEN FABRICS OBTAINED FROM MATERIALS OF HEADING 5404 OTHER WOVEN FABRICS, CONTAINING 85% OR MORE BY WEIGHT OF FILAMENTS OF NYLON OR OTHER POLYAMIDES : DYED :OTHER | 5% | | 01/07/2017 | |
| 54074300 | WOVEN FABRICS OF SYNTHETIC FILAMENT YARN, INCLUDING WOVEN FABRICS OBTAINED FROM MATERIALS OF HEADING 5404 OTHER WOVEN FABRICS, CONTAINING 85% OR MORE BY WEIGHT OF FILAMENTS OF NYLON OR OTHER POLYAMIDES : DYED :OF YARN OF DIFFERENT COLOURS | 5% | | 01/07/2017 | |
| 540744 | PRINTED | 5% | | 01/07/2017 | |
| 54074410 | WOVEN FABRICS OF SYNTHETIC FILAMENT YARN, INCLUDING WOVEN FABRICS OBTAINED FROM MATERIALS OF HEADING 5404 OTHER WOVEN FABRICS, CONTAINING 85 PERCENT OR MORE BY WEIGHT OF FILAMENTS OF NYLON OR OTHER POLYAMIDES : PRINTED : NYLON BRASSO | 5% | | 01/07/2017 | |
| 54074420 | WOVEN FABRICS OF SYNTHETIC FILAMENT YARN, INCLUDING WOVEN FABRICS OBTAINED FROM MATERIALS OF HEADING 5404 OTHER WOVEN FABRICS, CONTAINING 85 PERCENT OR MORE BY WEIGHT OF FILAMENTS OF NYLON OR OTHER POLYAMIDES : PRINTED :NYLON GEORGETTE | 5% | | 01/07/2017 | |
| 54074430 | WOVEN FABRICS OF SYNTHETIC FILAMENT YARN, INCLUDING WOVEN FABRICS OBTAINED FROM MATERIALS OF HEADING 5404 OTHER WOVEN FABRICS, CONTAINING 85 PERCENT OR MORE BY WEIGHT OF FILAMENTS OF NYLON OR OTHER POLYAMIDES : PRINTED :NYLON TAFETTA | 5% | | 01/07/2017 | |
| 54074440 | WOVEN FABRICS OF SYNTHETIC FILAMENT YARN, INCLUDING WOVEN FABRICS OBTAINED FROM MATERIALS OF HEADING 5404 OTHER WOVEN FABRICS, CONTAINING 85 PERCENT OR MORE BY WEIGHT OF FILAMENTS OF NYLON OR OTHER POLYAMIDES : PRINTED :NYLON SAREES, | 5% | | 01/07/2017 | |
| 54074490 | WOVEN FABRICS OF SYNTHETIC FILAMENT YARN, INCLUDING WOVEN FABRICS OBTAINED FROM MATERIALS OF HEADING 5404 OTHER WOVEN FABRICS, CONTAINING 85% OR MORE BY WEIGHT OF FILAMENTS OF NYLON OR OTHER POLYAMIDES : PRINTED :OTHER | 5% | | 01/07/2017 | |
| 540751 | UNBLEACHED OR BLEACHED | 5% | | 01/07/2017 | |
| 54075111 | WOVEN FABRICS OF SYNTHETIC FILAMENT YARN, INCLUDING WOVEN FABRICS OBTAINED FROM MATERIALS OF HEADING 5404 OTHER WOVEN FABRICS, CONTAINING 85 PERCENT OR MORE BY WEIGHT OF TEXTURED POLYESTER FILAMENTS: UNBLEACHED OR BLEACHED : UNBLEACHED : POLYESTER SHIRTIN | 5% | | 01/07/2017 | |
| 54075119 | WOVEN FABRICS OF SYNTHETIC FILAMENT YARN, INCLUDING WOVEN FABRICS OBTAINED FROM MATERIALS OF HEADING 5404 OTHER WOVEN FABRICS, CONTAINING 85 PERCENT OR MORE BY WEIGHT OF TEXTURED POLYESTER FILAMENTS: UNBLEACHED OR BLEACHED : UNBLEACHED : OTHER | 5% | | 01/07/2017 | |
| 54075121 | WOVEN FABRICS OF SYNTHETIC FILAMENT YARN, INCLUDING WOVEN FABRICS OBTAINED FROM MATERIALS OF HEADING 5404 OTHER WOVEN FABRICS, CONTAINING 85% OR MORE BY WEIGHT OF TEXTURED POLYESTER FILAMENTS: UNBLEACHED OR BLEACHED : BLEACHED : POLYESTER SHIRTINGS | 5% | | 01/07/2017 | |
| 54075129 | WOVEN FABRICS OF SYNTHETIC FILAMENT YARN, INCLUDING WOVEN FABRICS OBTAINED FROM MATERIALS OF HEADING 5404 OTHER WOVEN FABRICS, CONTAINING 85 PERCENT OR MORE BY WEIGHT OF TEXTURED POLYESTER FILAMENTS: UNBLEACHED OR BLEACHED : BLEACHED : OTHER | 5% | | 01/07/2017 | |
| 540752 | DYED | 5% | | 01/07/2017 | |
| 54075210 | WOVEN FABRICS OF SYNTHETIC FILAMENT YARN, INCLUDING WOVEN FABRICS OBTAINED FROM MATERIALS OF HEADING 5404 OTHER WOVEN FABRICS, CONTAINING 85 ERCENT OR MORE BY WEIGHT OF TEXTURED POLYESTER FILAMENTS: DYED : POLYESTER SHIRTINGS | 5% | | 01/07/2017 | |
| 54075220 | WOVEN FABRICS OF SYNTHETIC FILAMENT YARN, INCLUDING WOVEN FABRICS OBTAINED FROM MATERIALS OF HEADING 5404 OTHER WOVEN FABRICS, CONTAINING 85 PERCENT OR MORE BY WEIGHT OF TEXTURED POLYESTER FILAMENTS: DYED :POLYESTER SUITINGS | 5% | | 01/07/2017 | |
| 54075230 | WOVEN FABRICS OF SYNTHETIC FILAMENT YARN, INCLUDING WOVEN FABRICS OBTAINED FROM MATERIALS OF HEADING 5404 OTHER WOVEN FABRICS, CONTAINING 85 PERCENT OR MORE BY WEIGHT OF TEXTURED POLYESTER FILAMENTS: DYED :TERYLENE AND DACRON SAREES | 5% | | 01/07/2017 | |
| 54075240 | WOVEN FABRICS OF SYNTHETIC FILAMENT YARN, INCLUDING WOVEN FABRICS OBTAINED FROM MATERIALS OF HEADING 5404 OTHER WOVEN FABRICS, CONTAINING 85 PERCENT OR MORE BY WEIGHT OF TEXTURED POLYESTER FILAMENTS: DYED :POLYESTER SAREES | 5% | | 01/07/2017 | |
| 54075290 | WOVEN FABRICS OF SYNTHETIC FILAMENT YARN, INCLUDING WOVEN FABRICS OBTAINED FROM MATERIALS OF HEADING 5404 OTHER WOVEN FABRICS, CONTAINING 85 PERCENT OR MORE BY WEIGHT OF TEXTURED POLYESTER FILAMENTS: DYED :OTHER | 5% | | 01/07/2017 | |
| 54075300 | WOVEN FABRICS OF SYNTHETIC FILAMENT YARN, INCLUDING WOVEN FABRICS OBTAINED FROM MATERIALS OF HEADING 5404 OTHER WOVEN FABRICS, CONTAINING 85 PERCENT OR MORE BY WEIGHT OF TEXTURED POLYESTER FILAMENTS: DYED :OF YARNS OF DIFFERENT COLOURS | 5% | | 01/07/2017 | |
| 540754 | PRINTED | 5% | | 01/07/2017 | |
| 54075410 | WOVEN FABRICS OF SYNTHETIC FILAMENT YARN, INCLUDING WOVEN FABRICS OBTAINED FROM MATERIALS OF HEADING 5404 OTHER WOVEN FABRICS, CONTAINING 85 PERCENT OR MORE BY WEIGHT OF TEXTURED POLYESTER FILAMENTS: PRINTED : TERYLENE AND DACRON SAREES | 5% | | 01/07/2017 | |
| 54075420 | WOVEN FABRICS OF SYNTHETIC FILAMENT YARN, INCLUDING WOVEN FABRICS OBTAINED FROM MATERIALS OF HEADING 5404 OTHER WOVEN FABRICS, CONTAINING 85 PERCENT OR MORE BY WEIGHT OF TEXTURED POLYESTER FILAMENTS: PRINTED :POLYESTER SHIRTINGS | 5% | | 01/07/2017 | |
| 54075430 | WOVEN FABRICS OF SYNTHETIC FILAMENT YARN, INCLUDING WOVEN FABRICS OBTAINED FROM MATERIALS OF HEADING 5404 OTHER WOVEN FABRICS, CONTAINING 85 PERCENT OR MORE BY WEIGHT OF TEXTURED POLYESTER FILAMENTS: PRINTED :POLYESTER SAREES | 5% | | 01/07/2017 | |
| 54075490 | WOVEN FABRICS OF SYNTHETIC FILAMENT YARN, INCLUDING WOVEN FABRICS OBTAINED FROM WOVEN FABRICS OF SYNTHETIC FILAMENT YARN, INCLUDING WOVEN FABRICS OBTAINED FROM MATERIALS OF HEADING 5404 OTHER WOVEN FABRICS, CONTAINING 85 PERCENT OR MORE BY WEIGHT OF TEXTU | 5% | | 01/07/2017 | |
| 540761 | CONTAINING 85% OR MORE BY WEIGHT OF NONTEXTURED POLYESTER FILAMENTS | 5% | | 01/07/2017 | |
| 54076110 | WOVEN FABRICS OF SYNTHETIC FILAMENT YARN, INCLUDING WOVEN FABRICS OBTAINED FROM MATERIALS OF HEADING 5404 OTHER WOVEN FABRICS, CONTAINING 85 PERCENT OR MORE BY WEIGHT OF POLYESTER FILAMENTS : CONTAINING 85 PERCENT OR MORE BY WEIGHT OF NONTEXTURED POLYEST | 5% | | 01/07/2017 | |
| 54076120 | WOVEN FABRICS OF SYNTHETIC FILAMENT YARN, INCLUDING WOVEN FABRICS OBTAINED FROM MATERIALS OF HEADING 5404 OTHER WOVEN FABRICS, CONTAINING 85 PERCENT OR MORE BY WEIGHT OF POLYESTER FILAMENTS : CONTAINING 85 PERCENT OR MORE BY WEIGHT OF NONTEXTURED POLYESTE | 5% | | 01/07/2017 | |
| 54076190 | WOVEN FABRICS OF SYNTHETIC FILAMENT YARN, INCLUDING WOVEN FABRICS OBTAINED FROM MATERIALS OF HEADING 5404 OTHER WOVEN FABRICS, CONTAINING 85 PERCENT OR MORE BY WEIGHT OF POLYESTER FILAMENTS : CONTAINING 85 PERCENT OR MORE BY WEIGHT OF NONTEXTURED POLYEST | 5% | | 01/07/2017 | |
| 54076900 | WOVEN FABRICS OF SYNTHETIC FILAMENT YARN, INCLUDING WOVEN FABRICS OBTAINED FROM MATERIALS OF HEADING 5404 OTHER WOVEN FABRICS, CONTAINING 85 PERCENT OR MORE BY WEIGHT OF POLYESTER FILAMENTS : OTHER | 5% | | 01/07/2017 | |
| 540771 | UNBLEACHED OR BLEACHED | 5% | | 01/07/2017 | |
| 54077110 | WOVEN FABRICS OF SYNTHETIC FILAMENT YARN, INCLUDING WOVEN FABRICS OBTAINED FROM MATERIALS OF HEADING 5404 OTHER WOVEN FABRICS, CONTAINING 85% OR MORE BY WEIGHT OF SYNTHETIC FILAMENTS : UNBLEACHED OR BLEACHED : UNBLEACHED | 5% | | 01/07/2017 | |
| 54077120 | WOVEN FABRICS OF SYNTHETIC FILAMENT YARN, INCLUDING WOVEN FABRICS OBTAINED FROM MATERIALS OF HEADING 5404 OTHER WOVEN FABRICS, CONTAINING 85% OR MORE BY WEIGHT OF SYNTHETIC FILAMENTS : UNBLEACHED OR BLEACHED : BLEACHED | 5% | | 01/07/2017 | |
| 54077200 | WOVEN FABRICS OF SYNTHETIC FILAMENT YARN, INCLUDING WOVEN FABRICS OBTAINED FROM MATERIALS OF HEADING 5404 OTHER WOVEN FABRICS, CONTAINING 85% OR MORE BY WEIGHT OF SYNTHETIC FILAMENTS : DYED | 5% | | 01/07/2017 | |
| 54077300 | WOVEN FABRICS OF SYNTHETIC FILAMENT YARN, INCLUDING WOVEN FABRICS OBTAINED FROM MATERIALS OF HEADING 5404 OTHER WOVEN FABRICS, CONTAINING 85% OR MORE BY WEIGHT OF SYNTHETIC FILAMENTS : OF YARNS OF DIFFERENT COLOURS | 5% | | 01/07/2017 | |
| 54077400 | WOVEN FABRICS OF SYNTHETIC FILAMENT YARN, INCLUDING WOVEN FABRICS OBTAINED FROM MATERIALS OF HEADING 5404 OTHER WOVEN FABRICS, CONTAINING 85% OR MORE BY WEIGHT OF SYNTHETIC FILAMENTS : PRINTED | 5% | | 01/07/2017 | |
| 540781 | UNBLEACHED OR BLEACHED | 5% | | 01/07/2017 | |
| 54078111 | WOVEN FABRICS OF SYNTHETIC FILAMENT YARN, INCLUDING WOVEN FABRICS OBTAINED FROM MATERIALS OF HEADING 5404 OTHER WOVEN FABRICS, CONTAINING LESS THAN 85 PERCENT BY WEIGHT OF SYNTHETIC FILAMENTS, MIXED MAINLY OR SOLELY WITH COTTON : UNBLEACHED OR BLEACHED : | 5% | | 01/07/2017 | |
| 54078112 | WOVEN FABRICS OF SYNTHETIC FILAMENT YARN, INCLUDING WOVEN FABRICS OBTAINED FROM MATERIALS OF HEADING 5404 OTHER WOVEN FABRICS, CONTAINING LESS THAN 85 PERCENT BY WEIGHT OF SYNTHETIC FILAMENTS, MIXED MAINLY OR SOLELY WITH COTTON : UNBLEACHED OR BLEACHED : | 5% | | 01/07/2017 | |
| 54078113 | WOVEN FABRICS OF SYNTHETIC FILAMENT YARN, INCLUDING WOVEN FABRICS OBTAINED FROM MATERIALS OF HEADING 5404 OTHER WOVEN FABRICS, CONTAINING LESS THAN 85 PERCENT BY WEIGHT OF SYNTHETIC FILAMENTS, MIXED MAINLY OR SOLELY WITH COTTON : UNBLEACHED OR BLEACHED : | 5% | | 01/07/2017 | |
| 54078114 | WOVEN FABRICS OF SYNTHETIC FILAMENT YARN, INCLUDING WOVEN FABRICS OBTAINED FROM MATERIALS OF HEADING 5404 OTHER WOVEN FABRICS, CONTAINING LESS THAN 85 PERCENT BY WOVEN FABRICS OF SYNTHETIC FILAMENT YARN, INCLUDING WOVEN FABRICS OBTAINED FROM MATERIALS OF | 5% | | 01/07/2017 | |
| 54078115 | WOVEN FABRICS OF SYNTHETIC FILAMENT YARN, INCLUDING WOVEN FABRICS OBTAINED FROM MATERIALS OF HEADING 5404 OTHER WOVEN FABRICS, CONTAINING LESS THAN 85 PERCENT BY WEIGHT OF SYNTHETIC FILAMENTS, MIXED MAINLY OR SOLELY WITH COTTON : UNBLEACHED OR BLEACHED : | 5% | | 01/07/2017 | |
| 54078116 | WOVEN FABRICS OF SYNTHETIC FILAMENT YARN, INCLUDING WOVEN FABRICS OBTAINED FROM MATERIALS OF HEADING 5404 OTHER WOVEN FABRICS, CONTAINING LESS THAN 85 PERCENT BY WEIGHT OF SYNTHETIC FILAMENTS, MIXED MAINLY OR SOLELY WITH COTTON : UNBLEACHED OR BLEACHED : | 5% | | 01/07/2017 | |
| 54078119 | WOVEN FABRICS OF SYNTHETIC FILAMENT YARN, INCLUDING WOVEN FABRICS OBTAINED FROM MATERIALS OF HEADING 5404 OTHER WOVEN FABRICS, CONTAINING LESS THAN 85% BY WEIGHT OF SYNTHETIC FILAMENTS, MIXED MAINLY OR SOLELY WITH COTTON : UNBLEACHED OR BLEACHED : UNBLEAC | 5% | | 01/07/2017 | |
| 54078121 | WOVEN FABRICS OF SYNTHETIC FILAMENT YARN, INCLUDING WOVEN FABRICS OBTAINED FROM MATERIALS OF HEADING 5404 OTHER WOVEN FABRICS, CONTAINING LESS THAN 85 PERCENT BY WEIGHT OF SYNTHETIC FILAMENTS, MIXED MAINLY OR SOLELY WITH COTTON : UNBLEACHED OR BLEACHED : | 5% | | 01/07/2017 | |
| 54078122 | WOVEN FABRICS OF SYNTHETIC FILAMENT YARN, INCLUDING WOVEN FABRICS OBTAINED FROM MATERIALS OF HEADING 5404 OTHER WOVEN FABRICS, CONTAINING LESS THAN 85 PERCENT BY WEIGHT OF SYNTHETIC FILAMENTS, MIXED MAINLY OR SOLELY WITH COTTON : UNBLEACHED OR BLEACHED : | 5% | | 01/07/2017 | |
| 54078123 | WOVEN FABRICS OF SYNTHETIC FILAMENT YARN, INCLUDING WOVEN FABRICS OBTAINED FROM MATERIALS OF HEADING 5404 OTHER WOVEN FABRICS, CONTAINING LESS THAN 85 PERCENT BY WEIGHT OF SYNTHETIC FILAMENTS, MIXED MAINLY OR SOLELY WITH COTTON : UNBLEACHED OR BLEACHED : | 5% | | 01/07/2017 | |
| 54078124 | WOVEN FABRICS OF SYNTHETIC FILAMENT YARN, INCLUDING WOVEN FABRICS OBTAINED FROM MATERIALS OF HEADING 5404 OTHER WOVEN FABRICS, CONTAINING LESS THAN 85 PERCENT BY WEIGHT OF SYNTHETIC FILAMENTS, MIXED MAINLY OR SOLELY WITH COTTON : UNBLEACHED OR BLEACHED : | 5% | | 01/07/2017 | |
| 54078125 | WOVEN FABRICS OF SYNTHETIC FILAMENT YARN, INCLUDING WOVEN FABRICS OBTAINED FROM MATERIALS OF HEADING 5404 OTHER WOVEN FABRICS, CONTAINING LESS THAN 85 PERCENT BY WEIGHT OF SYNTHETIC FILAMENTS, MIXED MAINLY OR SOLELY WITH COTTON : UNBLEACHED OR BLEACHED : | 5% | | 01/07/2017 | |
| 54078126 | WOVEN FABRICS OF SYNTHETIC FILAMENT YARN, INCLUDING WOVEN FABRICS OBTAINED FROM MATERIALS OF HEADING 5404 OTHER WOVEN FABRICS, CONTAINING LESS THAN 85 PERCENT BY WEIGHT OF SYNTHETIC FILAMENTS, MIXED MAINLY OR SOLELY WITH COTTON : UNBLEACHED OR BLEACHED : | 5% | | 01/07/2017 | |
| 54078129 | WOVEN FABRICS OF SYNTHETIC FILAMENT YARN, INCLUDING WOVEN FABRICS OBTAINED FROM MATERIALS OF HEADING 5404 OTHER WOVEN FABRICS, CONTAINING LESS THAN 85% BY WEIGHT OF SYNTHETIC FILAMENTS, MIXED MAINLY OR SOLELY WITH COTTON : UNBLEACHED OR BLEACHED : BLEACHE | 5% | | 01/07/2017 | |
| 540782 | DYED | 5% | | 01/07/2017 | |
| 54078210 | WOVEN FABRICS OF SYNTHETIC FILAMENT YARN, INCLUDING WOVEN FABRICS OBTAINED FROM MATERIALS OF HEADING 5404 OTHER WOVEN FABRICS, CONTAINING LESS THAN 85 PERCENT BY WEIGHT OF SYNTHETIC FILAMENTS, MIXED MAINLY OR SOLELY WITH COTTON : DYED : NYLON GEORGETTE | 5% | | 01/07/2017 | |
| 54078220 | WOVEN FABRICS OF SYNTHETIC FILAMENT YARN, INCLUDING WOVEN FABRICS OBTAINED FROM MATERIALS OF HEADING 5404 OTHER WOVEN FABRICS, CONTAINING LESS THAN 85 PERCENT BY WEIGHT OF SYNTHETIC FILAMENTS, MIXED MAINLY OR SOLELY WITH COTTON : DYED :NYLON SAREES | 5% | | 01/07/2017 | |
| 54078230 | WOVEN FABRICS OF SYNTHETIC FILAMENT YARN, INCLUDING WOVEN FABRICS OBTAINED FROM MATERIALS OF HEADING 5404 OTHER WOVEN FABRICS, CONTAINING LESS THAN 85 PERCENT BY WEIGHT OF SYNTHETIC FILAMENTS, MIXED MAINLY OR SOLELY WITH COTTON : DYED :POLYESTER SHIRTINGS | 5% | | 01/07/2017 | |
| 54078240 | WOVEN FABRICS OF SYNTHETIC FILAMENT YARN, INCLUDING WOVEN FABRICS OBTAINED FROM MATERIALS OF HEADING 5404 OTHER WOVEN FABRICS, CONTAINING LESS THAN 85 PERCENT BY WEIGHT OF SYNTHETIC FILAMENTS, MIXED MAINLY OR SOLELY WITH COTTON : DYED :POLYESTER SUITINGS | 5% | | 01/07/2017 | |
| 54078250 | WOVEN FABRICS OF SYNTHETIC FILAMENT YARN, INCLUDING WOVEN FABRICS OBTAINED FROM MATERIALS OF HEADING 5404 OTHER WOVEN FABRICS, CONTAINING LESS THAN 85 PERCENT BY WEIGHT OF SYNTHETIC FILAMENTS, MIXED MAINLY OR SOLELY WITH COTTON : DYED :TERYLENE AND DACRON | 5% | | 01/07/2017 | |
| 54078260 | WOVEN FABRICS OF SYNTHETIC FILAMENT YARN, INCLUDING WOVEN FABRICS OBTAINED FROM MATERIALS OF HEADING 5404 OTHER WOVEN FABRICS, CONTAINING LESS THAN 85 PERCENT BY WEIGHT OF SYNTHETIC FILAMENTS, MIXED MAINLY OR SOLELY WITH COTTON : DYED :LUNGIES | 5% | | 01/07/2017 | |
| 54078290 | WOVEN FABRICS OF SYNTHETIC FILAMENT YARN, INCLUDING WOVEN FABRICS OBTAINED FROM MATERIALS OF HEADING 5404 OTHER WOVEN FABRICS, CONTAINING LESS THAN 85% BY WEIGHT OF SYNTHETIC FILAMENTS, MIXED MAINLY OR SOLELY WITH COTTON : DYED :OTHER | 5% | | 01/07/2017 | |
| 54078300 | WOVEN FABRICS OF SYNTHETIC FILAMENT YARN, INCLUDING WOVEN FABRICS OBTAINED FROM MATERIALS OF HEADING 5404 OTHER WOVEN FABRICS, CONTAINING LESS THAN 85% BY WEIGHT OF SYNTHETIC FILAMENTS, MIXED MAINLY OR SOLELY WITH COTTON : DYED :OF YARNS OF DIFFERENT COLO | 5% | | 01/07/2017 | |
| 540784 | PRINTED | 5% | | 01/07/2017 | |
| 54078410 | WOVEN FABRICS OF SYNTHETIC FILAMENT YARN, INCLUDING WOVEN FABRICS OBTAINED FROM MATERIALS OF HEADING 5404 OTHER WOVEN FABRICS, CONTAINING LESS THAN 85 PERCENT BY WEIGHT OF SYNTHETIC FILAMENTS, MIXED MAINLY OR SOLELY WITH COTTON : PRINTED : NYLON GEORGETTE | 5% | | 01/07/2017 | |
| 54078420 | WOVEN FABRICS OF SYNTHETIC FILAMENT YARN, INCLUDING WOVEN FABRICS OBTAINED FROM MATERIALS OF HEADING 5404 OTHER WOVEN FABRICS, CONTAINING LESS THAN 85 PERCENT BY WEIGHT OF SYNTHETIC FILAMENTS, MIXED MAINLY OR SOLELY WITH COTTON : PRINTED :NYLON SAREES | 5% | | 01/07/2017 | |
| 54078430 | WOVEN FABRICS OF SYNTHETIC FILAMENT YARN, INCLUDING WOVEN FABRICS OBTAINED FROM MATERIALS OF HEADING 5404 OTHER WOVEN FABRICS, CONTAINING LESS THAN 85 PERCENT BY WEIGHT OF SYNTHETIC FILAMENTS, MIXED MAINLY OR SOLELY WITH COTTON : PRINTED :POLYESTER SHIRTI | 5% | | 01/07/2017 | |
| 54078440 | WOVEN FABRICS OF SYNTHETIC FILAMENT YARN, INCLUDING WOVEN FABRICS OBTAINED FROM MATERIALS OF HEADING 5404 OTHER WOVEN FABRICS, CONTAINING LESS THAN 85 PERCENT BY WEIGHT OF SYNTHETIC FILAMENTS, MIXED MAINLY OR SOLELY WITH COTTON : PRINTED :POLYESTER SUITIN | 5% | | 01/07/2017 | |
| 54078450 | WOVEN FABRICS OF SYNTHETIC FILAMENT YARN, INCLUDING WOVEN FABRICS OBTAINED FROM MATERIALS OF HEADING 5404 OTHER WOVEN FABRICS, CONTAINING LESS THAN 85 PERCENT BY WEIGHT OF SYNTHETIC FILAMENTS, MIXED MAINLY OR SOLELY WITH COTTON : PRINTED :TERYLENE AND DAC | 5% | | 01/07/2017 | |
| 54078460 | WOVEN FABRICS OF SYNTHETIC FILAMENT YARN, INCLUDING WOVEN FABRICS OBTAINED FROM MATERIALS OF HEADING 5404 OTHER WOVEN FABRICS, CONTAINING LESS THAN 85 PERCENT BY WEIGHT OF SYNTHETIC FILAMENTS, MIXED MAINLY OR SOLELY WITH COTTON : PRINTED :LUNGIES | 5% | | 01/07/2017 | |
| 54078470 | WOVEN FABRICS OF SYNTHETIC FILAMENT YARN, INCLUDING WOVEN FABRICS OBTAINED FROM MATERIALS OF HEADING 5404 OTHER WOVEN FABRICS, CONTAINING LESS THAN 85 PERCENT BY WEIGHT OF SYNTHETIC FILAMENTS, MIXED MAINLY OR SOLELY WITH COTTON : PRINTED :POLYESTER SAREES | 5% | | 01/07/2017 | |
| 54078490 | WOVEN FABRICS OF SYNTHETIC FILAMENT YARN, INCLUDING WOVEN FABRICS OBTAINED FROM MATERIALS OF HEADING 5404 OTHER WOVEN FABRICS, CONTAINING LESS THAN 85% BY WEIGHT OF SYNTHETIC FILAMENTS, MIXED MAINLY OR SOLELY WITH COTTON : PRINTED :OTHER | 5% | | 01/07/2017 | |
| 540791 | UNBLEACHED OR BLEACHED | 5% | | 01/07/2017 | |
| 54079110 | WOVEN FABRICS OF SYNTHETIC FILAMENT YARN, INCLUDING WOVEN FABRICS OBTAINED FROM MATERIALS OF HEADING 5404 OTHER WOVEN FABRICS : UNBLEACHED OR BLEACHED : UNBLEACHED | 5% | | 01/07/2017 | |
| 54079120 | WOVEN FABRICS OF SYNTHETIC FILAMENT YARN, INCLUDING WOVEN FABRICS OBTAINED FROM MATERIALS OF HEADING 5404 OTHER WOVEN FABRICS : UNBLEACHED OR BLEACHED : BLEACHED | 5% | | 01/07/2017 | |
| 54079200 | WOVEN FABRICS OF SYNTHETIC FILAMENT YARN, INCLUDING WOVEN FABRICS OBTAINED FROM MATERIALS OF HEADING 5404 OTHER WOVEN FABRICS : DYED | 5% | | 01/07/2017 | |
| 54079300 | WOVEN FABRICS OF SYNTHETIC FILAMENT YARN, INCLUDING WOVEN FABRICS OBTAINED FROM MATERIALS OF HEADING 5404 OTHER WOVEN FABRICS : OF YARNS OF DIFFERENT COLOURS | 5% | | 01/07/2017 | |
| 54079400 | WOVEN FABRICS OF SYNTHETIC FILAMENT YARN, INCLUDING WOVEN FABRICS OBTAINED FROM MATERIALS OF HEADING 5404 OTHER WOVEN FABRICS : PRINTED | 5% | | 01/07/2017 | |
| 5408 | WOVEN FABRICS OF ARTIFICIAL FILAMENT YARN,INCLUDING WOVEN FABRICS OBTAINED FROM MATERIALS OF HEADING 5405 | 5% | | 01/07/2017 | |
| 54081000 | WOVEN FABRICS OF ARTIFICIAL FILAMENT YARN, INCLUDING WOVEN FABRICS OBTAINED FROM MATERIALS OF HEADING 5405WOVEN FABRICS OBTAINED FROM HIGH TENACITY YARN OF VISCOSE RAYON | 5% | | 01/07/2017 | |
| 540821 | UNBLEACHED OR BLEACHED | 5% | | 01/07/2017 | |
| 54082110 | WOVEN FABRICS OF ARTIFICIAL FILAMENT YARN, INCLUDING WOVEN FABRICS OBTAINED FROM MATERIALS OF HEADING 5405OTHER WOVEN FABRICS, CONTAINING 85% OR MORE BY WEIGHT OF ARTIFICIAL FILAMENT OR STRIP OR THE LIKE : UNBLEACHED OR BLEACHED : UNBLEACHED | 5% | | 01/07/2017 | |
| 54082120 | WOVEN FABRICS OF ARTIFICIAL FILAMENT YARN, INCLUDING WOVEN FABRICS OBTAINED FROM MATERIALS OF HEADING 5405OTHER WOVEN FABRICS, CONTAINING 85% OR MORE BY WEIGHT OF ARTIFICIAL FILAMENT OR STRIP OR THE LIKE : UNBLEACHED OR BLEACHED : BLEACHED | 5% | | 01/07/2017 | |
| 540822 | DYED | 5% | | 01/07/2017 | |
| 54082211 | WOVEN FABRICS OF ARTIFICIAL FILAMENT YARN, INCLUDING WOVEN FABRICS OBTAINED FROM MATERIALS OF HEADING 5405 OTHER WOVEN FABRICS, CONTAINING 85% OR MORE BY WEIGHT OF ARTIFICIAL FILAMENT OR STRIP OR THE LIKE : DYED : FABRICS OF RAYON : RAYON CREPE FABRICS | 5% | | 01/07/2017 | |
| 54082212 | WOVEN FABRICS OF ARTIFICIAL FILAMENT YARN, INCLUDING WOVEN FABRICS OBTAINED FROM MATERIALS OF HEADING 5405 OTHER WOVEN FABRICS, CONTAINING 85% OR MORE BY WEIGHT OF ARTIFICIAL FILAMENT OR STRIP OR THE LIKE : DYED : FABRICS OF RAYON : RAYON JACQUARDS | 5% | | 01/07/2017 | |
| 54082213 | WOVEN FABRICS OF ARTIFICIAL FILAMENT YARN, INCLUDING WOVEN FABRICS OBTAINED FROM MATERIALS OF HEADING 5405 OTHER WOVEN FABRICS, CONTAINING 85% OR MORE BY WEIGHT OF ARTIFICIAL FILAMENT OR STRIP OR THE LIKE : DYED : FABRICS OF RAYON : RAYON BROCADES | 5% | | 01/07/2017 | |
| 54082214 | WOVEN FABRICS OF ARTIFICIAL FILAMENT YARN, INCLUDING WOVEN FABRICS OBTAINED FROM MATERIALS OF HEADING 5405 OTHER WOVEN FABRICS, CONTAINING 85% OR MORE BY WEIGHT OF ARTIFICIAL FILAMENT OR STRIP OR THE LIKE : DYED : FABRICS OF RAYON : RAYON GEORGETTE | 5% | | 01/07/2017 | |
| 54082215 | WOVEN FABRICS OF ARTIFICIAL FILAMENT YARN, INCLUDING WOVEN FABRICS OBTAINED FROM MATERIALS OF HEADING 5405 OTHER WOVEN FABRICS, CONTAINING 85% OR MORE BY WEIGHT OF ARTIFICIAL FILAMENT OR STRIP OR THE LIKE : DYED : FABRICS OF RAYON : RAYON TAFETTA | 5% | | 01/07/2017 | |
| 54082216 | WOVEN FABRICS OF ARTIFICIAL FILAMENT YARN, INCLUDING WOVEN FABRICS OBTAINED FROM MATERIALS OF HEADING 5405 OTHER WOVEN FABRICS, CONTAINING 85% OR MORE BY WEIGHT OF ARTIFICIAL FILAMENT OR STRIP OR THE LIKE : DYED : FABRICS OF RAYON : RAYON SUITINGS | 5% | | 01/07/2017 | |
| 54082217 | WOVEN FABRICS OF ARTIFICIAL FILAMENT YARN, INCLUDING WOVEN FABRICS OBTAINED FROM MATERIALS OF HEADING 5405 OTHER WOVEN FABRICS, CONTAINING 85% OR MORE BY WEIGHT OF ARTIFICIAL FILAMENT OR STRIP OR THE LIKE : DYED : FABRICS OF RAYON : RAYON SHIRTINGS | 5% | | 01/07/2017 | |
| 54082218 | WOVEN FABRICS OF ARTIFICIAL FILAMENT YARN, INCLUDING WOVEN FABRICS OBTAINED FROM MATERIALS OF HEADING 5405 OTHER WOVEN FABRICS, CONTAINING 85% OR MORE BY WEIGHT OF ARTIFICIAL FILAMENT OR STRIP OR THE LIKE : DYED : FABRICS OF RAYON : RAYON SAREES | 5% | | 01/07/2017 | |
| 54082219 | WOVEN FABRICS OF ARTIFICIAL FILAMENT YARN, INCLUDING WOVEN FABRICS OBTAINED FROM MATERIALS OF HEADING 5405 OTHER WOVEN FABRICS, CONTAINING 85% OR MORE BY WEIGHT OF ARTIFICIAL FILAMENT OR STRIP OR THE LIKE : DYED : FABRICS OF RAYON : OTHER | 5% | | 01/07/2017 | |
| 54082220 | WOVEN FABRICS OF ARTIFICIAL FILAMENT YARN, INCLUDING WOVEN FABRICS OBTAINED FROM MATERIALS OF HEADING 5405 OTHER WOVEN FABRICS, CONTAINING 85% OR MORE BY WEIGHT OF ARTIFICIAL FILAMENT OR STRIP OR THE LIKE : DYED : FABRICS OF CONTINUOUS FILAMENT, OTHER THA | 5% | | 01/07/2017 | |
| 54082290 | WOVEN FABRICS OF ARTIFICIAL FILAMENT YARN, INCLUDING WOVEN FABRICS OBTAINED FROM MATERIALS OF HEADING 5405 OTHER WOVEN FABRICS, CONTAINING 85% OR MORE BY WEIGHT OF ARTIFICIAL FILAMENT OR STRIP OR THE LIKE : DYED : OTHER | 5% | | 01/07/2017 | |
| 54082300 | WOVEN FABRICS OF ARTIFICIAL FILAMENT YARN, INCLUDING WOVEN FABRICS OBTAINED FROM MATERIALS OF HEADING 5405 OTHER WOVEN FABRICS, CONTAINING 85% OR MORE BY WEIGHT OF ARTIFICIAL FILAMENT OR STRIP OR THE LIKE : OF YARNS OF DIFFERENT COLOURS | 5% | | 01/07/2017 | |
| 540824 | PRINTED | 5% | | 01/07/2017 | |
| 54082411 | WOVEN FABRICS OF ARTIFICIAL FILAMENT YARN, INCLUDING WOVEN FABRICS OBTAINED FROM MATERIALS OF HEADING 5405 OTHER WOVEN FABRICS, CONTAINING 85% OR MORE BY WEIGHT OF ARTIFICIAL FILAMENT OR STRIP OR THE LIKE : PRINTED : OF RAYON : RAYON CREPE FABRICS | 5% | | 01/07/2017 | |
| 54082412 | WOVEN FABRICS OF ARTIFICIAL FILAMENT YARN, INCLUDING WOVEN FABRICS OBTAINED FROM MATERIALS OF HEADING 5405 OTHER WOVEN FABRICS, CONTAINING 85% OR MORE BY WEIGHT OF ARTIFICIAL FILAMENT OR STRIP OR THE LIKE : PRINTED : OF RAYON : RAYON JACQUARDS | 5% | | 01/07/2017 | |
| 54082413 | WOVEN FABRICS OF ARTIFICIAL FILAMENT YARN, INCLUDING WOVEN FABRICS OBTAINED FROM MATERIALS OF HEADING 5405 OTHER WOVEN FABRICS, CONTAINING 85% OR MORE BY WEIGHT OF ARTIFICIAL FILAMENT OR STRIP OR THE LIKE : PRINTED : OF RAYON : RAYON BROCADES | 5% | | 01/07/2017 | |
| 54082414 | WOVEN FABRICS OF ARTIFICIAL FILAMENT YARN, INCLUDING WOVEN FABRICS OBTAINED FROM MATERIALS OF HEADING 5405 OTHER WOVEN FABRICS, CONTAINING 85% OR MORE BY WEIGHT OF ARTIFICIAL FILAMENT OR STRIP OR THE LIKE : PRINTED : OF RAYON : RAYON GEORGETTE | 5% | | 01/07/2017 | |
| 54082415 | WOVEN FABRICS OF ARTIFICIAL FILAMENT YARN, INCLUDING WOVEN FABRICS OBTAINED FROM MATERIALS OF HEADING 5405 OTHER WOVEN FABRICS, CONTAINING 85% OR MORE BY WEIGHT OF ARTIFICIAL FILAMENT OR STRIP OR THE LIKE : PRINTED : OF RAYON : RAYON TAFETTA | 5% | | 01/07/2017 | |
| 54082416 | WOVEN FABRICS OF ARTIFICIAL FILAMENT YARN, INCLUDING WOVEN FABRICS OBTAINED FROM MATERIALS OF HEADING 5405 OTHER WOVEN FABRICS, CONTAINING 85% OR MORE BY WEIGHT OF ARTIFICIAL FILAMENT OR STRIP OR THE LIKE : PRINTED : OF RAYON : RAYON SUITINGS | 5% | | 01/07/2017 | |
| 54082417 | WOVEN FABRICS OF ARTIFICIAL FILAMENT YARN, INCLUDING WOVEN FABRICS OBTAINED FROM MATERIALS OF HEADING 5405 OTHER WOVEN FABRICS, CONTAINING 85% OR MORE BY WEIGHT OF ARTIFICIAL FILAMENT OR STRIP OR THE LIKE : PRINTED : OF RAYON : RAYON SHIRTINGS | 5% | | 01/07/2017 | |
| 54082418 | WOVEN FABRICS OF ARTIFICIAL FILAMENT YARN, INCLUDING WOVEN FABRICS OBTAINED FROM MATERIALS OF HEADING 5405 OTHER WOVEN FABRICS, CONTAINING 85% OR MORE BY WEIGHT OF ARTIFICIAL FILAMENT OR STRIP OR THE LIKE : PRINTED : OF RAYON : RAYON SAREES | 5% | | 01/07/2017 | |
| 54082419 | WOVEN FABRICS OF ARTIFICIAL FILAMENT YARN, INCLUDING WOVEN FABRICS OBTAINED FROM MATERIALS OF HEADING 5405 OTHER WOVEN FABRICS, CONTAINING 85% OR MORE BY WEIGHT OF ARTIFICIAL FILAMENT OR STRIP OR THE LIKE : PRINTED : OF RAYON : OTHER | 5% | | 01/07/2017 | |
| 54082490 | WOVEN FABRICS OF ARTIFICIAL FILAMENT YARN, INCLUDING WOVEN FABRICS OBTAINED FROM MATERIALS OF HEADING 5405 OTHER WOVEN FABRICS, CONTAINING 85% OR MORE BY WEIGHT OF ARTIFICIAL FILAMENT OR STRIP OR THE LIKE : PRINTED : OTHER | 5% | | 01/07/2017 | |
| 540831 | UNBLEACHED OR BLEACHED | 5% | | 01/07/2017 | |
| 54083110 | WOVEN FABRICS OF ARTIFICIAL FILAMENT YARN, INCLUDING WOVEN FABRICS OBTAINED FROM MATERIALS OF HEADING 5405 OTHER WOVEN FABRICS : UNBLEACHED OR BLEACHED : UNBLEACHED | 5% | | 01/07/2017 | |
| 54083120 | WOVEN FABRICS OF ARTIFICIAL FILAMENT YARN, INCLUDING WOVEN FABRICS OBTAINED FROM MATERIALS OF HEADING 5405 OTHER WOVEN FABRICS : UNBLEACHED OR BLEACHED : BLEACHED | 5% | | 01/07/2017 | |
| 540832 | DYED | 5% | | 01/07/2017 | |
| 54083211 | WOVEN FABRICS OF ARTIFICIAL FILAMENT YARN, INCLUDING WOVEN FABRICS OBTAINED FROM MATERIALS OF HEADING 5405 OTHER WOVEN FABRICS : DYED : FABRICS OF RAYON : RAYON BROCADES | 5% | | 01/07/2017 | |
| 54083212 | WOVEN FABRICS OF ARTIFICIAL FILAMENT YARN, INCLUDING WOVEN FABRICS OBTAINED FROM MATERIALS OF HEADING 5405 OTHER WOVEN FABRICS : DYED : FABRICS OF RAYON : RAYON GEORGETTE | 5% | | 01/07/2017 | |
| 54083213 | WOVEN FABRICS OF ARTIFICIAL FILAMENT YARN, INCLUDING WOVEN FABRICS OBTAINED FROM MATERIALS OF HEADING 5405 OTHER WOVEN FABRICS : DYED : FABRICS OF RAYON : RAYON TAFETTA | 5% | | 01/07/2017 | |
| 54083214 | WOVEN FABRICS OF ARTIFICIAL FILAMENT YARN, INCLUDING WOVEN FABRICS OBTAINED FROM MATERIALS OF HEADING 5405 OTHER WOVEN FABRICS : DYED : FABRICS OF RAYON : RAYON SUITINGS | 5% | | 01/07/2017 | |
| 54083215 | WOVEN FABRICS OF ARTIFICIAL FILAMENT YARN, INCLUDING WOVEN FABRICS OBTAINED FROM MATERIALS OF HEADING 5405 OTHER WOVEN FABRICS : DYED : FABRICS OF RAYON : RAYON SHIRTINGS | 5% | | 01/07/2017 | |
| 54083219 | WOVEN FABRICS OF ARTIFICIAL FILAMENT YARN, INCLUDING WOVEN FABRICS OBTAINED FROM MATERIALS OF HEADING 5405 OTHER WOVEN FABRICS : DYED : FABRICS OF RAYON : OTHER | 5% | | 01/07/2017 | |
| 54083290 | WOVEN FABRICS OF ARTIFICIAL FILAMENT YARN, INCLUDING WOVEN FABRICS OBTAINED FROM MATERIALS OF HEADING 5405 OTHER WOVEN FABRICS : DYED : OTHER | 5% | | 01/07/2017 | |
| 54083300 | WOVEN FABRICS OF ARTIFICIAL FILAMENT YARN, INCLUDING WOVEN FABRICS OBTAINED FROM MATERIALS OF HEADING 5405 OTHER WOVEN FABRICS : OF YARNS OF DIFFERENT COLOURS | 5% | | 01/07/2017 | |
| 540834 | PRINTED | 5% | | 01/07/2017 | |
| 54083411 | WOVEN FABRICS OF ARTIFICIAL FILAMENT YARN, INCLUDING WOVEN FABRICS OBTAINED FROM MATERIALS OF HEADING 5405 OTHER WOVEN FABRICS : PRINTED : FABRIC OF RAYON : RAYON CREPE FABRICS | 5% | | 01/07/2017 | |
| 54083412 | WOVEN FABRICS OF ARTIFICIAL FILAMENT YARN, INCLUDING WOVEN FABRICS OBTAINED FROM MATERIALS OF HEADING 5405 OTHER WOVEN FABRICS : PRINTED : FABRIC OF RAYON : RAYON JACQUARDS | 5% | | 01/07/2017 | |
| 54083413 | WOVEN FABRICS OF ARTIFICIAL FILAMENT YARN, INCLUDING WOVEN FABRICS OBTAINED FROM MATERIALS OF HEADING 5405 OTHER WOVEN FABRICS : PRINTED : FABRIC OF RAYON : RAYON BROCADES | 5% | | 01/07/2017 | |
| 54083414 | WOVEN FABRICS OF ARTIFICIAL FILAMENT YARN, INCLUDING WOVEN FABRICS OBTAINED FROM MATERIALS OF HEADING 5405 OTHER WOVEN FABRICS : PRINTED : FABRIC OF RAYON : RAYON GEORGETTE | 5% | | 01/07/2017 | |
| 54083415 | WOVEN FABRICS OF ARTIFICIAL FILAMENT YARN, INCLUDING WOVEN FABRICS OBTAINED FROM MATERIALS OF HEADING 5405 OTHER WOVEN FABRICS : PRINTED : FABRIC OF RAYON : RAYON TAFETTA | 5% | | 01/07/2017 | |
| 54083416 | WOVEN FABRICS OF ARTIFICIAL FILAMENT YARN, INCLUDING WOVEN FABRICS OBTAINED FROM MATERIALS OF HEADING 5405 OTHER WOVEN FABRICS : PRINTED : FABRIC OF RAYON : RAYON SUITINGS | 5% | | 01/07/2017 | |
| 54083417 | WOVEN FABRICS OF ARTIFICIAL FILAMENT YARN, INCLUDING WOVEN FABRICS OBTAINED FROM MATERIALS OF HEADING 5405 OTHER WOVEN FABRICS : PRINTED : FABRIC OF RAYON : RAYON SHIRTINGS | 5% | | 01/07/2017 | |
| 54083418 | WOVEN FABRICS OF ARTIFICIAL FILAMENT YARN, INCLUDING WOVEN FABRICS OBTAINED FROM MATERIALS OF HEADING 5405 OTHER WOVEN FABRICS : PRINTED : FABRIC OF RAYON : RAYON SAREES | 5% | | 01/07/2017 | |
| 54083419 | WOVEN FABRICS OF ARTIFICIAL FILAMENT YARN, INCLUDING WOVEN FABRICS OBTAINED FROM MATERIALS OF HEADING 5405 OTHER WOVEN FABRICS : PRINTED : FABRIC OF RAYON : OTHER | 5% | | 01/07/2017 | |
| 54083420 | WOVEN FABRICS OF ARTIFICIAL FILAMENT YARN, INCLUDING WOVEN FABRICS OBTAINED FROM MATERIALS OF HEADING 5405 OTHER WOVEN FABRICS : PRINTED : FABRICS OF CONTINUOUS FILAMENT, OTHER THAN RAYON | 5% | | 01/07/2017 | |
| 54083490 | WOVEN FABRICS OF ARTIFICIAL FILAMENT YARN, INCLUDING WOVEN FABRICS OBTAINED FROM MATERIALS OF HEADING 5405 OTHER WOVEN FABRICS : PRINTED :OTHER | 5% | | 01/07/2017 | |
Visited 115 Times, 1 Visit today