Start Your FSSAI-Approved Petty Food Business Now!
The small food business is sprouting out in India, and based on its ever-increasing demand, we won't mind declaring that the industry's development will never experience its lows in the approaching years. Individuals in the tiny food industry must adhere to the food safety requirements established by government agencies in order to sell their products. The Food Safety and Standard Authority of India (FSSAI) is a regulatory agency in India that oversees the quality and safety of food supplied by small businesses by issuing them a license to proceed.
To address food safety issues, FSSAI has made FSSAI licenses necessary for all food industry owners, regardless of size or kind of operation. Given the size of the business, the Food Safety and Standard Authority of India is responsible for issuing a central license for mid-size and giant-size food businesses, a state license for those enterprises that are considered medium enterprises due to their mid-scale business, and registration is required for petty food businesses.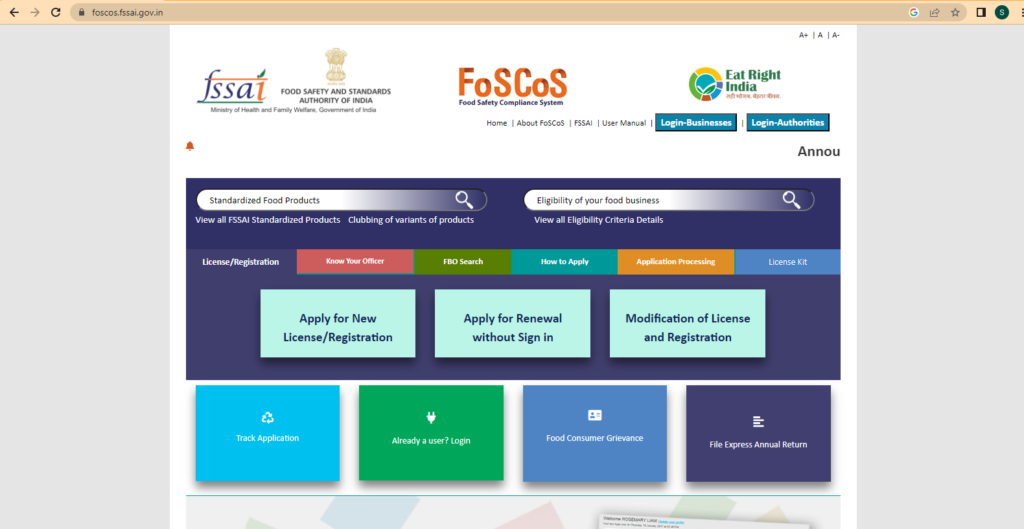 What exactly is a Petty Food Business?
It is any food business with a yearly revenue of up to Rs. 12 lakhs. Petty food enterprises include home-based food businesses, street food sellers, and small catering firms.
What exactly are Petty Food Business Operators?
Petty FBOs are people that create and sell their own food items. In the Indian food sector, they are an excellent source for snacks and luncheons. According to the FSSAI (Food Safety and Standard Authority of India), this group includes all FBOs with an annual revenue of less than 12 lakhs.
Food businesses with a revenue of more than 12 lakhs must apply for a Fssai registration online. Such FBOs must be registered with the FSSAI.
Types of Petty Food Businesses
Petty food enterprises are a kind of food company in which an individual or business sells and manufactures their goods. These companies have established themselves in the Indian market and have become the most common suppliers of food, snacks, and luncheons in the Indian food sector. This category includes all food industry owners with a revenue of less than Rs 12 lakh.
There are several types of minor food enterprises that are spreading their wings in India. –
Manufacturers
Dairy facilities that include chilling units are involved in both handling and processing. Units are responsible for 500 liters of milk per day and about 2.5 metric tons of milk solids per year.
Meat processing facilities with a turnover of less than 12 lakhs.
Slaughtering units that deal in 50 poultry per day, up to two big animals per day, and ten small animals per day.
Re-labelers and re-packers in food manufacturing units: Turnover must not exceed 12 lakh, and food capacity must be 100 L or 100 kg.
Vegetable oil processing plants, as well as units producing vegetable oil using the solvent extraction technology, and refineries with oil ejected units. To achieve the qualifying standards, the turnover of these units should be up to 12 lakhs.
Different Storage Containers
• Storage units, excluding controlled atmospheric cold storage, with annual revenue less than Rs 12 lakhs
• Cold or refrigerated units with annual turnover less than Rs 12 lakhs
• Controlled atmospheric units with annual sales of up to Rs 12 lakhs
Hotels
• Restaurants
• Wholesalers
• Retailers
• Mobile food vendors/Hawkers
• Clubs
• Canteens
• Suppliers
• Distributors
• Marketers
• Transporters
• Food stalls and Dhaba
• Dabbawalas and food stalls
• Banquet halls and boarding houses
• Petty retailers of tea stalls and snacks
• Home-based canteens
Documents Needed for Petty Food Business Registration:
As a small FBO, you will be required to submit fewer documentation than other firms. You may be required to provide the following documents:
Owner's photo identification 2. Electricity or rent bills
Partnership agreement/certificate of incorporation
Manufacturing product list
Form B has been completed and signed.
The Advantages of FSSAI Registration for Petty Food Business
There are several advantages to registering your food company with the FSSAI, which include:
Legal compliance: FSSAI registration is a legal necessity for food enterprises in India, therefore registering your firm assures that you are complying with the law.
Improved consumer trust: FSSAI certification displays your dedication to food safety and quality, which might help you gain customer confidence.
Gaining access to new markets: FSSAI certification is often necessary when selling food to specific clients such as schools, hospitals, and government organizations. By registering your company with the FSSAI, you may get access to new markets and expand your client base.
Legal protection: FSSAI registration may assist safeguard your firm from legal prosecution in the event of a food safety concern.
Visited 87 Times, 1 Visit today