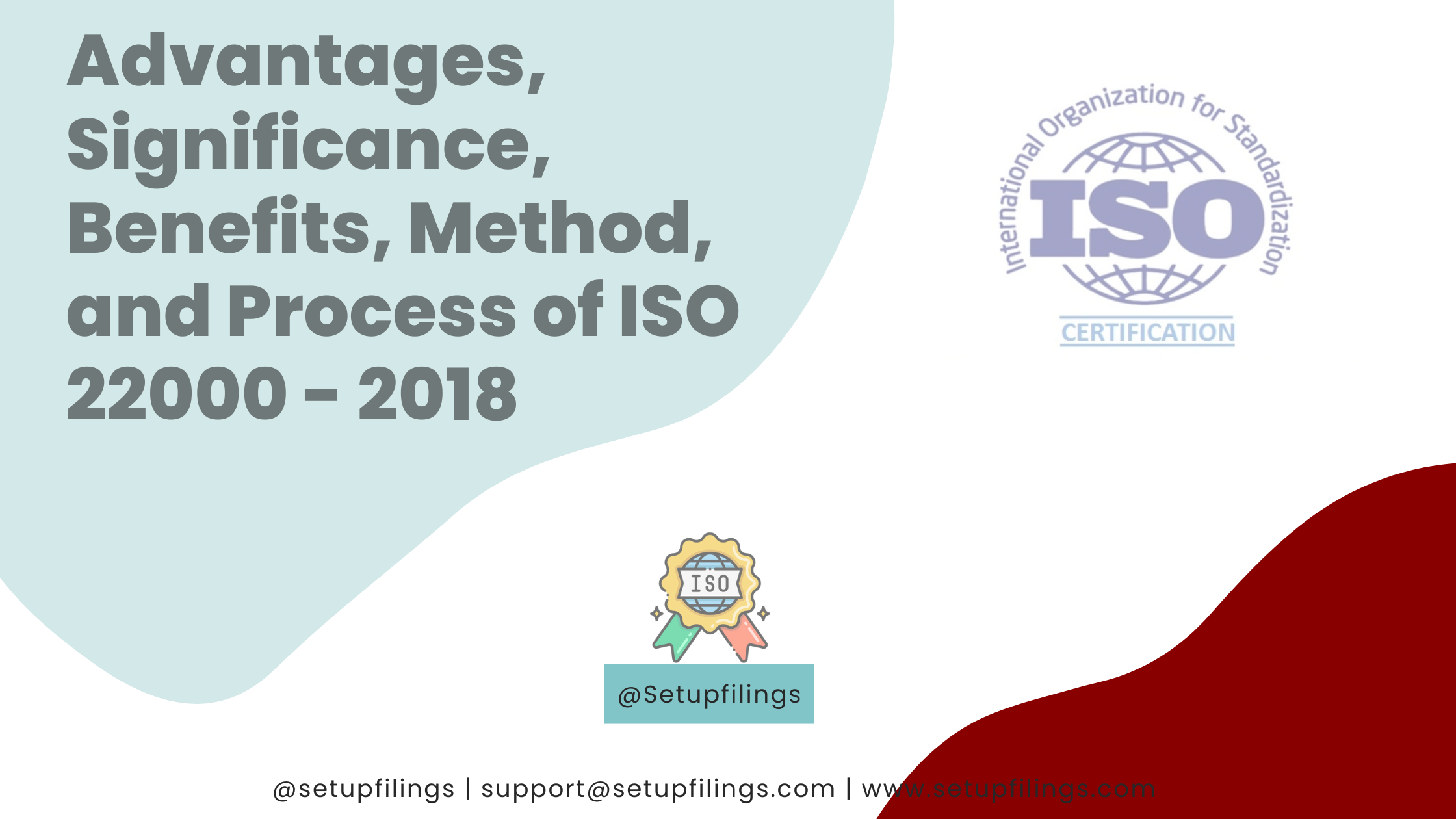 ISO 22000 – 2018 Advantages, Significance, Benefits, Method, and Process
What exactly is ISO 22000?
ISO 22000:2018 is a certification for food safety management systems. Any firm in the food chain must comply with the Food safety management system requirements. It specifies what an organization must undertake to demonstrate its ability to control food safety threats and ensure food safety.
The advantages of ISO 22000:2018
The following provisions will boost everyone's life quality from the ISO 22000 norms and regulations.
• Improved company profits
• Higher quality jobs in the food industry
• Increased economic growth
• Safer food insurance
• Lower rates of food borne disease
• Effective documentation of techniques, procedures, and methods
• Potential harmonization of national food standards is provided
• This is an effective international standard
• It is the most appropriate system for regulators
Governments benefit greatly from scientific and technological information, which assists in the formulation of health, safety, and environmental regulations. These advantages also aid in the education and regulation of food employees.
It is extremely simple to determine whether ISO Certification 22000 is the best option for your company. It works for every firm, regardless of location or size. Outlining best practices within a company will allow for good results, instilling trust throughout the organization, and impressing customers and stakeholders.
If you work in the food sector, you should be aware of the advantages ISO 22000:2018 has for the processing, manufacture, storage, and distribution of edible items. It provides companies with superior food safety and security while also preventing earnings from declining. It can be combined with other management system standards, such as ISO 9001:2015, to maximize quality effects.
Eating tainted food results in a slew of difficulties and legal ramifications. Food safety management standards developed by ISO assist organizations in identifying and controlling food safety.
Who is eligible for ISO 22000:2018 certification?
ISO 22000:2018 is applicable to all food and feed businesses, and it is the same as the following.
Like with other ISO Management system standards, high-level structure say ISO 9001, and this certification is built in such a way that it can be integrated into an organization's existing management process while also being utilized independently.
Also Read: Benefits of ISO Certification
The following are the primary advantages of Food Safety Management:
A) Certifications under Food Safety Management Services allow clients to establish a systematic technique for analyzing food operations, determining potential dangers, and defining essential control points.
B) Improves food product safety.
C) Goods are well accepted around the world.
ADVANTAGES: The main advantages of food and safety management are as follows:
A) It is suited for regulators.
B) Lowers international trade restrictions.
C) It aids in achieving food safety legislation requirements as well as business requirements.
Food Safety Management Requirements
Management of food safety is a worldwide topic. In the food sector, hygiene and food safety are becoming increasingly important. As a result, maintaining food safety and cleanliness is an important step for entrepreneurs to follow in today's competitive industry.
What role does the Food Safety Management System play?
Based on the seven HACCP principles, an effective food safety management system assists businesses in identifying and controlling hazards before they endanger the safety of their products and customers.
Below are the seven HACCP principles:
1. Risk Assessment
Hazard Analysis is a preventive food safety approach that detects biological, chemical, and physical threats in the manufacturing process.
2. Critical Control Point (CCP)
A critical control point is a point that can be applied at various phases of the process to minimize hazards to an acceptable level.
3. Crucial Limitation
Each CCP has a maximum and lowest value determined by the safety restrictions. It distinguishes between permissible (safe) and unacceptable (unsafe) products. It is possible to monitor it through measurement or observation. Time, temperature, chemical, and so on.
4. Surveillance
Monitoring techniques comprise observations or measures that are used to determine whether or not the CCP is being met.
5. Remedial Action
If the defined critical limit is exceeded, certain actions are taken. Corrective actions ensure that the products are not harmful to the consumer's health.
6. Validation
The most crucial part of verification is ensuring that the food safety management plan has been correctly executed and that all dangers have been identified.
Record Keeping & Documentation
Record Keeping & Documentation contains detailed documents demonstrating that checks were performed. at regular intervals in accordance with the Food Safety Policy.
ISO 22000:2018 defines the requirements for an FSMS that enables a company that is directly or indirectly involved in the food chain to:
To plan, implement, operate, maintain, and update a food safety management standard that provides safe products and services based on their intended use.
To demonstrate compliance with relevant legislative and regulatory food safety requirements
Assess mutually accepted customer food safety requirements and demonstrate conformity with them
Communicate effectively about food safety issues to interested parties within the food chain
Ensure that the organization adheres to its stated food safety policy
Demonstrate compliance to relevant interested parties
Request certification or registration of its FSMS by an outside organization or make a self-declaration or assessment
What is the ISO 22000:2018 procedure?
• The certification procedure must include the following critical points.
• Application and Contract Review
• Initial Audit Certification: Audit Stages 1 & 2
• Certification Decision
• Surveillance audit
• Renewal audit
• Suspending, withdrawing, extending, or decreasing the scope of certification
Management Review, Authority, communication, education, training, experience, results of pre-requisite programs, data collection for hazard analysis records, calibration & verification, quality manual preparation, internal audits, continual improvements, and system updation records, correction, corrective action, disposition of nonconforming products, withdrawal of unsafe products records, and so on are all required from the client.
The implementation process in an organization takes about 45 days. A Registrar will come and undertake a Certification Audit after the system is in place and being used on a daily basis. If the auditor concludes that the systems meet the standards and that they are followed throughout the organization, the auditor will suggest that you obtain ISO 22000: 2018 certification.
Visited 118 Times, 1 Visit today