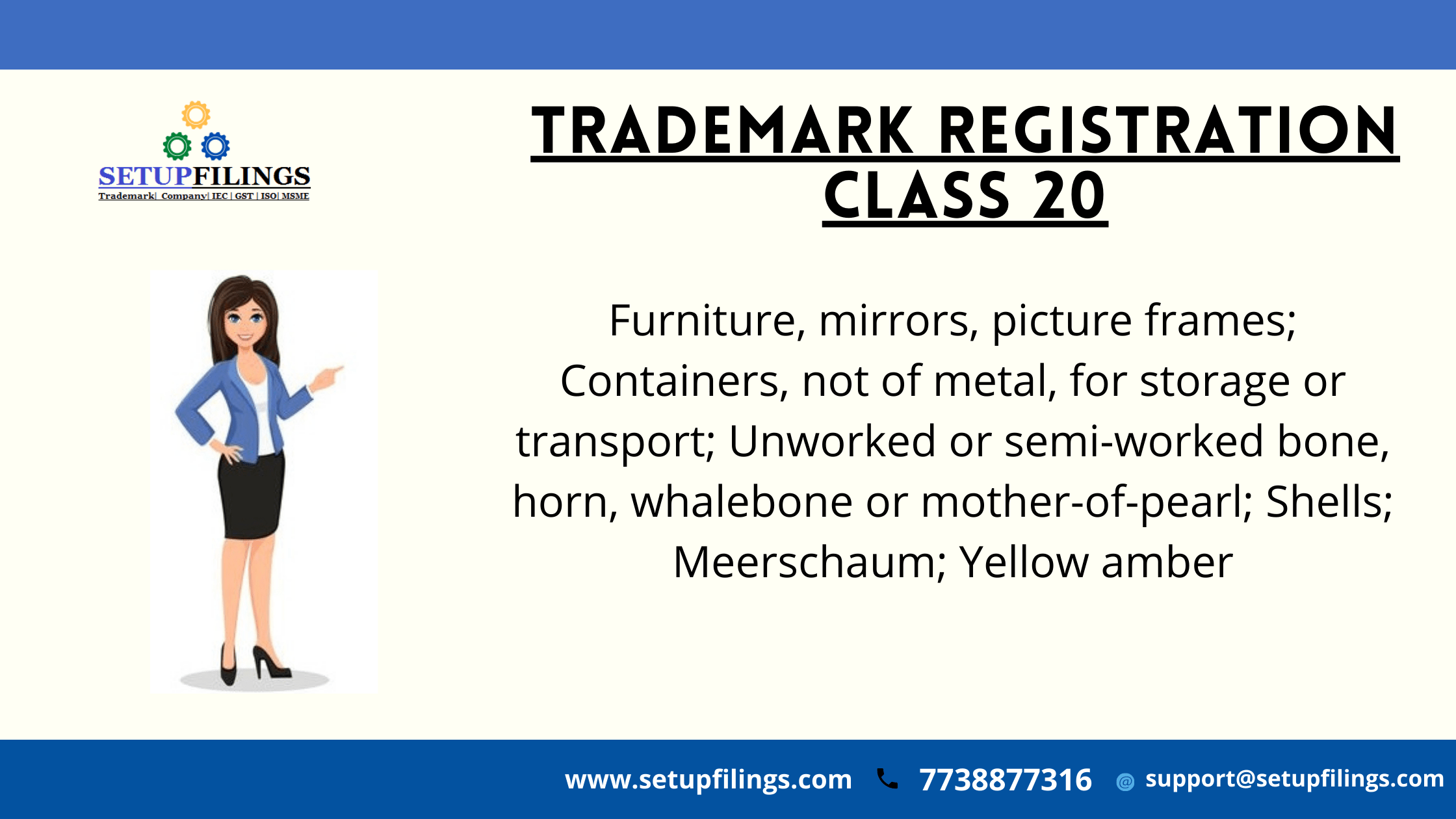 Trademark Class 20: Furniture, mirrors, frames, Containers
Short description of Trademark Class 20
Furniture, mirrors, picture frames; Containers, not of metal, for storage or transport; Unworked or semi-worked bone, horn, whalebone or mother-of-pearl; Shells; Meerschaum; Yellow amber
What is trademark registration?
Trademark Registration can be defined as unique identity for Brands and companies or services to stand out from rest of other brand and companies. After trademark registered in India no other organization or company can use the same name or logo.
Registered Trademark provides rights to sue other who tries to copy the similar brand name or logo. Once any company or brand name registered in trademark though it becomes the intellectual property which can also be defined has intangible asset for company. which helps in protecting the investment into creating the brand name, its loyalty and trust among customers.
What is trademark class?
A trademark classification is a tool wherein we can find our business falls into which class and services. Basically trademark classification is divided into 45 classes wherein class 1 to 34 is for manufacturer and 35 to 45 for service provider.
Excluded in Trademark Class 20
Doors, gates, windows and window coverings of metal are in Trademark class 6. Medical furniture and bedding, equipment for moving patients is in Trademark Class 10. Finished or semi-finished goods, of materials included in the class, specified for use is in Trademark Class 17. Household utensils for cleaning, brushes and brush-making materials are in Trademark Class 20. Coverings for furniture are in Trademark Class 24. Furniture maintenance and repair is in Trademark Class 37. Rental of furniture, linens, table settings, and equipment for the provision of food and drink is in Trademark Class 43.
Non-metallic hardware
Hinges, not of metal incorporating a spring
Spools
Hinges, not of metal having a spring action
Reels
Spring assemblies for incorporation into cushions
Suspension rods for hanging up articles
Spring assemblies for incorporation into mattresses
Ceramic pulls for cabinets, drawers and furniture
Clothes lines, of wood or plastics
Identification tags of plastic for animals
Stacking adaptors non-metallic fittings
Anchor bolts, not of metal
Anchor bolts, not of metal, for use in bridge construction
Door, gate and window fittings, non-metallic
Locks and keys, non-metallic
Identification tags for animals, not of metal
Fasteners, non-metallic
Anchoring devices
Architectural fasteners of non-metallic materials
Clamps for fixing awnings
Concealed fastening devices of non-metallic materials
Non-metal expanding sleeves for affixing screws
Anchors
Pipe fasteners, connectors and holders, non-metallic
Cable fasteners, connectors and holders, non-metallic
Non-metal fastening anchors for securing pictures to walls
Furniture and furnishings
Office armchairs
Chairs adapted for use by those with mobility difficulties
Stationery cabinets
Clothes organisers
Clothes lockers
Low armless fireside chairs
Reclining armchairs
Decorative strips of plastics for application to shop fronts
Arm chairs
Furniture for indoor aquaria
Arbours
Decorative strips of plastics for application to display cabinets
Assembled display units
Desks and tables
Screens for use as room dividers in offices
Furniture adapted for use outdoors
Buddhist family altars
Cabinets for storing articles
Stands for indoor aquaria
Toy boxes and chests
Seats adapted for babies
Work seats for the physically handicapped and those of reduced mobility
Garden furniture manufactured from wood
Japanese style arm rests
Furniture adapted for use by those with mobility difficulties
Kits of parts for assembly into furniture
Kits of parts for assembly into articles of furniture
Antique furniture
Desks of adjustable height
Adjustable seat carriers
Garden furniture made of aluminium
Combination kneeler and seat for gardening
Storage racks for storing works of art
Trestles for use as table supports
Non-metal safety gates for babies, children, and pets
Drawers as furniture parts
Wood surrounds for electric apparatus
Wood surrounds for electronic apparatus
Saw benches, not of metal, other than parts of machines
Furniture for the physically handicapped, those of reduced mobility and invalids
Laboratory furniture
Auditorium furniture
Furniture for use in auditoria
Beds, bedding, mattresses, pillows and cushions
Indoor blinds, and fittings for curtains and indoor blinds
Armrests
Audio racks for use with audio equipment
Furniture for house, office and garden
Consoles for mounting units of electronic equipment
Tables adapted for use by those with mobility difficulties
Saw benches, other than parts of machines
Height adjustable kitchen furniture
Arm rests for furniture
Antique reproduction furniture
Cover strips for covering joins between adjacent carpets
Units for the display of stationery
Metal furniture and furniture for camping
Armoires
Antique style furniture
Storage racks for physical fitness equipment
Height adjustable tables
Clothes hangers, clothes stands and clothes hooks
Household shinto altars
Furniture and furnishings
Armchairs
Ambroid plates
Covers for clothingContainers, and closures and holders therefor, non-metallic
Combined containers
Containers adapted for packaging beer
Combined closures for containers
Plastics containers for use in agrochemical fields
Caskets made of amber
Containers made of synthetic material
Fitted plastic inserts for use as container liners
Water tanks of plastic for agricultural purposes
Plastic inserts for use as container liners
Coffins and funerary urns
Animal carriers in the form of boxes
Bins designed to facilitate accelerated breakdown of organic matter
Bins adapted to facilitate accelerated breakdown of organic matter
Crates and pallets, non-metallic
Barrels and casks, non-metallic
Containers, and closures and holders therefor, non-metallic
Displays, stands and signage, non-metallic
Kits of parts for assembly into display stands
Kits of parts for assembly into display boards
Self adhesive display panels
Letters made principally of plastics
Decorative strips of plastics for application to shop fronts
Score display apparatus
Advertising signboards of plastics
Decorative strips of plastics for application to display cabinets
Assembled display units
Mannequins and tailors' dummies
Portable display stands for supporting advertising
Display boards comprising foldable and interconnectable metal rods
Kits of parts for assembly into display cases
Advertising signboards of wood
Panels for publicity purposes
Assemblies for display purposes
Assembled display stands
Advertising display boards of porcelain
Panels for display purposes
Storage racks for ski and sports equipment
Barrels for the identification of pet animals
Assembled exhibition stands
Multiposition display stands made from aluminium and steel tubing
Advertisement boards
Advertising display boards
Advertising display boards
Advertisement display boards of glass
Advertising display boards of glass
Acrylic counter displays
Boards of plastics materials for advertising purposes
Boards of wood for advertising purposes
Advertising display boards of wood
Advertisement display boards of wood
Advertising display boards of plastic
Advertisement display boards of plastic
Units [furniture] for the display of stationery
Poster display apparatus
Advertising balloons
Displays, stands and signage, non-metallic
Visited 198 Times, 1 Visit today