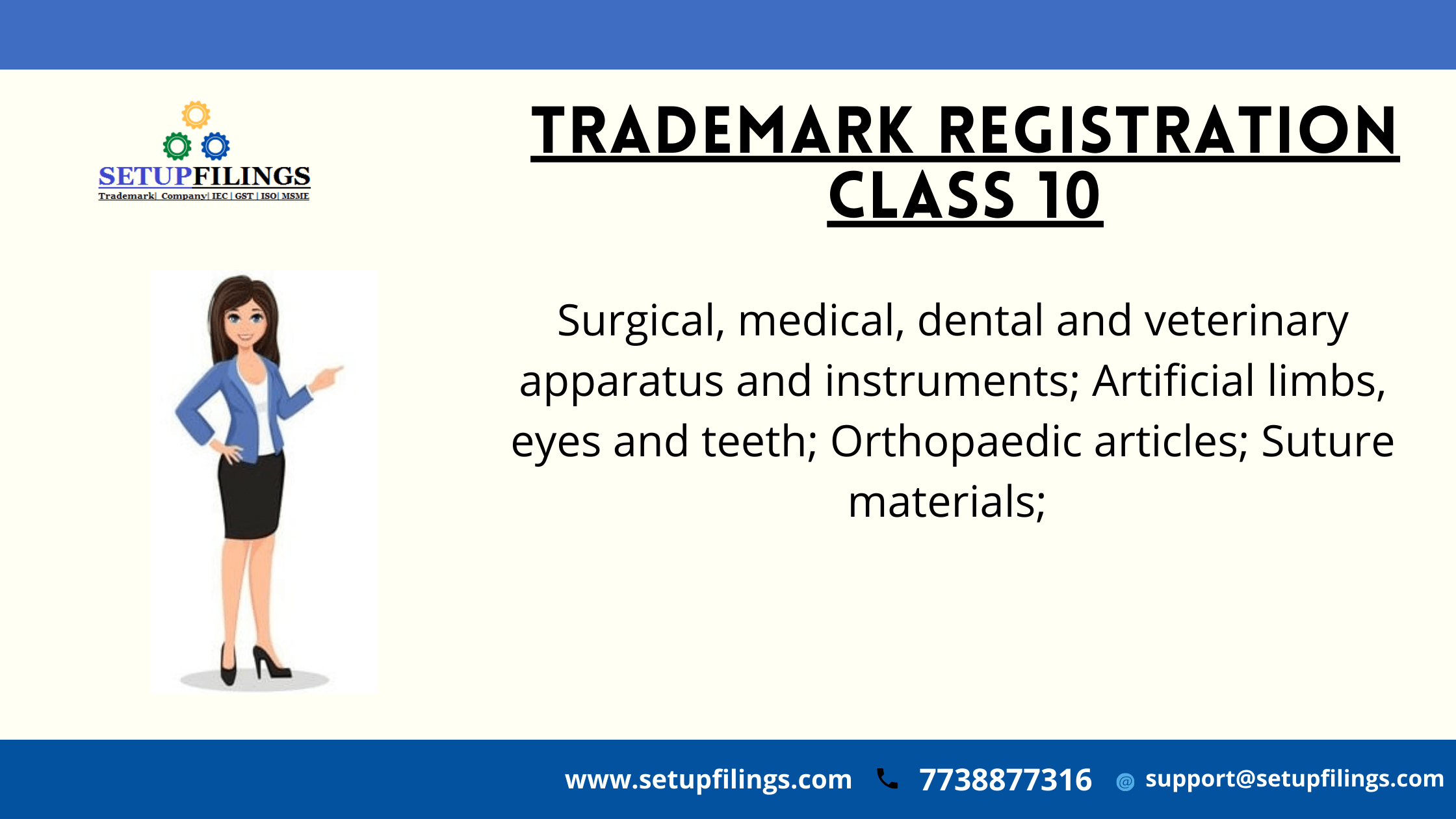 Trademark Class 10: Surgical, Medical, Apparatus
Short Description of trademark Class 10 of Trademark Registration
Surgical, medical, dental and veterinary apparatus and instruments; Artificial limbs, eyes and teeth; Orthopaedic articles; Suture materials; Therapeutic and assistive devices adapted for persons with disabilities; Massage apparatus; Apparatus, devices and articles for nursing infants; Sexual activity apparatus, devices and articles.
What is trademark class?
A trademark classification is a tool wherein we can find our business falls into which class and services. Basically, trademark classification is divided into 45 classes wherein Trademark class 1 to 34 is for manufacturer and 35 to 45 for service provider. Trademark class is most imperative for getting trademark registration in proper scope of business.
Not included in Trademark Class 10:
Soaps and gels are in Trademark Class 3. Medical and veterinary preparations and articles are in Trademark Class 5. Physical therapy equipment is in Trademark Class 10. Sanitary installations, water supply and sanitation equipment are in Trademark Class 11. Disposable paper products are in trademark Class 16. Cosmetic, hygiene and beauty care utensils are in Trademark Class 21. Sugars, natural sweeteners, sweet coatings and fillings, bee products are in Trademark Class 30. Foodstuffs and fodder for animal's are in Trademark Class 31. Beverages are in Trademark class 32. Retail and wholesale services are in Trademark Class 35. Medical and pharmacological research services are in Trademark Class 42. Medical services are in Trademark Class 44. Safety, rescue, security and enforcement services Personal and social services are in Trademark class 45.
Physical therapy equipment
Physical exercise articles for physical training
Ultrasonic aspirators for separating soft tissue parts
Transcutaneous electrical nerve stimulation apparatus
Transcutaneous electrical nerve stimulation instruments
Apparatus for use in toning muscles for medical rehabilitation
Step-up machines for use in physiotherapy
Body toner apparatus
Apparatus for the therapeutic toning of the body
Apparatus for the electrical stimulation of groups of muscles
Apparatus for the therapeutic toning of the muscles
Weights for physical exercise
Physical exercise apparatus, for medical purposes
Apparatus for physical training for medical use
Physical exercise machines for medical purposes
Electrotherapy instruments for slimming treatments
Computer controlled training apparatus for therapeutic use
Rowing machines for physical exercise
Mercury arc lamp units for therapeutic purposes
Asymmetrical bars for physical exercise
Weight training apparatus adapted for medical use
Massage appliances
Instruments for massage
UV lamps for medical applications
Apparatus for use in exercising muscles for medical use
Exercise apparatus for medical rehabilitative purposes
Exercising apparatus for medical rehabilitative purposes
Exercise equipment for medical rehabilitative purposes
Exercise machines for medical rehabilitative purposes
Apparatus for achieving physical fitness
Chiropractic instruments
Stair climbing machines for medical therapeutic use
Physical exercise apparatus for therapeutic use
Medical apparatus for strengthening muscles of the pelvic floor
Heat treatment apparatus
Hot therapy apparatus
Hot therapy instruments
Heat therapy apparatus
Heat therapy instruments
Apparatus for electrical muscle stimulation
Physiotherapy and rehabilitation equipment
Apparatus for the therapeutic stimulation of the muscles
Apparatus for the therapeutic stimulation of the body
Exercise machines for therapeutic purposes
Low frequency electric therapy apparatus
Electro-stimulation apparatus for use in therapeutic treatment
Exercise simulating apparatus for medical purposes
Deep heat massage apparatus
Therapeutic apparatus for children with autism
Respiratory therapy instruments
Computer controlled exercise apparatus for therapeutic use
Therapeutic and assistive devices adapted for the disabled
Therapeutic devices adapted for the disabled
Assistive devices adapted for persons with disabilities
Therapeutic devices adapted for persons with disabilities
Therapeutic and assistive devices adapted for persons with disabilities
Lavage apparatus for therapeutic purposes
Galvanic therapeutic appliances
Hot air therapeutic apparatus
Hot air vibrators for medical purposes
Physical exercise apparatus for medical purposes
Massage apparatus
Acupressure bands
Medical and veterinary apparatus and instruments
Contrivances of synthetic rubber for contraceptive purposes
Contrivances of rubber for the prevention of the transmission of disease
Contrivances made from synthetic rubber for prophylactic purposes
Contrivances made from natural rubber for prophylactic purposes
Contrivances of rubber for prophylactic purposes
Contrivances made from natural rubber for contraceptive purposes
Diagnostic, examination, and monitoring equipment
Medical X-ray apparatus
Radio cardiographic apparatus for medical purposes
Ultrasonic apparatus for medical use in scanning the body
MRI diagnostic apparatus
Linear accelerators for medical use in radiotherapy
X-rays, for medical purposes
Apparatus for echocardiography imaging
X-ray analyzers for medical use
Radioisotope apparatus for medical use
Collimating position indicating apparatus for veterinary use
Collimating position indicating apparatus for dental x-ray machines
Apparatus for phototherapy
Magnetic resonance imaging (MRI) apparatus
Magnetic resonance imaging instruments for medical purposes
Magnetic resonance imaging (MRI) diagnostic apparatus
X-ray structure analysis instruments for medical use
Apparatus for displaying dental images
Magnetic resonance ct apparatus
Medical ultrasound apparatus
Ultrasound apparatus for medical purposes
Radiotherapy instruments for medical use
Radiation oncology instruments for medical use
Radiation oncology apparatus for medical use
Dental x-ray apparatus
Nuclear medicine diagnostic imaging apparatus
X-ray apparatus for veterinary use
Magnetic resonance tomography apparatus
X-ray diagnostic apparatus
X-ray spectroscopy apparatus for medical use
X-ray apparatus for dental imaging
X-rays, for medical purposes
Collimating position indicating apparatus for medical use
Radioscopy apparatus for medical use
Collimating position indicating apparatus for surgical use
Dynamic tomography apparatus for medical use
Ultrasound apparatus for veterinary use
X-ray tomography apparatus for medical use
Radioisotope therapy apparatus and instruments
X-ray appliances for dental and medical use
X-ray apparatus for medical purposes
Apparatus and installations for the production of X-rays, for medical purposes
Protection devices against X-rays, for medical purposes
Radiological apparatus for medical purposes
Magnetic resonance imaging [MRI] apparatus for medical purposes
Surgical and wound treating equipment
Lithotomical instruments
Surgical instruments for use in orthopedic surgery
Pneumatically operated medical instruments
Cardiopulmonary perfusion apparatus
Cases fitted for surgical instruments
Urethral catheterization instruments
Urethral catheterization apparatus
Medical apparatus for use in cardiac surgery
Medical instruments for percutaneous tracheostomy
Electro medical instruments
Catheter skin anchor instruments
Catheter skin anchor apparatus
Endoscopic equipment for medical purposes
Ostomy instruments
Endoscopic equipment
Endoscopic apparatus
Lancing devices for surgical use
Angioplasty catheters
Angiographic vascular introducers for the placement of catheters
Surgical cutting instruments
Electrotherapy instruments for firming treatments
Asphyxial neonates respirators
Apparatus for cleansing blood during surgical procedures
Plates in the nature of orthopaedic surgical instruments
Embolic devices
Surgical instruments
Medical instruments for the removal of warts by freezing
Instruments for treating snake bites
Electric bone operating machines
Receptacles for receiving surgical instruments
Apparatus for non-invasive surgery
Optical instruments for medical endoscopy
Vascular access ports for medical use
Instruments for intraluminar sclerosation of varicose veins
Angioplasty balloon catheters
Surgical amputaters
Electronic medical instruments
Surgical instruments and apparatus
Surgical devices and instruments
Percutaneous renal access sets
Coronary balloon dilatation catheters for angioplasty
Cervical portio adapters
Surgical bypass devices
Apparatus for use in the repair of bones
Shock wave apparatus for medical use
Silicone lace combined with a needle for use in the retraction of arteries during surgery
Medical instruments for cutting tissue
Liquid chromatography instruments for medical use
Epidural analgesia apparatus for medical use
Epidural analgesia apparatus for surgical use
Retractors
Cystomeric apparatus
Cystomeric instruments
Plates for anastomosis of bones
Infrared apparatus for surgical purposes
Ligating clip applicators for medical use
Instruments for cardiac stimulation
Protective sleeves for components of inter-aortic balloons
Medical cutting devices
Anesthesia masks
Anesthetic masks
Electrocautery apparatus
Drape sheets of absorbent cellulose wadding for use during surgery
Rectal instruments
Shears
Gynaecological instruments
Instruments for rubber band ligation of haemorrhoids
Heparin control apparatus for surgical procedures
Posterior spinal fixation devices for the correction of back defects
Posterior spinal fixation devices for the correction of spinal defects
Surgical instruments for use in spinal surgery
Cardiovascular instruments
Compressing screws in the nature of orthopaedic surgical instruments
Chest drainage devices for removal of fluids from the pleural cavity of patients
Peep activators being parts of medical ventilators for maintaining pressure
Patient ventilation instruments
Catheter apparatus for gastroenterological use
Wound suction apparatus
Drilling jigs for surgical applications
Medical and surgical catheters
Surgical apparatus and instruments for medical use
Instruments for use in gastrointestinal surgery
Electric air compressors for surgical use
Medical apparatus for use in laparoscopy
Introducers for implanting anti-embolic filters
Limb compression instruments
Hooks being fracture fixation devices
Suture and wound closing materials and products
Balloons for use in arthroscopy
Medical apparatus for use in endoscopy
Apparatus for orthopaedic purposes
Cardiac fulguration apparatus
Balloon angioplasty inflation instruments
Balloon angioplasty inflation apparatus
Silicone lace combined with a needle for use in the retraction of veins during surgery
Adhesive flanges for use with ostomy bags
Evaporators for liquid anaesthetics
Ultrasonic aspirators for washing out soft tissue parts
Pads for surgical use
Medical devices for placing and securing catheters
Inflation devices for balloon catheters
Neurosurgical adaptors
Intra-aortic balloons
Balloon inflating devices for balloon dilation catheters
Emergency pelvic clamps
Medical apparatus for urological purposes
Medical apparatus for urethral catheterization
Annuloplasty rings
Anti-embolic filters
Cardiovascular angioscopes
Medical and surgical knives for cutting human or animal tissue and organs
Medical and surgical cutters for cutting human or animal tissue and organs
Anaesthetic apparatus
Surgical apparatus and instruments
Anaesthetic masks
Enema apparatus for medical purposes
Microdermabrasion apparatus
Prosthetics and artificial implants
Medical devices, namely, intravascular implants comprised of artificial material
Spine seats
Artificial teeth
Spine plates
Intravascular implants made from artificial materials
Prosthetic apparatus
Artificial limb assemblies
Limbs
Artificial cardiac valves
Spinal implants composed of artificial material
Ocular implants made from artificial materials
Artificial organs and implants
Medical devices for spinal disc repair in the nature of spinal disc implants made from artificial substances
Otological prosthetic appliances
Bone void fillers consisting of artificial materials
Sets of artificial teeth
Hearing aids
Artificial limbs
Bone void fillers comprised of artificial materials
Clothing, headgear and footwear, braces and supports, for medical purposes
Orthopaedic inner soles incorporating arch supports
Post-operative pressure garments
Plaster bandages for orthopaedic purposes
Therapeutic garments for people
Lag screws in the nature of orthopaedic surgical instruments
Face masks for medical use for anti bacterial protection
Arch cushions
Arch supports for orthopaedic boots
Braces for application to the human body
Arch supports for orthopaedic shoes
Support garments for medical use
Protective breathing masks made of non-woven materials for medical applications
Orthopedic apparatus for talipes
Bandages for anatomical joints
Orthopaedic apparatus
Orthopaedic instruments
Arch supports for flat feet
Knee guards in the nature of supports
Arch supports
Air inflatable garments for medical purposes
Silicone orthopedic devices
Medical ankle braces
Ankle supports for medical use
Orthopedic fixation devices
Footwear
Arch supports for boots and shoes
Vertebral orthopedic apparatus
Orthopaedic sheets adapted for use during orthopaedic operations
Therapeutic garments for animals
Abdominal hernia belts
Body limb compression sleeves for athletic use
Orthopaedic healing aids
Corsets
Assistive devices adapted for the disabled
Clothing, headgear and footwear, braces and supports, for medical purposes
Wearable walking assistive robots for medical purposes
Abdominal corsets
Orthopaedic articles
Orthopedic articles
Arch supports for footwear
Abdominal belts
Compression garments
Mobility aids
Walking aids for medical purposes
Walking aids
Wheeled trolleys adapted for use as walking aids
Wheels for pets
Assistive devices adapted for the disabled
Wearable walking assistive robots for medical purposes
Slings specially adapted for transporting persons with disabilities
Mobility aids
Assistive devices adapted for persons with disabilities
Therapeutic devices adapted for persons with disabilities
Therapeutic and assistive devices adapted for persons with disabilities
Wheeled walkers to aid mobility
Visited 168 Times, 1 Visit today