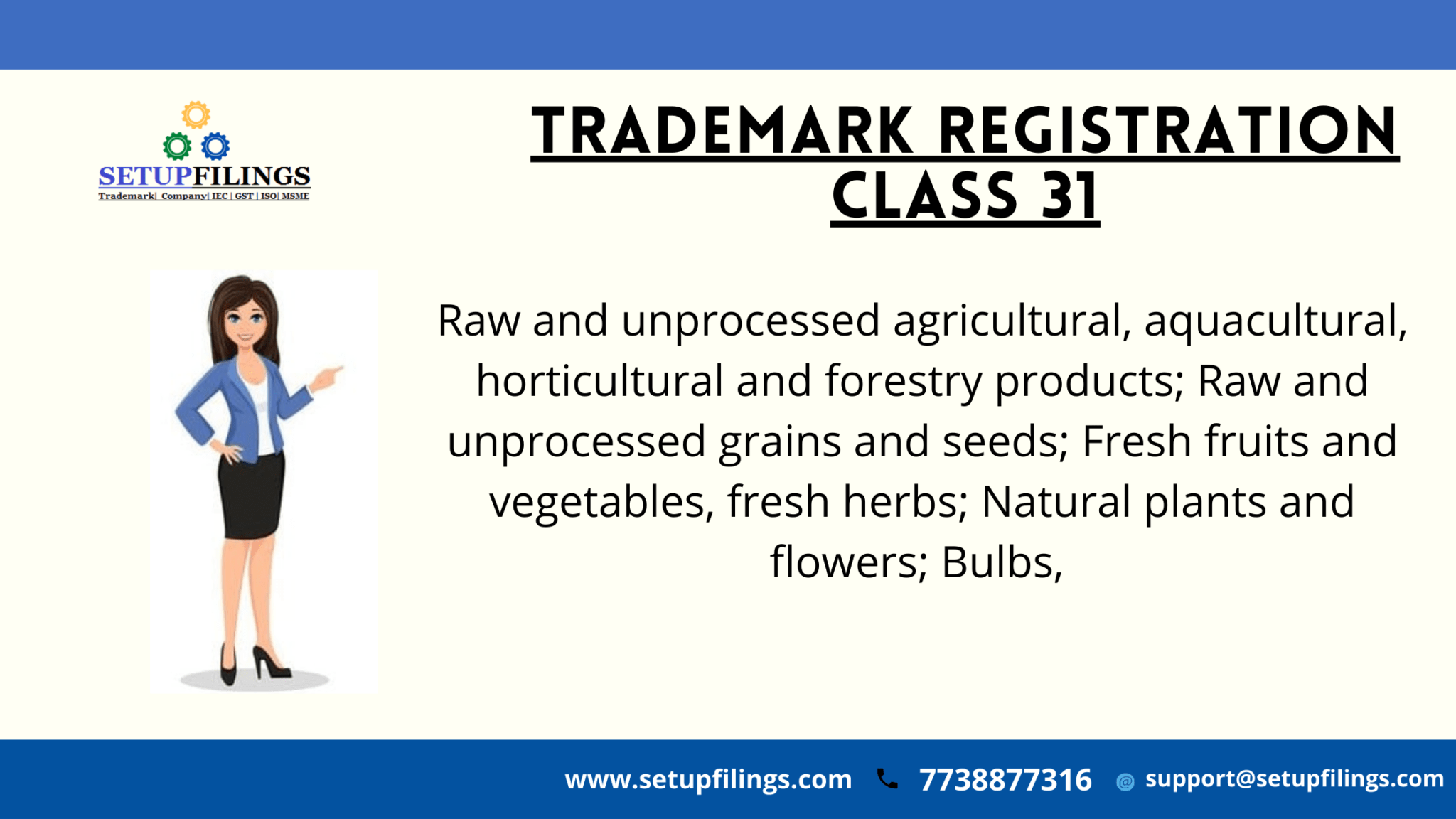 Trademark Class 31: Raw and unprocessed agricultural
What is trademark registration?
Trademark Registration can be defined as unique identity for Brands and companies or services to stand out from rest of other brand and companies. After trademark registered in India no other organization or company can use the same name or logo.
Registered Trademark provides rights to sue other who tries to copy the similar brand name or logo. Once any company or brand name registered in trademark though it becomes the intellectual property which can also be defined has intangible asset for company. Which helps in protecting the investment into creating the brand name, its loyalty and trust among customers.
What is trademark class?
A trademark classification is a tool wherein we can find our business falls into which class and services. Basically trademark classification is divided into 45 classes wherein class 1 to 34 is for manufacturer and 35 to 45 for service provider.
Short description of Trademark class 31
Raw and unprocessed agricultural, aqua cultural, horticultural and forestry products; Raw and unprocessed grains and seeds; Fresh fruits and vegetables, fresh herbs; Natural plants and flowers; Bulbs, seedlings and seeds for planting; Live animals; Foodstuffs and beverages for animals; Malt
Excluded in Trademark class 31
Dietary supplements and dietetic preparations Food for babies is in Trademark class 5. Containers, and transportation and packaging articles, of metal is in Trademark class 6. Food and beverage processing and preparation machines and apparatus is in Trademark class 7. Cutlery, kitchen knives, and cutting implements for kitchen use is in Trademark class 8. Cooking, heating, cooling and preservation equipment, for food and beverages is in Trademark class 11. Bags and articles for packaging, wrapping and storage of paper, cardboard or plastics is in Trademark class 16. Containers, and closures and holders therefor, non-metallic is in Trademark class 20. Tableware, cookware and containers is in Trademark class 21. Food and beverage colorings is in Trademark Class 29. Baked goods, confectionery, chocolate and desserts Pastries, cakes, tarts and biscuits (cookies) is in Trademark class 30. Foodstuffs and fodder for animals is in Trademark class 31. Commercial trading and consumer information services is in Trademark class 35.
Live animals, organisms for breeding
Agricultural and aquacultural crops, horticulture and forestry products
Live animals, organisms for breeding
Bedding and litter for animals
Bait, not artificial
Foodstuffs and fodder for animals
Agricultural and aquacultural crops, horticulture and forestry products
Unprocessed agricultural products
Agricultural product
Mycelium for agricultural purposes
Spores for agricultural purposes
Raw and unprocessed aquacultural products
Raw agricultural products
Raw and unprocessed agricultural products
Raw and unprocessed forestry products
Raw and unprocessed horticultural products
Unprocessed aquacultural products
Raw aquacultural products
Plants
Plants for aquaria
Aloe vera plants
Asparagus plant material
Malts and unprocessed cereals
Fresh fruits, nuts, vegetables and herbs
Seeds, bulbs and seedlings for plant breeding
Trees and forestry products
Weeds for human or animal consumption
Asparagus plants
Live plants used as aquarium landscapes
Non-artificial turf
Fresh edible aloe vera
Aloe vera, fresh, for food
Natural plants and flowers
Fresh fruits, nuts, vegetables and herbs
Fresh asparagus
Fresh apples
Apples
Asparagus
Almonds
Fresh almonds
Roots for animal consumption
Fresh apple mangos
Fresh leafy Asian vegetables
Unprocessed apples
Raw apples
Apples
Unprocessed avocados
Raw avocados
Fresh apricots
Unprocessed apricots
Raw apricots
Raw artichokes
Unprocessed artichokes
Unprocessed asparagus
Raw asparagus
Asparagus
Fresh avocados
Fresh cashew apples
Fresh white carrots
Malts and unprocessed cereals
Malt for brewing and distilling
Raw and unprocessed grains
Flowers
Arrangements of dried flowers for decorative purposes
Arrangements of natural flowers
Live flower arrangements
Fresh flower arrangements
Dried flower arrangements
Seeds, bulbs and seedlings for plant breeding
Seeds prepared for consumption by animals
Bulbs for agricultural use
Bulbs for agricultural purposes
Seeds pre-sown in a propagation media for grassing between trees
Seeds pre-sown in a propagation media for grassing between plants
Unprocessed seeds for agricultural use
Apple tree seeds
Agricultural grains for planting
Seeds for agricultural use
Agricultural seeds
Seeds for agricultural purposes
Seeds coated with an anti-parasitic preparation
Seeds coated with a fertilizer
Seeds pre-sown in a propagation media for grassing drainage channels
Raw and unprocessed seeds
Trees and forestry products
Wood chips for use as ground cover
Apple trees
Plant residues (raw materials)
Residue in a still after distillation
Distillery waste for animal consumption
Waste for animal consumption
Fungi
Spores and spawn
Spawn for agricultural purposes
Foodstuffs and fodder for animals
Cereal cakes for animals
Cereal based foodstuffs for animals
Soy sauce cakes
Linseed for animal consumption
Flaxseed for animal consumption
Starch pulp
Linseed meal for animal consumption
Flaxseed meal for animal consumption
Baled air-cured hay
Savory biscuits for animals
Foodstuffs containing phosphate for feeding animals
Grains for animal consumption
Yeast tablets for consumption by animals
Yeast for animal fodder
Malt for animals
Preserved crops for animal feeds
Animal foodstuffs containing air-cured hay
Meal for consumption by animals
Edible bones and sticks for pets
Processed oats for consumption by animals
Prepared oats for consumption by animals
Bran mash for animal consumption
Animal beverages
Beverages for animals
Wheat germ for animal consumption
Foodstuffs for animals on a milk basis
Foodstuffs for marine animals
Canned foodstuffs containing meat for young animals
Canned foodstuffs consisting of meat for young animals
Foodstuffs for pet animals
Foodstuffs for domestic animals
Powdered milk for animals
Sweet biscuits for consumption by animals
Cereals preparations being food for animals
Strengthening animal forage
Oat-based food for animals
Meal for animals
Yeast for consumption by animals
Yeast for animal consumption
Edible food for animals for chewing
Chews for animals
Edible chews for animals
Animals
Digestible chewing bones and bars for domestic animals
Fattening preparations
Animal fattening preparations
Animal foodstuffs in the form of pieces
Animal foodstuffs derived from air-cured hay
Animal foodstuffs consisting of soya bean products
Soy bean meal
Fish meal for animal consumption
Fish meal
Animal foodstuffs derived from hay
Animal foodstuffs in the form of nuts
Animal foodstuffs derived from vegetable matter
Dried alfalfa for animals
Food for aquarium fish
Pulses
Maize products for consumption by animals
Maize for consumption by animals
Foodstuffs for animals containing botanical extracts
Algarovilla for animal consumption
Peanut meal for animals
Cake for animals
Peanut cake for animals
Cereals products for consumption by animals
Biscuits made from malt for animals
Oatmeal for consumption by animals
Oats for consumption by animals
Oilseed meal for animals
Foodstuffs for dairy animals
Canned or preserved foods for animals
Wheat proteins for animal food
Yeast extracts for consumption by animals
Milk for use as foodstuffs for animals
Processed grains for consumption by animals
Processed cereals for consumption by animals
Synthetic animal feed
Natural rice for use as animal fodder
Mixed animal feed
Distillery waste for animal consumption
Waste for animal consumption
Milk substitutes for use as foodstuffs for animals
Milk replacers for animals
Malt albumen for animal consumption
Malt albumin for animal consumption
Milk for use as foodstuffs for dogs
Artificial milk prepared for use as a feeding stuff for calves
Active dried yeast for animals
Animal foodstuffs containing hay
Animal foodstuffs for the weaning of animals
Animal forage
Lime for animal forage
Oat biscuits for consumption by animals
Oat cakes for consumption by animals
Animal foodstuffs in the form of pellets
Animal feed preparations
Rice bran
Malt extracts for consumption by animals
Cereals for animal consumption
Bedding and litter for animals
Baled air-cured hay
Chopped straw for animal bedding
Wood shavings for use as animal litter
Wood shavings for use as animal bedding
Woodshavings for use as animal litter
Woodshavings for use as animal bedding
Bark for use as animal litter
Bark-based products for use as animal litter
Bedding materials for animals
Animal litter made from hydrated calcium silicate
Animal litter for cats
Litter for domestic animals
Sanded paper for use in animal cages
Pets
Aromatic sand for pets
Aromatic sand for pets
Fuller's earth for use as animal litter
Sanded paper for domestic animals
Cat litter and litter for small animals
Small animal litter
Cellulose for use as animal bedding
Litter for small animals
Loose hemp for use as animal bedding
Cellulose sheets for use as animal bedding
Paper for use as animal bedding
Abrasive liners for cat litter pans
Small animal bedding made of recycled paper
Animal litter
Litter for animals
Peat litter for animals
Bait, not artificial
Visited 165 Times, 1 Visit today