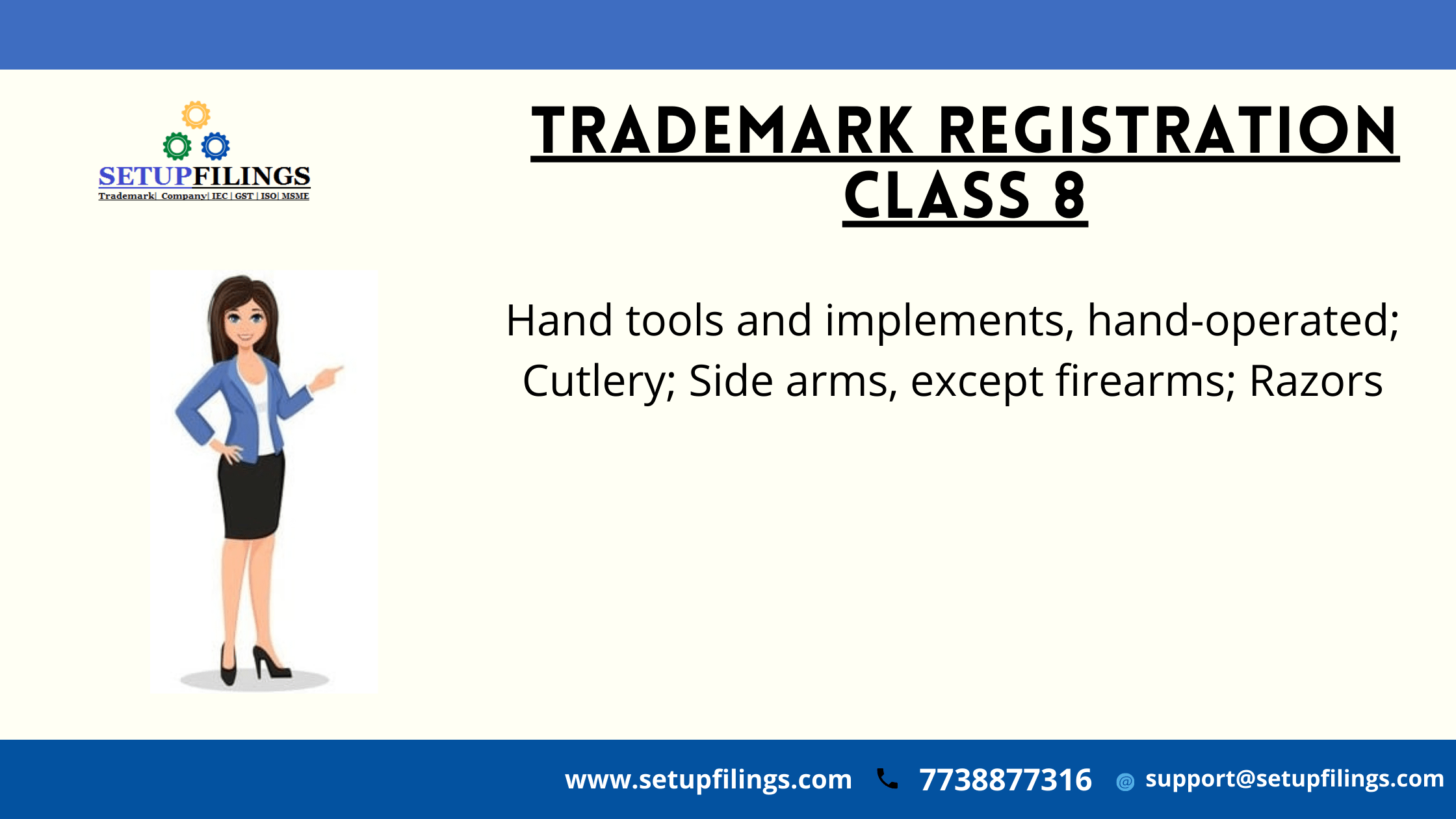 Trademark Class 8: Hand-Operated Tools Etc
Short Description of trademark Class 8.
Hand tools and implements, hand-operated; Cutlery; Side arms, except firearms; RazorsWhat is trademark class
A trademark classification is a tool wherein we can find our business falls into which class and services. Basically trademark classification is divided into 45 classes wherein Trademark class 1 to 34 is for manufacturer and 35 to 45 for service provider. Trademark class is most imperative for getting trademark registration in proper scope of business.
Not included in Trademark Class 8:
Machines and machine tools for the treatment of materials and for manufacturing are in Trademark Class 7. Medical and veterinary apparatus and instruments Trademark Class 10. Cosmetic, hygiene and beauty care utensils are in Trademark Class 21. Toys, games, and playthings are in Trademark Class 28. Commercial trading and consumer information services Retail and wholesale services are in Trademark Class 35. Rental of tools, plant and equipment for construction, demolition, cleaning and maintenance Installation, cleaning, repair and maintenance are in Trademark Class 37.
Hand-operated hygienic and beauty implements for humans and animals
Hairstyling appliances
Hair curling
Non-electric hand implements for hair curling
Hand implements for hair curling
Body art tools
Ear piercing apparatus
Piercing apparatus
Tattooing
Ear-piercing apparatus
Sterile body piercing instruments
Apparatus for tattooing
Manicure and pedicure tools
Manicure implements
Cases for manicure instruments
Pedicure implements
Pedicure implements
Electric and non-electric fingernail polishers
Battery-powered animal nail grinders
Electric animal nail grinders
Haircutting and removal implements
Razors
Containers adapted for razor blades
Cases adapted for razors
Animal shearing implements
Electric hair clippers for animals
Clippers for use on animals
Hair clippers for animals
Edged and blunt weapons
Side arms
Side arms, except firearms
Side arms, other than firearms
Cutlery, kitchen knives, and cutting implements for kitchen use
Forks and spoons
Decanting liquids
Apple corers
Boxes adapted for cutlery
Vegetable choppers
Meat choppers
Knives, forks and spoons
Non-electric garlic choppers
Hand-operated implements for dicing food
Hand-operated choppers
Potato peelers
Silverware
Plastic spoons, table forks and table knives
Baby spoons, table forks and table knives
Cutlery, kitchen knives, and cutting implements for kitchen use
Implements for decanting liquids
Choppers
Table knives, forks and spoons of plastic
Table knives, forks and spoons for babies
Vegetable choppers
Silver plat
Table cutlery
Tableware
Meat choppers
Hand-operated tools and implements for treatment of materials, and for construction, repair and maintenance
Animal slaughtering and butchering implements
Hand instruments for slaughtering butcher's animals
Slaughtering butchers' animals
Cattle stunning appliances
Stunning apparatus
Cattle stunning apparatus
Hand-operated tools for skinning animals
Skinning animals
Apparatus and instruments for slaughtering butchers' animals
Cattle skinning instruments
Knives for skinning animals
Meat choppers
Instruments and tools for skinning animals
Agricultural, gardening and landscaping tools
Agricultural hand tools
Hand-operated tools for agriculture
Hand-operated sprayers for agricultural purposes
Sprayers for use in agriculture
Sprayers for use in agriculture
Sprayers for garden use in spraying insecticide
Sprayers for use in horticulture
Sprayers for use in horticulture
Atomizers for insecticides
Atomizers
Hand-operated sprayers for insecticide
Sprayers
Sprayers for agricultural use in spraying insecticides
Sprayers for carrying on the back
Spiked rollers for use in soil aeration
Sprayers for garden use in spraying weedkillers
Destructing apparatus for plant parasites
Insecticide sprayers, hand-operated
Hand-operated insecticide sprayers
Lawn aerators
Hand-operated lawn aerators
Sprayers for household use in spraying insecticide
Agricultural sprayers
Sprayers for household use in spraying weedkillers
Lawn aerators
Broadforks for agricultural purposes
Lawn clippers
Agricultural implements, hand-operated
Insecticide atomizers
Insecticide sprayers
Agricultural forks
Apparatus for destroying plant parasites, hand-operated
Hand tools for construction, repair and maintenance
Hammers, mallets and sledgehammers
Mallets
Fastening and joining tools
Riveters for use as hand tools
Stapling guns
Adjustable spanners
Adjustable wrenches
Annular screw plates
Cutting, drilling, grinding, sharpening and surface treatment hand tools
Tatami mat choppers
Electrical shavers for removing fuzz from fabric
Auger bits for use with hand-operated tools
Auger bits for hand tools
Abrasive discs
Abrasive grinding wheels
Discs for abrading being hand-operated tools
Abrasive grinding wheels
Hatchets
Abraders
Abrasive stones
Sharpening instruments
Abrasive tools
Abrading tools
Abrading instruments
Electrical shavers for removing threads from fabric
Combined wire strippers and cutters
Manually-operated edge sharpeners for skis and snowboards
Mitre boxes
Hand-powered ice augers used for ice fishing
Hand-operated ice augers used for ice fishing
Adzes
Abrasive wheels for use with hand tools
Hand-operated ski sharpening instruments
Sharpening wheels for knives and blades
Hand-operated sharpening tools and instruments
Adzes
Augers
Stropping instruments
Sharpening instruments
Blade sharpening instruments
Hatchets
Mortise axes
Holing axes
Abrading instruments
Axes
Tube cutting instruments
Carpenters' augers
Emergency and rescue hand tools
Emergency door spreader
Emergency multi-tools
Emergency cutting tools
Emergency spreading tools
Firefighter's axes,
Emergency and rescue hand tools
Anti-riot forks
Emergency hammers
Visited 191 Times, 1 Visit today