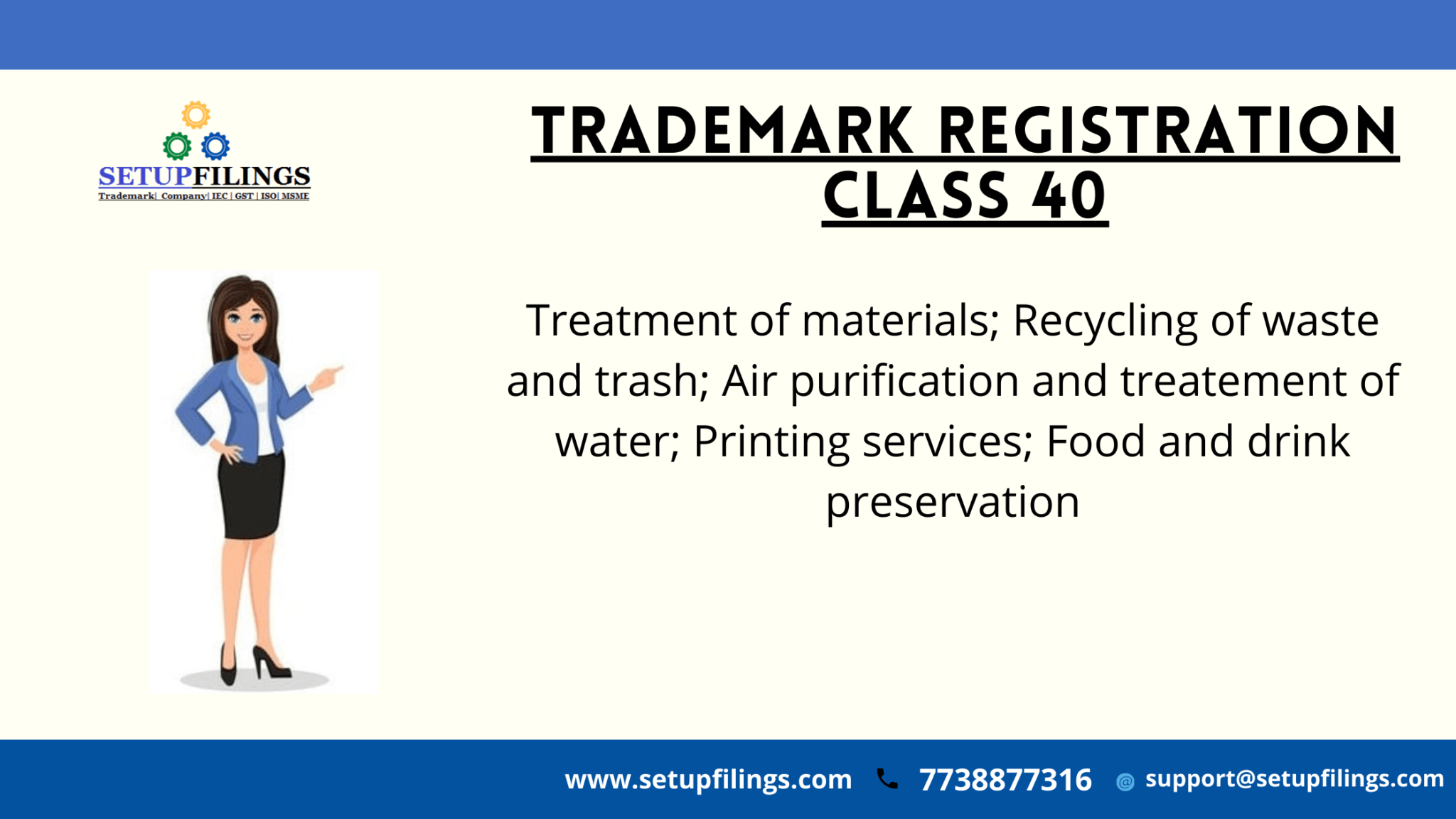 Trademark Class 40: Treatment of Materials Recycling Waste
What is trademark registration?
Trademark Registration can be defined as unique identity for Brands and companies or services to stand out from rest of other brand and companies. After trademark registered in India no other organization or company can use the same name or logo.
Registered Trademark provides rights to sue other who tries to copy the similar brand name or logo. Once any company or brand name registered in trademark though it becomes the intellectual property which can also be defined has intangible asset for company. which helps in protecting the investment into creating the brand name, its loyalty and trust among customers.
What is trademark class?
A trademark classification is a tool wherein we can find our business falls into which class and services. Basically trademark classification is divided into 45 classes wherein class 1 to 34 is for manufacturer and 35 to 45 for service provider.
Short description of trademark class 40
Treatment of materials; Recycling of waste and trash; Air purification and treatement of water; Printing services; Food and drink preservation
Excluded in trademark class 40:
Containers, and transportation and packaging articles, of metal is in Trademark class 6 Machines and machine tools for treatment of materials and for manufacturing is in Trademark class 7. Containers, and closures and holders there for, non-metallic is in Trademark class 20. Dustbins is in Trademark class 21. Business analysis and information services, and market research is in Trademark class 35. Rental of space, structures, units and containers, for storage and transportation is in Trademark class 39.
Custom manufacture and assembly services
Manufacture of furniture to order and specification of others
Rental of machines and apparatus for photograph printing
Rental of machines and apparatus for photograph enlargement
Clothing
Services of a dental technician
Dental technician
Shrinking of clothing
Pre-shrinking of clothing
Pneumatic abrasion of surfaces
Recycling of aerosol propellants
Film development and reproduction of photographs
Rental of space heating apparatus
Heating apparatus
Sorting of waste and recyclable material
Color enhancement of black and white video film
Color enhancement of black and white film
Treatment of synthetic polymers against bacteriological infections
Treatment of fabrics to impart antistatic properties
Custom assembling of materials for others
Assembling of materials for others
Chromium plating of metal articles
Advisory services relating to dyeing
Needlework and dressmaking
Recycling of foam blowing agents
Waste and/or water treatment services
Waste and trash
Recycling of waste and trash
Recycling of waste and rubbish
Metal plating and laminating
Water treatment and purification
Reclamation of solids from aqueous media by chemical precipitation
Photographic preservation and conservation
Acrylic finishing of vehicles
De-acidification of paper
Mothproofing of clothing
Rental of air purification apparatus
Rental of air purification equipment
Air purification apparatus
Rental of water treatment equipment
Custom imprinting of clothing with decorative designs
Annealing
Annealing
Treatment of carpets to impart antistatic properties
Rental of photographic processing apparatus
Rental of photographic processing equipment
Rental of photographic printing apparatus
Preparation and treatment of fabric
Purification of air
Air purification
Recycling of insulating gases from air conditioning plant
Cooking oil and vegetable oil recycling services
Assembly of products for others
Clothing
Hot-pressing of clothing
Rental of refrigerating apparatus
Rental of cutting equipment
Extruding of metal alloys
Dyeing of clothing
Application of wear resistant coatings to engineering components
Applying finish to stainless steel sheets and coils
Photographic printing apparatus
Photographic processing apparatus
Slaughtering of animals
Rental of machines and apparatus for paper-working
Rental of machines and apparatus for processing foods
Rental of machines and apparatus for papermaking
Rental of machines and apparatus for photograph finishing
Animals
Application of relief patterns to card surfaces
Anodising services
Photographic slide and print processing
Monogramming of clothing
Monogramming of clothes
Reproduction of museum artwork
Generation of gas and electricity
Textile and fabric treating
Textiles
Application of finishes to textiles
Applying finishes to clothing
Finishing and coating of textiles
Applying finishes to textiles
Applying finishes to cloth
Applying finishes to fabric
Shoe staining and dyeing
Rental of machines and apparatus for plywood making
Sorting of waste and recyclable material
Radiation area decontamination services
Air treatment
Waste and trash
Incineration of waste and trash
Anti-moth treatment
Crease resistant treatment of clothing
Crease-resistant treatment for clothing
Abrasion
Rental of machines and apparatus for film development
Custom clothing alteration
Alteration
Clothing alterations
Clothing alterations
Clothing alteration
Alteration of clothing
Rental of sewing machines
Leasing of sewing machines
Application of wear resistant coatings by autocatalytic processes
Application of appliques to clothing
Application of appliques to textiles
Rental of knitting machines
Waste and trash
Destruction of waste and trash
Blast treatment of a surface
Treatment of aerial or satellite photographs
Treatment and recycling of packaging
Fireproofing of clothing
Services for burnishing by abrasion
Burnishing by abrasion
Abrasive polishing
Film developing and processing
Rental of bookbinding machines
Rental of bookbinding equipment
Annealing of surfaces of machine parts
Digital on-demand printing services of books and other documents
Coffee roasting and processing
Treatment of semi-manufactured products by means of electrolysis
Treatment of slag arising from metal casting
Treatment of synthetic polymers against fungal attacks
Works of art
Framing of works of art
Food and drink preservation
Rental of printing machines and apparatus
Treatment of glass to alter the optical properties
Incineration of spent air
Applying backing to the underside of carpets
Application of backing to carpet to the order of others
Photographic etching of articles of clothing
Waterproofing of clothing
Custom manufacture and fitting of wigs
Dyeing of cloth or clothing
Application of relief patterns to paper surfaces
Application of motifs to textiles
Application of motifs to clothing
Application of relief patterns to board surfaces
Shrinking of items of clothing
Rental of machines and apparatus for processing beverages
Rental of machines and apparatus for lumbering
Rental of machines and apparatus for veneering
Rental of machines and apparatus for veneer making
Anti-moth treatment of furs
Swaging services in respect of automobile parts
Bleaching of clothing
Whitening of clothing
Air conditioning apparatus
Rental of air conditioning apparatus
Application of wear resistant coatings by electrolytic processes
Rental of air-conditioning apparatus
Rental of water purifying apparatus
Leasing of water purification equipment
Timber felling and processing
Anti-mildew treatment
Anti-mould treatment
Photographic etching of household articles
Grinding and polishing glass for eyeglasses
Pre-shrinking of items of clothing
Rental of shoe making machines
Rental of tobacco processing machines
Printing of advertising matter
Rental of machines and apparatus for pulp-making
Permanent press treatment of clothing
Permanent-press treatment of clothes
Leasing of energy generating equipment
Heat treatment and coating of steel
Blending of crude oil and synthetic oils
Application of protective coatings to leather
Refinishing of acrylic fixtures
Burning of refuse and waste
Recycling of refuse and waste
Regeneration of air
Air regeneration
Duplicating of audio-tapes
Duplication of audio cassettes
Agglomerating of solid material
Application of coatings using chemical vapor deposition techniques
Treatment and coating of metal surfaces
Application of coatings using physical vapor deposition techniques
Application of coatings using vacuum deposition techniques
Treatment and processing of plastics
Joining of components using adhesives
Rental of machines for the manufacture of corrugated cardboard
Rental of machines for the manufacture of corrugated board
Metal fabrication and finishing services
Application of coatings using thermal plasma spraying techniques
Processing and cutting of diamonds and other precious stones
Recycling of clothing to obtain materials for making synthetic fibers
Providing information relating to the rental of tobacco processing machines
Printing of digitally stored pictures and photographs
Treatment of metal parts to prevent corrosion using hot-dip galvanizing and powder coating processes
Treatment and processing of ores and ore concentrates
Providing information relating to the rental of water purifying apparatus
Film processing and photofinishing
Rental of chemical processing machines and apparatus and providing information relating thereto
Providing information relating to the rental of chemical processing machines and apparatus
Visited 228 Times, 1 Visit today