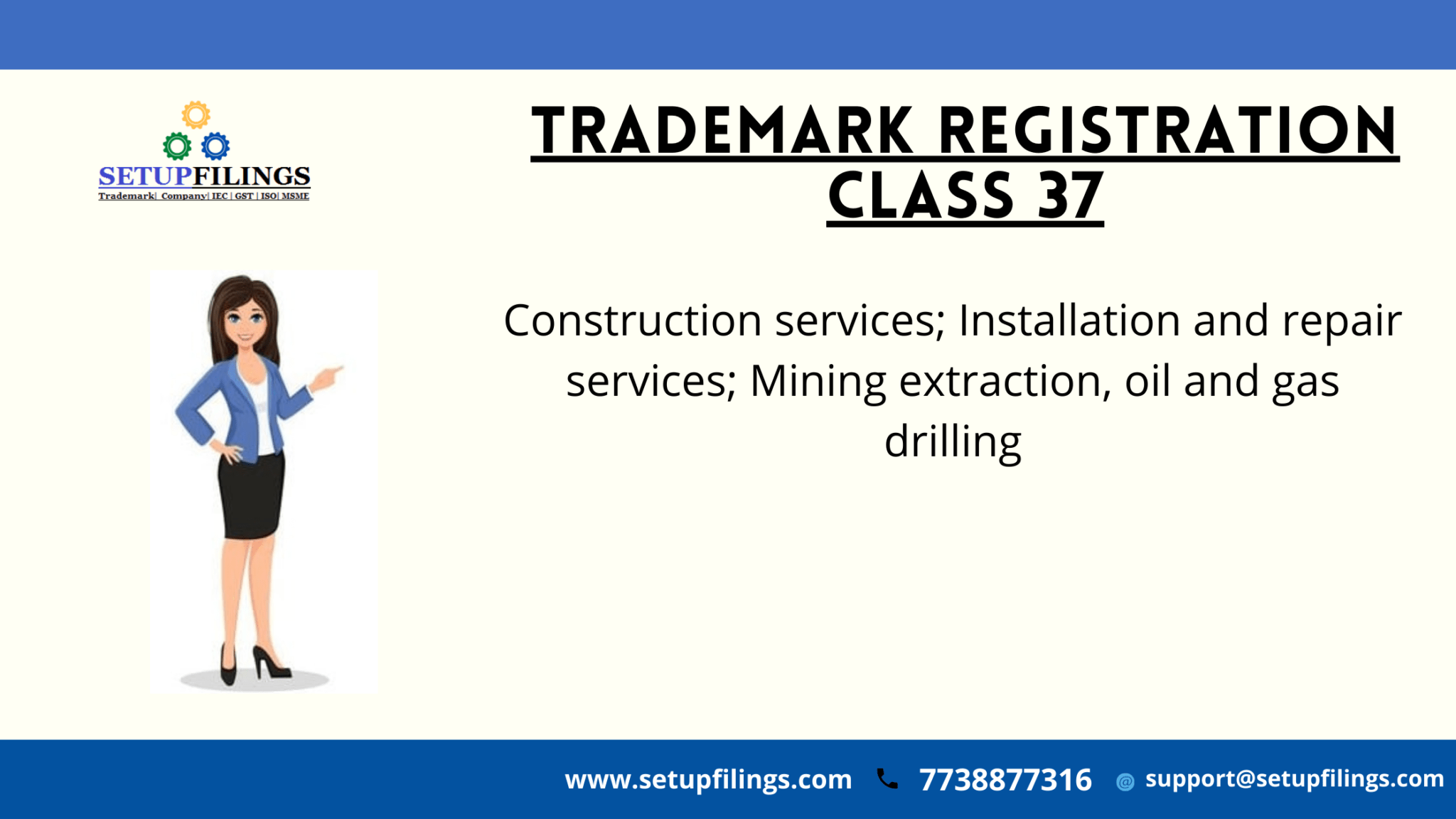 Trademark Class 37: Construction Services
Short description of trademark class 37
Construction services; Installation and repair services; Mining extraction, oil and gas drilling
What is trademark registration?
Trademark Registration can be defined as unique identity for Brands and companies or services to stand out from rest of other brand and companies. After trademark registered in India no other organization or company can use the same name or logo.
Registered Trademark provides rights to sue other who tries to copy the similar brand name or logo. Once any company or brand name registered in trademark though it becomes the intellectual property which can also be defined has intangible asset for company. which helps in protecting the investment into creating the brand name, its loyalty and trust among customers.
What is trademark class?
A trademark classification is a tool wherein we can find our business falls into which class and services. Basically trademark classification is divided into 45 classes wherein class 1 to 34 is for manufacturer and 35 to 45 for service provider.
Excluded in trademark class 37:
Chemical compositions for use in construction are in Trademark class 1. Paints and washes is in Trademark class 2. Building and construction materials and elements of metal is in Trademark class 6. Construction machines are in Trademark class 7. Hand-operated tools and implements for treatment of materials, and for construction, repair and maintenance is in Trademark class 8. Building and construction materials and elements, not of metal is in Trademark class 19. Business assistance, management and administrative services is in Trademark class 35.
Building, construction and demolition
Rock anchoring
Slating and tiling
Dismantling of industrial equipment
Construction of interior accommodation
Water and oil well boring
Preparation of stair surfaces for lining and covering
Application of waterproof coatings for roofs
Application of protective coatings to cavity surfaces
Application of rendering to swimming pools
Building of fair stalls and shops
Painting, interior and exterior
Construction of airports
Residential and commercial building construction
Application of bridge expansion joints
Application of rendering to tunnels
Prevention and correction of building settlement
Application of screeds
Painting and decorating of buildings
Advisory services relating to building construction
Building of apartment buildings
Construction advisory services
Advisory services relating to the construction of buildings
Application of rendering to buildings
Laying and construction of pipelines
Construction of holiday accommodation
Application of waterproof linings
Civil engineering relating to agricultural land
Advisory services relating to asphalting
On site project management relating to the construction of aerodrome facilities
Erecting of housing areas
Constructing conservatories
Laying and burial of cable
Laying and burial of cables
Construction of hard-standing areas
Advisory services relating to the alteration of buildings
Application of protective coatings for buildings
Application of coatings to buildings
Application of protective coatings to tank surfaces
Application of protective paint to wood
Constructing garden buildings
Services for the application of protective coatings to building exteriors
Warehouse construction and repair
Preparation of floor surfaces for lining and covering
Paving and tiling
Underwater construction, installation and repair
Advisory services relating to excavating
Application of coatings to swimming pools
On site project management relating to the construction of airport facilities
Application of protective coatings to building surfaces
Application of surface coatings
Application of protective paint to buildings
Building and construction services
Application of coatings to tunnels
Application of underlayments
Construction of house extensions
Interior sealing and caulking services
Underwater building and construction
Asphalting
Assembling [installation] of building framework
Painting and varnishing
Building construction advisory services
Pipeline installation and repair
Construction of buildings and other structures
Installation of insulating materials in buildings, roofs and structures
Installation of fixtures and fittings for buildings
Furnace rebricking and rebuilding
Erection of prefabricated buildings and structures
Advisory services relating to the construction of public works
Insulating of internal and external walls, ceilings and roofs
Providing building construction information via a website
Consultancy, information and advisory services relating to the construction of public works
Construction and erection of exhibition stands, stages and booths
Advisory services relating to building demolition
Building sealing and caulking services
Building of trade fair and exhibition stands
Consultancy and information services relating to construction
Construction of sports arenas
Construction of conservatories and greenhouses
Assembly of prefabricated houses
Building construction and repair
Building of schools
Construction of manufacturing and industrial buildings
Aviation infrastructure construction
Construction via industrial rope access
Construction of oil and gas storage installations
Painting and decorating services
Winching of buildings and constructions
Consultancy relating to residential and building construction
Advisory services relating to the construction of buildings and other structures
Installation, cleaning, repair and maintenance
Advisory services relating to the renovation of property
Repair or maintenance of machines and apparatus for processing beverages
Advisory services relating to the maintenance of environmental control systems
Repair or maintenance of optical machines and instruments
Repair or maintenance of rubber-goods manufacturing machines and apparatus
Restoration of fine artwork
Restoration of works of art
Irrigation devices installation and repair
Apartment refurbishment services
Maintenance of dictation equipment
Maintenance and repair of ballast lines
Repair or maintenance of construction machines and apparatus
Installation, repair and maintenance of condensing apparatus
Installation, repair and maintenance radiators for motors and engines
Repair services for electronic business equipment
Repair of electronic business equipment
Repair or maintenance of laboratory apparatus and instruments
Repair or maintenance of medical machines and apparatus
Snow-making services
Artificial snow-making services
Repair or maintenance of gasoline station equipment
Civil engineering maintenance involving the use of pressurised jets of abrasive-containing water
Photographic equipment repair
Photographic apparatus repair
Re-inking and refilling of toner cartridges
Application of waterproof coatings for roofs
Maintenance and repair services relating to automatic door equipment
Application of protective coatings to cavity surfaces
Application of rendering to swimming pools
Repair or maintenance of freezing machines and apparatus
Painting, interior and exterior
Medical apparatus repair
Repair services for medical apparatus
Erection of reinforced concrete structures utilising sliding and climbing formworks
Sterilisation of surgeon's instruments
Installation of electrical and generating machinery
Sterilization of surgical equipment
Restoration of musical instruments
Musical instruments
Repair of medical machines and apparatus
Maintenance of cleaning machines
Maintenance of beverage processing apparatus
Maintenance and repair of gas turbines
Repair or maintenance of video frequency machines and apparatus
Repair services for electric generators and wind turbines
Advisory services relating to the installation of power plants
Advisory services relating to the installation of motors
Advisory services relating to the installation of engines
Advisory services relating to pipe laying
Advisory services relating to surfacing projects
Airplane de-icing services
Repair of electronic apparatus
Application of bridge expansion joints
Application of rendering to tunnels
Civil engineering maintainance involving the use of hydromechanical cutting equipment
Installation of sanitary apparatus
Installation of apparatus for sanitation
Doors and windows
Installation of doors and windows
Windows
Repair of television equipment
Repair of television apparatus
Installation of ground anchors
Installation of earth anchors
Repair or maintenance of machines and apparatus for paper-working
Application of sheathing to cables
Application of screeds
Maintenance and repair services relating to door closers
Advice relating to preventing blockages in septic tanks
Installation of aeronautical engines
Repair or maintenance of integrated circuits manufacturing machines and systems
Advisory services relating to the maintenance of buildings
Repair of radio apparatus
Repair of radio equipment
Repair or maintenance of machines and apparatus for papermaking
Repair or maintenance of measuring machines and instruments
Repair or maintenance of testing machines and instruments
Maintenance of medical equipment
Maintaining and repair of roof guttering
Maintenance and repair of cargo holds
Repair or maintenance of loading-unloading machines and apparatus
Repair or maintenance of milking machines
Repair or maintenance of harvesting machines and implements
Application of waterproof linings
Office equipment installation
Computer and telephone battery recharge services
Repair or maintenance of diving machines and apparatus
Installation, repair and maintenance of steam condensers
Information on the maintenance of measuring and test equipment
Installation and maintenance of photovoltaic installations
Installation and maintenance of solar thermal installations
Building maintenance and repair
Maintenance and repair of buildings
Installation of oil exploration instruments
Plumbing and gas and water installation
Repair of metalworking machines and apparatus
Repair or maintenance of printing or bookbinding machines and apparatus
Repair or maintenance of sericultural machines and implements
Maintenance of catering equipment
Repair or maintenance of plant fiber processing machines and implements
Building maintenance and repair
Maintenance and repair of utilities in buildings
Prevention and correction of building settlement
Painting and decorating of buildings
Building repair and renovation
Renovation and repair of buildings
Application of rendering to buildings
Repair and maintenance of buildings in case of demolition
Maintenance and repair of building contents
Advisory services relating to building refurbishment
Application of protective coatings for buildings
Application of coatings to buildings
Application of coatings for the repair of surfaces of buildings
Services for the application of protective coatings to building exteriors
Warehouse construction and repair
Renovation and restoration of buildings
Application of protective coatings to building surfaces
Application of protective paint to buildings
Advisory services relating to the repair of buildings
Maintenance and repair of parts and fittings for buildings
Providing information relating to the construction, repair and maintenance of buildings
Maintenance and repair of residential buildings
Installation of door openers and closers
Maintenance and repair of office buildings
Clearing and cleaning gutters
Building maintenance and repair services provided by a handyman
Repair and insulation of window joints
Interior and exterior cleaning of buildings
Prevention and correction of building subsidence
Services for the painting and decorating of buildings
Building construction and repair
Restoration of masonry walls and structures
Visited 231 Times, 1 Visit today