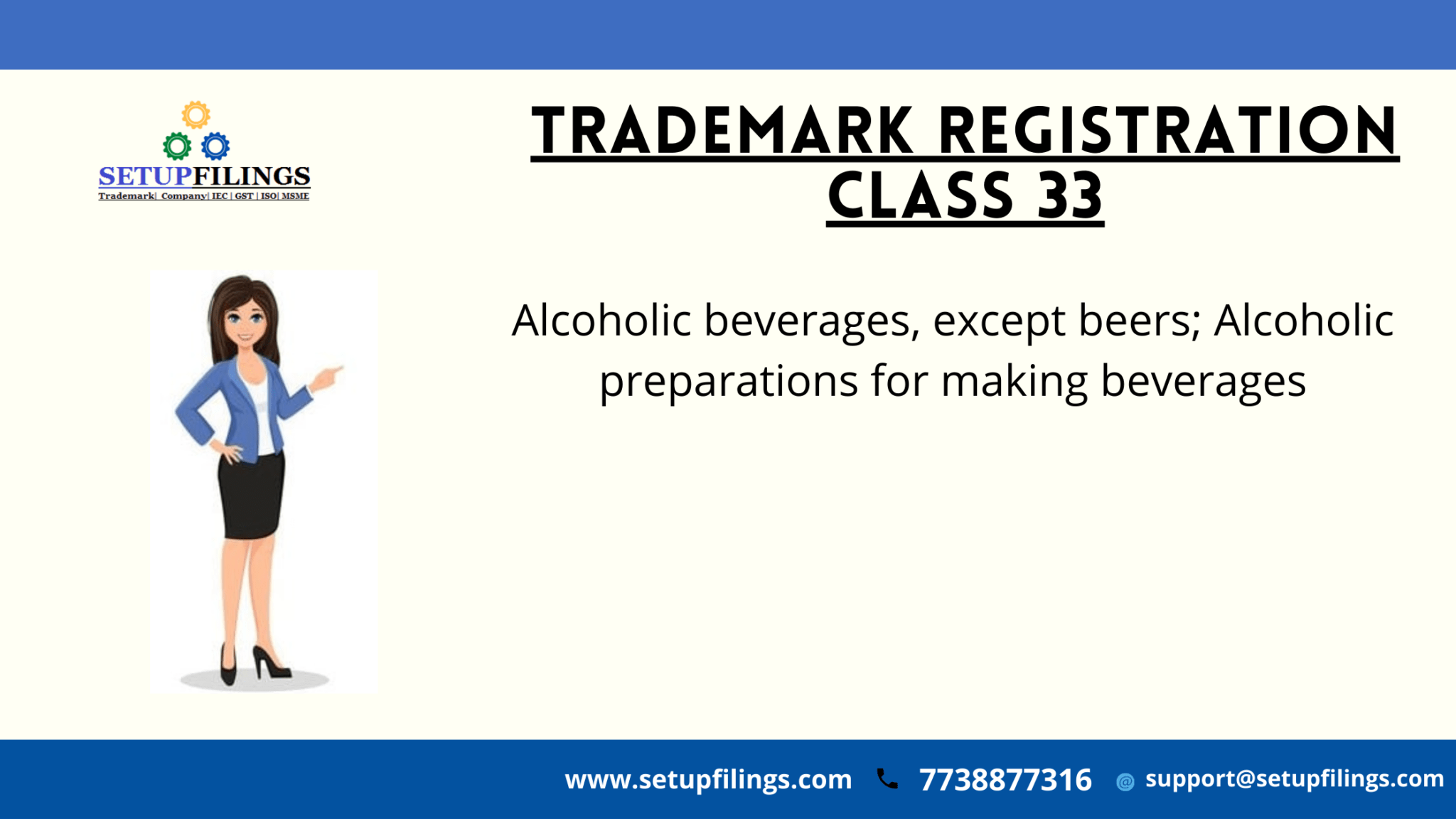 Trademark Class 33: Alcoholic Beverages, Except Beers
Short description of Trademark class 33
Alcoholic beverages, except beers; Alcoholic preparations for making beverages
What is trademark registration?
Trademark Registration can be defined as unique identity for Brands and companies or services to stand out from rest of other brand and companies. After trademark registered in India no other organization or company can use the same name or logo.
Registered Trademark provides rights to sue other who tries to copy the similar brand name or logo. Once any company or brand name registered in trademark though it becomes the intellectual property which can also be defined has intangible asset for company. Which helps in protecting the investment into creating the brand name, its loyalty and trust among customers.
What is trademark class?
A trademark classification is a tool wherein we can find our business falls into which class and services. Basically trademark classification is divided into 45 classes wherein class 1 to 34 is for manufacturer and 35 to 45 for service provider.
Excluded in Trademark class 33
Chemical and organic compositions for use in the manufacture of food and beverages are in Trademark class 1. Food and beverage colorings are in Trademark class 2. Food for babies is in Trademark class 3. Food and beverage processing and preparation machines and apparatus is in Trademark class 7. Containers, and closures and holders therefor, non-metallic is in Trademark class 20. Kitchen and table linens is in Trademark class 24. Dairy products and dairy substitutes is in Trademark class 29. Ice, ice creams, frozen yogurts and sorbets is in Trademark class 30. Foodstuffs and fodder for animals is in Trademark class 31. Alcoholic beverages (except beer) are in Trademark class 33. Retail and wholesale services is in Trademark class 35. Packaging and storage of goods is in Trademark class 39. Food and beverage treatment is in Trademark class 40. Food and drink catering is in Trademark class 43.
Preparations for making alcoholic beverages
Alcoholic extracts
Alcoholic essences
Fruit extracts, alcoholic
Alcoholic fruit extracts
Alcoholic beverages (except beer)
Alcoholic aperitifs
Aperitifs
Alcoholic cocktails
Low alcoholic drinks
Alcoholic jellies
Nira
Alcoholic bitters
Rice alcohol
Alcohol
Alcoholic cordials
Cordials
Alcoholic carbonated beverages, except beer
Alcoholic egg nog
Grain-based distilled alcoholic beverages
Sugarcane-based alcoholic beverages
Pre-mixed alcoholic beverages
Anisette
Anisette
Anise
Spirits [beverages]
Alcoholic aperitifs
Aperitifs
Alcoholic cocktails
Low alcoholic drinks
Alcoholic jellies
Nira
Alcoholic bitters
Rice alcohol
Alcohol
Alcoholic cordials
Cordials
Alcoholic carbonated beverages, except beer
Alcoholic egg nog
Grain-based distilled alcoholic beverages
Sugarcane-based alcoholic beverages
Pre-mixed alcoholic beverages
Anisette
Anisette
Anise
Spirits [beverages]
Rum
Arak
Arrack
Arak
Arrack
Baijiu
Distilled rice spirits
Distilled spirits of rice
Absinthe
Aquavit
Akvavit
Digestifs
Aguardiente
Wine
Low-alcoholic wine
Acanthopanax wine
Amontillado
Aperitifs with a distilled alcoholic liquor base
Japanese sweet grape wine containing extracts of ginseng and cinchona bark
Alcoholic wines
Wines of protected appellation of origin
Pre-mixed alcoholic beverages
Alcoholic beverages
Alcoholic beverages
Alcoholic beverages except beers
Beverages, except beer
Alcoholic beverages, except beer
Alcoholic beverages
Preparations for making alcoholic beverages
Alcoholic preparations for making beverages
Visited 158 Times, 1 Visit today