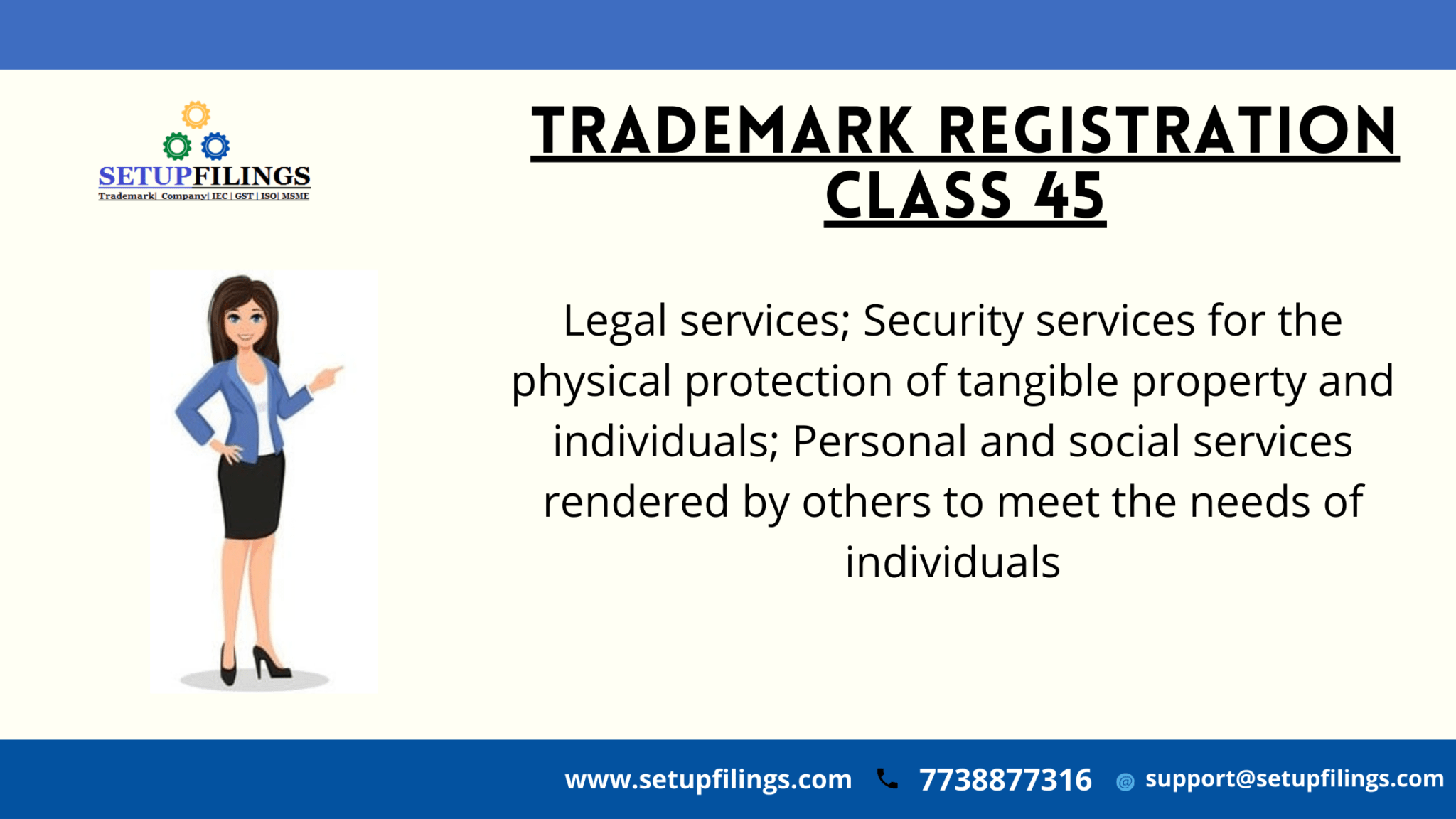 Trademark Class 45: Legal services; Security Services
seWhat is trademark registration?
Trademark Registration can be defined as unique identity for Brands and companies or services to stand out from rest of other brand and companies. After Trademark registered in India no other organization or company can use the same name or logo.
Registered Trademark provides rights to sue other who tries to copy the similar brand name or logo. Once any company or brand name registered in trademark though it becomes the intellectual property which can also be defined has intangible asset for company. which helps in protecting the investment into creating the brand name, its loyalty and trust among customers.
What is trademark class?
A trademark classification is a tool wherein we can find our business falls into which class and services. Basically trademark classification is divided into 45 classes wherein class 1 to 34 is for manufacturer and 35 to 45 for service provider.
Short description of trademark class 45
Legal services; Security services for the physical protection of tangible property and individuals; Personal and social services rendered by others to meet the needs of individuals.
Excluded in trademark class 45:
Printed matter, and stationery and educational supplies is in Trademark class 16. Business assistance, management and administrative services is in Trademark class 35. Insurance underwriting and appraisals and assessment for insurance purposes is in Trademark class 36. Transportation and delivery of goods is in Trademark class 39. Education and instruction services is in Trademark class 41. Software for monitoring, analysing, controlling and running physical world operations is in Trademark class 9. Anti-theft, security and safety devices and equipment for vehicles is in Trademark class 12.
Safety, rescue, security and enforcement services
Finger printing analysis
Airline passenger security screening services
Airline passenger security screening
Security services for the protection of property and individuals
Airport security services
Background investigation and research services
Consultancy on regulations on safety at work
Crime prevention advisory services
Accident reporting
Day and night guards
Information services relating to health and safety
Monitoring fire alarms
Monitoring of fire alarms
Monitoring alarms
Forensic advice for criminal investigations
Monitoring of alarms
Alarm monitoring services
Airline passenger safety services
Consultancy services relating to health and safety
Advisory services relating to the preparation of standards
Security assessment of risks
Accident investigation
Providing reconnaissance and surveillance services
Airport baggage security inspection services
Monitoring of burglar and security alarms
Monitoring burglar and security alarms
Animal protection services
Assisting in the locating of lost pets
Consultancy in the field of data theft and identity theft
Providing authentication of personal identification information
Security guard services for the protection of property and individuals
Advisory services in relation to safety
Bomb detection and disposal services
Health and safety risk assessment services
Security services for the physical protection of tangible property and individuals
Health and safety risk management
Forensic analysis of surveillance video for fraud and theft prevention purposes
Baggage security inspections for airlines
Security control of persons and luggage in airports
Airport baggage security screening services
Consultancy services in the field of the safety needs of commercial and industrial companies
Medical alarm monitoring
Locating and tracking of lost people and property
Personal and social services
Lost property return
Clothing rental
Rental of clothing
Hire of clothing
Crime prevention advisory services
Social escort agency services
Marriage guidance counselling
Adoption placement
Dating agency services
Agency services
Cat feeding services
Detective agencies
Detective agency servicesFuneral arrangement services
Planning and arraning of wedding ceremonies
Wedding ceremony planning and arranging consultation services
Adoption agencies
Adoption agency services
Animal adoption services
Providing clothing to needy persons
Providing emotional support to cancer patients and their families via interactive online forums
Companionship services for the elderly and disabled
Providing personal support services for cancer patients and their families
Providing patient advocate services to hospital patients and patients in long term care facilities
Online social networking services accessible by means of downloadable mobile applications
Astrological and spiritual services
Kimono dressing assistance
Lost and found bureau services
Providing information about fashion
Providing and conducting non-denominational, non-religious civil marriage ceremonies
Medical alarm monitoring
Escort agencies
Legal services
Advisory services relating to regulatory affairs
Advisory services relating to intellectual property rights
Advisory services relating to consumers rights
Copyright
Advisory services relating to patents
Litigation advice
Monitoring industrial property rights for legal advisory purposes
Monitoring intellectual property rights for legal advisory purposes
Intellectual property agency services
Consultancy services relating to the legal aspects of franchising
Licensing authority services
Registration of domain names for identification of users on a global computer network
Arbitration
Patent attorney services
Management of authors' copyright
Arbitration services
Advisory services relating to intellectual property licensing
Adoption placement
Alternative dispute resolution services
Legal services relating to the acquisition of intellectual property
Alternative dispute resolution
Alternative dispute resolution services
Domain name advisory services
Providing information relating to legal affairs
Advisory services relating to intellectual property protection
Copyright
Copyright
Professional advisory services relating to intellectual property rights
Registration of domain names for identification of users on a global computer network
Attorney services
Attorney services
Adoption agencies
Adoption agency services
Licensing of intellectual property and copyright
Management and exploitation of copyright and industrial property rights by licensing for others
Legal services relating to the management and exploitation of copyright and ancillary copyright
Licensing of rights relating to television, video and radio programs, productions and formats
Intellectual property consultancy services for universities and research institutions
Intellectual property consultancy services in the field of patents and patent applications
Arbitration, mediation and dispute resolution services
Legal services relating to the negotiation and drafting of contracts relating to intellectual property rights
Legal services relating to the protection and exploitation of copyright for film, television, theatre and music productions
Intellectual property consultancy services for non-profit organisations
Reviewing standards and practices to assure compliance with laws and regulations
Patent and patent application licensing
Legal services relating to the management, control and granting of licence rights
Licensing of patent applications
Licensing of patent applications
Legal services relating to the exploitation of ancillary rights relating to film, television, video and music productions
Exploitation of industrial property rights and copyright by licensing
Consultancy relating to the management of intellectual property and copyright
Licensing of industrial property rights and copyright
Licensing of rights relating to audio productions
Computer assisted litigation support
Licensing of rights to films, television and video productions
Legal advice and representation
Legal services relating to company formation and registration
Licensing of research and development
Licensing of radio and television programs
Granting of licences to others for the use of industrial property rights and copyright
Film, television and video licensing
Copyright and industrial property rights management
Information, advisory and consultancy services relating to legal matters
Legal and judicial research services in the field of intellectual property
Legal services relating to the exploitation of copyright and industrial property rights
Legal assistance in the drawing up of contracts
Providing information on agencies for copyright licensing
Agencies for copyright licensing
Management of copyright and industrial property rights for others
Personal legal affairs consultancy
Legal advice relating to franchising
Trademark watch services for legal advisory purposes
Advisory services relating to copyright
Litigation services
Advisory services relating to the law
Arranging for the provision of legal services
Legal administration of licences
Trademark agent services
Legal advice
Legal advice in responding to requests for proposals
Legal advice in responding to calls for tenders
Legal aid services
Providing information about legal services via a website
Arbitration services relating to industrial relations
Legal advocacy services
Legal compliance auditing
Regulatory compliance auditing
Legal consultancy relating to television advertising, television entertainment and sports
Political services
Advisory services relating to regulatory affairs
Arbitration, mediation and dispute resolution services
Political advice
Political research and analysis
Political advisory services
Visited 168 Times, 1 Visit today