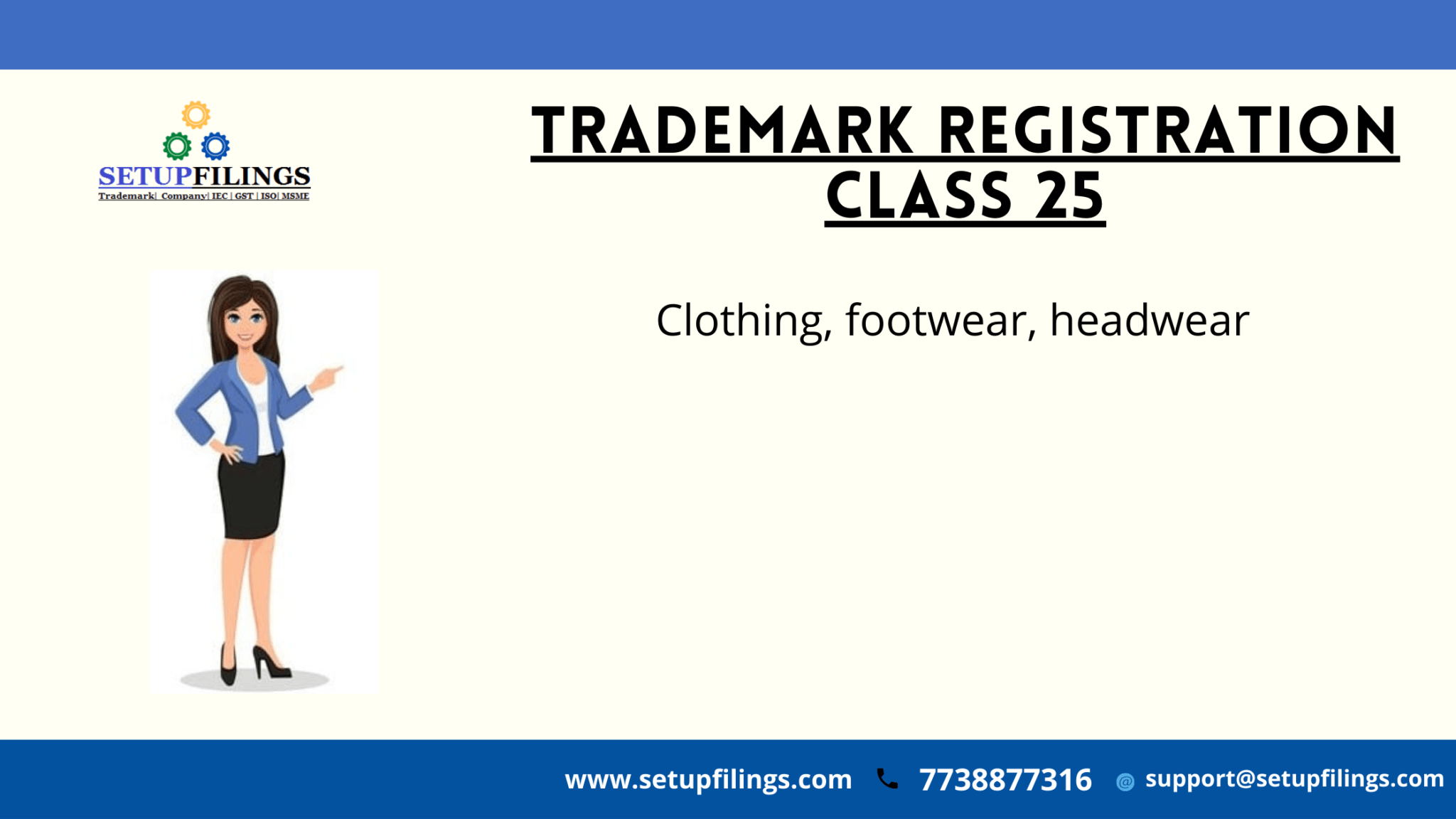 Trademark Class 25: Clothing, Footwear, Headwear
Short description of Trademark Class 25
Clothing, footwear, headwear
What is trademark registration?
Trademark Registration can be defined as unique identity for Brands and companies or services to stand out from rest of other brand and companies. After trademark registered in India no other organization or company can use the same name or logo.
Registered Trademark provides rights to sue other who tries to copy the similar brand name or logo. Once any company or brand name registered in trademark though it becomes the intellectual property which can also be defined has intangible asset for company. which helps in protecting the investment into creating the brand name, its loyalty and trust among customers.
What is trademark class?
A trademark classification is a tool wherein we can find our business falls into which class and services. Basically trademark classification is divided into 45 classes wherein class 1 to 34 is for manufacturer and 35 to 45 for service provider.
Excluded in Trademark Class 25
Dyes, colorants, pigments and inks Trademark Class 2. Laundry preparations are in Trademark Class 3. Preserving oils for masonry or leather is in Trademark Class 5. Packaging, wrapping and bundling articles, of metal is in Trademark Class 6. Textile production machines are in Trademark Class 7. Measuring, detecting, monitoring and controlling devices is in Trademark Class 9. Clothing, headgear and footwear, braces and supports, for medical purposes is in Trademark Class 10. Printed matter, and stationery and educational supplies is in Trademark Class 16. Synthetic and composite materials are in Trademark Class 17. Clothes hangers, clothes stand [furniture] and clothes hooks are in Trademark Class 20. Yarns and threads is in Trademark Class 23. Textile goods, and substitutes for textile goods is in Trademark Class 24. Clothing is in Trademark Class 25. Advertising, marketing and promotional services is in Trademark Class 35.
Headgear
Party hats
Kerchiefs
Paper hats for use as clothing items
Hats
Sports caps and hats
Visors
Headbands against sweating
Headbands for clothing
Baseball caps and hats
Face mask
Headbands
Paper hats
Veils
Hoods
Muffs
Clothing
Sailing wet weather clothing
Maternity clothing
Men's clothing
Clothing for horse-riding
Clothing for skiing
Clothing made of fur
Ready-to-wear clothing
Tops
Shawls and headscarves
Linings
Anti-perspirant socks
Martial arts uniforms
Party hats
Short sets
Chaps
Kerchiefs
Jackets being sports clothing
Athletics hose
Ties
Aprons
Clothing for wear in judo practices
Three piece suits
Beach clothing
Roll necks
Belts for clothing
Thermally insulated clothing
Childrens' clothing
Infants' clothing
Clothing for infants
Children's clothing
Clothing for children
Babies' clothing
Thermal clothing
Paper hats for use as clothing items
Shawls and stoles
Ankle socks
Jogging bottoms
Jogging sets
Mufflers as neck scarves
Clothing for cyclists
Clothing for cycling
Playsuits
Quilted jackets
Fur coats and jackets
Pocket squares
Shoulder wraps for clothing
Shorts
Shoulder wraps
Leather belts
Clothing layettes
Baby layettes for clothing
Foundation garments
Socks and stockings
Athletic clothing
Jackets
Clothes for sports
Sports jerseys and breeches for sports
Stockings
Stockings
Wet suits for water-skiing and sub-aqua
Clothing for martial arts
Athletics vests
Bottoms
Motorcyclists' clothing
Slipovers
Belts
Clothing for fishermen
Capes
Fishing clothing
Swim wear for gentlemen and ladies
Wraps
Oilskins
Boys' clothing
Sports clothing
Fabric belts
Button-front aloha shirts
Cloth bibs for adult diners
Plush clothing
Articles of clothing for theatrical use
Linen clothing
Girls' clothing
Bandeaux
Cashmere clothing
Japanese traditional clothing
Woolen clothing
Padded shirts for athletic use
Work clothes
Windproof clothing
Padded shorts for athletic use
Padded pants for athletic use
American football bibs
Triathlon clothing
Silk clothing
Braces as suspenders
Articles of outer clothing
Outer clothing
Braces for clothing
Ear warmers being clothes
Baby clothes
Infant clothing
Clothing for babies
Anklets
Sports garments
Drawers as clothing
Fingerless gloves as clothing
Sports clothing
Clothes for sport
Articles of clothing made of leather
Clothing for sports
Articles of sports clothing
Articles of clothing made of hides
Paper aprons
Aloha shirts
Plastic aprons
Dance clothing
Knee warmers
Figure skating clothing
Swaddling clothes
Casual clothing
Anoraks
Anoraks
Motorcyclists' clothing of leather
Mitts
Shirts and slips
Gloves for apparel
Gloves as clothing
Clothing for wear in wrestling games
Trunks being clothing
Boas
Garments for protecting clothing
Arm warmers
Clothing made of leather
Leather clothing
Leather
Leather garments
Clothing made of imitation leather
Leather
Denims
Rainproof clothing
Nappy pants
Cowls
Women's clothing
Aikido suits
Athletic uniforms
Ladies' clothing
Woven clothing
Foulards
Aikido uniforms
Collar liners for protecting clothing collars
Collar guards for protecting clothing collars
Shoulder straps for clothing
Ascots
American football shirts
American football socks
American football shorts
American football pants
Water-resistant clothing
Weatherproof clothing
Weather resistant outer clothing
Men's and women's jackets, coats, trousers, vests
Drawers
Handwarmers
Mufflers
Socks for infants and toddlers
Dresses for infants and toddlers
Overalls for infants and toddlers
One-piece clothing for infants and toddlers
Synthetic fur stoles
Golf clothing, other than gloves
Clothing for men, women and children
Religious garments
Masquerade and halloween costumes
Down garments
Disposable aprons
Underwear and nightwear
Face mask [clothing]
Knitted clothing
Vests for use in barber shops and salons
Snap crotch shirts for infants and toddlers
Athletic tights
Basic upper garment of Korean traditional clothes
Gloves with conductive fingertips that may be worn while using handheld electronic touch screen devices
Latex clothing
Albs
Clothing incorporating LEDs
Clothing containing slimming substances
Sweat-absorbent socks
Embroidered clothing
Clothing of leather
Clothing of imitations of leather
Clothing for gymnastics
Ascots
Money belts
Braces for clothing
Ready-made clothing
Belts
Ear muffs
Paper clothing
Veils
Waterproof clothing
Hoods
Stuff jackets
Cyclists' clothing
Aprons
Ready-made linings
Knitwear
Jerseys
Muffs
Gloves
Jackets
Combinations
Layettes
Wristbands
Motorists' clothing
Beach clothes
Gabardines
Sweat-absorbent stockings
Collars
Furs
Pants
Visited 146 Times, 1 Visit today